Logan Paul teased his latest YouTube video by saying he was going to make a big announcement about the future of his controversial channel.
"It's a fan-driven channel, and I never thought I'd be saying this, but Logan Paul Vlogs is … ," Paul says in the video, posted April 29.
The video — drawn out for ridiculous dramatic effect — is in response to the backlash he received for a video posted in January. In the video, Logan and his crew filmed in Japan's Aokigahara forest. The area near Mount Fuji is known as "suicide forest."
He took the video down after intense backlash over his flippant portrayal of suicide. He later posted an apology video where he claimed to be "ashamed of myself," and that he "made a huge mistake."
"I don't expect to be forgiven," he added.
The video — and backlash — put YouTube stars in the mainstream. YouTube celebrities like Logan Paul have millions of followers (he had 15 million at the end of 2017, 17 million as of May 2018), but they aren't household names.
So, who is Logan Paul?
Logan Paul got his start on Vine
Remember Vine? It was the social media platform that made short video sharing popular. The six-second clips were often filled with comedic stunts that earned him a dedicated following.
He switched his focus to YouTube after Vine closed, amassing his millions of followers with daily vlogs.
His brother, Jake Paul, is also a YouTube star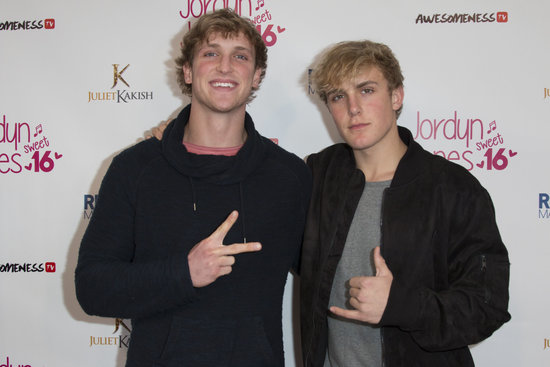 Logan Paul's younger brother, Jake Paul, is a mega YouTube star in his own right with nearly 15 million subscribers and almost five billion — yes, billion — views. The younger Paul brother also starred on the Disney Channel show "Bizaardvark" as Dirk, but the network cut ties with Jake in July 2017.
Logan Paul was a state champion wrestler
Logan was a star football player and wrestler in high school and qualified for Ohio state wrestling championships.
He went to college, but dropped out
Logan studied industrial engineering at Ohio University until 2014, dropping out to move to Los Angeles with other Vine celebrities.
Logan Paul's television appearances
Logan managed to parlay his YouTube success to guest appearances on shows like "Law & Order: Special Victims Unit" and the Fox show "Weird Loners." He also made a cameo in the 2017 "Baywatch" movie, but the scene was cut.
He lost part of his testicle doing a stunt
Comedy can be dangerous — just ask Logan Paul. In 2017, he told Jimmy Kimmel that he lost 15 percent of his right testicle after falling on a chair during a stunt.
YouTube suspended advertising on Logan Paul's channel
In response to the suicide vlog backlash, YouTube responded by removing Logan's channel from Google Preferred and, in February, pulled ads from his account. It's estimated that he was pulling in over $1 million per month in ad revenue alone.
So, is Logan Paul ending his YouTube channel?
Logan returned to posting daily YouTube vlogs a month after the suicide video scandal, but announced a big change to his channel in late April.
"Not finished! Bro, what the f*ck bro I'm not a b*tch!" he said in the April 29 video.
"It is the end of the daily vlog," he said. "That word daily. Yeah guys, I have done a lot of vlogs every day in a row. And I'm blessed and I'm thankful. Your boy wants to exercise his creativity in different ways."