While individual cities across the commonwealth have pledged to protect immigrant communities, Massachusetts had yet to solidify itself as a sanctuary state. And now, legislators have taken a proposal that would have done so off the table.
In May, the Massachusetts Senate passed an amendment that would have prohibited local police from inquiring about someone's immigration status unless required by law. It would also have prohibited local law enforcement from collaborating with Immigration and Customs Enforcement, known as the 287(g) agreements, meaning state and local police could not essentially act as immigration officials.
But this week, the amendment was dropped by the House and Senate during the state budget compromise. Legislators said they could not come to an agreement.
Some lawmakers were dismayed at the news that Massachusetts would not become a sanctuary state. Rep. Denise Provost said on Twitter that she was "heartbroken and stunned that the MA House would not offer minimal protections to those targeted by the Trump administration."
But the idea had not been supported by everyone. Last year, Gov. Charlie Baker voiced his opposition to the the Safe Communities Act, a bill that would have enacted similar immigration protections. He said he was opposed to this measure when speaking to reporters on Wednesday.
"We did not feel that that would enhance the quality of public safety in the commonwealth," Baker said, according to a video posted by MassLive. "We've made as series of proposals to the Legislature that built off the Obama administration policies with respect to public safety that we would prefer to see the Legislature adopt but we do not believe making Massachusetts a sanctuary state was a good idea."
What does it mean for immigrants if Massachusetts is not a sanctuary state?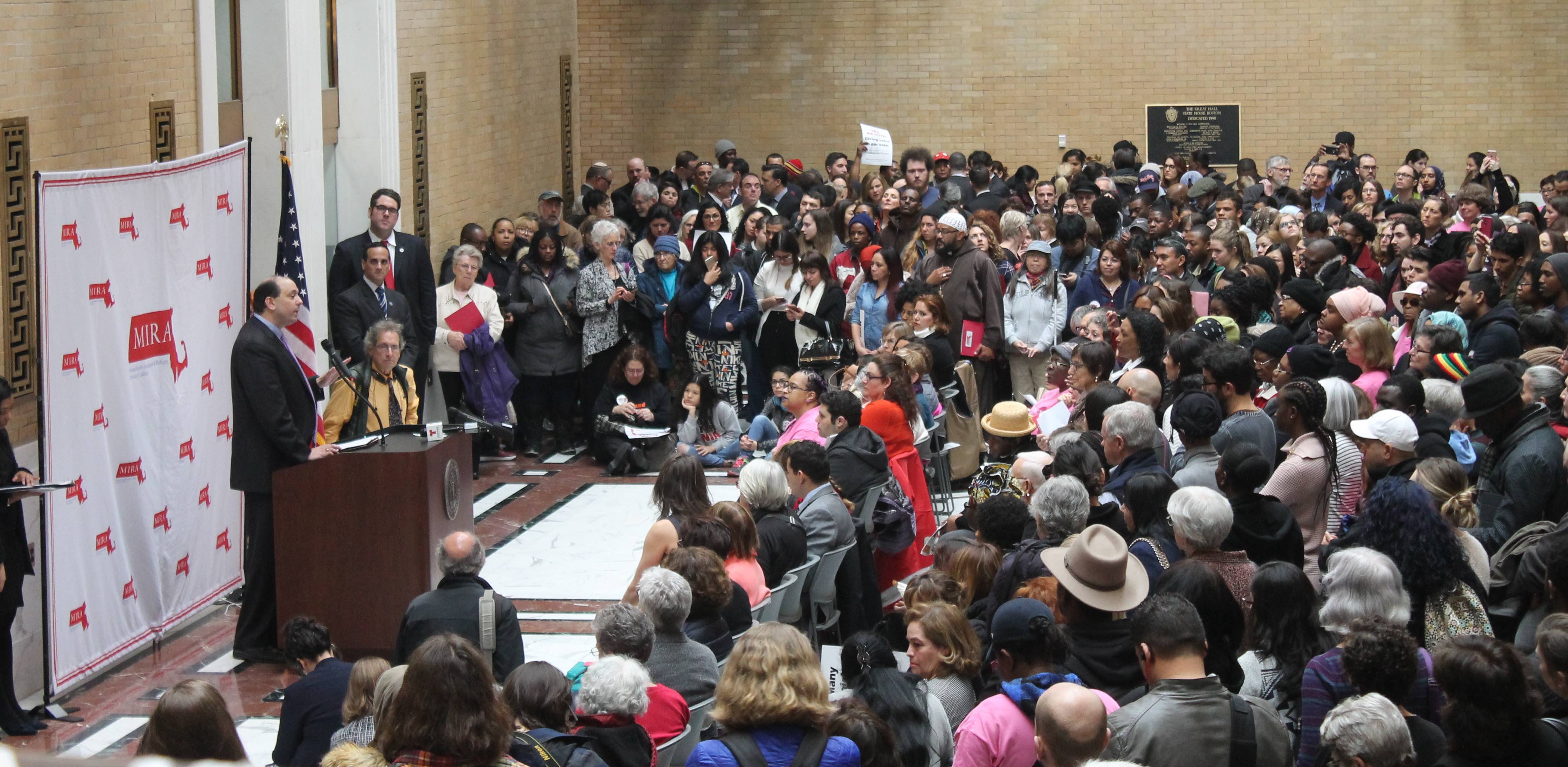 Sen. Jamie Eldridge addressed a packed Great Hall on Wednesday during the Massachusetts Immigrant and Refugee Advocacy Coalition's Immigrant Day at the State House. [Sam Doran/SHNS]
The state-wide measures have not been adopted, riling immigration activists across the commonwealth. But House Speaker Robert De Leo said that he doesn't believe this means immigrants in Massachusetts are at risk.
"I think that with the present laws that we have on the books here in Massachusetts, I think you will have those protections," he said, according to State House News Service. "I do not see any danger to folks here in Massachusetts in terms of the breaking of the laws of arrests or the like, but, again, to those folks I hear them I hear them loudly and clearly. I hear their advocacy and again I feel this is going to have to be an issue, not only with me but I think with a lot of members of the House in terms of the future."
Immigration activists have said otherwise, though.
"The Massachusetts Legislature had a prime opportunity to stand up for civil rights and human decency, and under political pressure from Governor Baker and conservative Democrats, it backed down," said Eva Millona, executive director of the Massachusetts Immigration and Refugee Advocacy Coalition, in a statement. "The safety and well-being of tens of thousands of immigrant families will suffer as a result."
Millona said that legislators succumbed to "fear-mongering about 'sanctuary' policies" and threats made against sanctuary states by the Trump administration. However, the four provisions in the amendment did not technically meet Jeff Sessions's definition of a sanctuary state, she said.
MIRA promises to continue this fight to make Massachusetts a sanctuary state in the next legislative session. DeLeo said he looks forward to more conversations about what can be done at the state level, but also reminded those across the commonwealth that individual cities and towns can adopt their own sanctuary policies regarding their interactions with ICE.