On Wednesday, McKayla Maroney filed a lawsuit against USA Gymnastics alleging that they tried to silence her sexual abuse claims against former U.S. women's gymnastics team doctor Larry Nassar with a confidentially agreement in December 2016.
The suit was filed in Los Angeles and states that USA Gymnastics (USAG) made her sign the non-discosure agreement as part of a financial settlement to "obtain funds necessary to pay for lifesaving psychological treatment and care."
"After suffering for years from psychological trauma of her sexual abuse at the hands of Nassar, and in need of funds to pay for psychological treatment," she was forced to sign the agreement, the suit states. It also names Michigan State University (MSU) — where Nassar was employed full-time — and the U.S. Olympic Committee (USOC) as defendants, alleging that they "failed to properly investigate, discipline or remove Olympic Team doctor Larry Nassar."
Under the agreement, Maroney would have been charged "penalties of over $100,000" had she come forward about her alleged abuse. Maroney's current attorney, John Manly, called the settlement "an immoral and illegal attempt to silence a victim of child sexual abuse."
American women's rights attorney Gloria Allred was representing the Olympic medalist at the time, and The Wall Street Journal reported that Maroney received $1.25 million.
Allred told Metro that she had no comment.
When allegations against Harvey Weinstein started surfacing in October, bringing these non-disclosure agreements into the spotlight, Allred told the LA Times that, in some cases, such agreements can benefit a victim of sexual abuse.
"If she resolves it in a way that's positive for her and that she feels good about, then that's what's most important," Allred said. "And yes, it may mean that others may not know. But should it be mandated that no settlement should be confidential? We don't think it's a good idea." The alternative, she said, is "facing years of litigation and the risks inherent to that and the expense inherent to that."
Maroney comes forward
Maroney, now 22, was one of over 140 women — including 2012 London Games "Fierce Five" team members Aly Raisman and Gabby Douglas — to accuse Nassar of sexual abuse during medical treatments.
Nassar was sentenced to 60 years in federal prison on Thursday, December 7, on three charges of child pornography. According to Huffington Post, he is to serve 20 years for each of these charges consecutively. In January he will go on trial for 10 separate counts of first-degree criminal sexual conduct, the first seven of which he will be sentenced for on January 12. It will be here that the victims will be able to give their impact statements.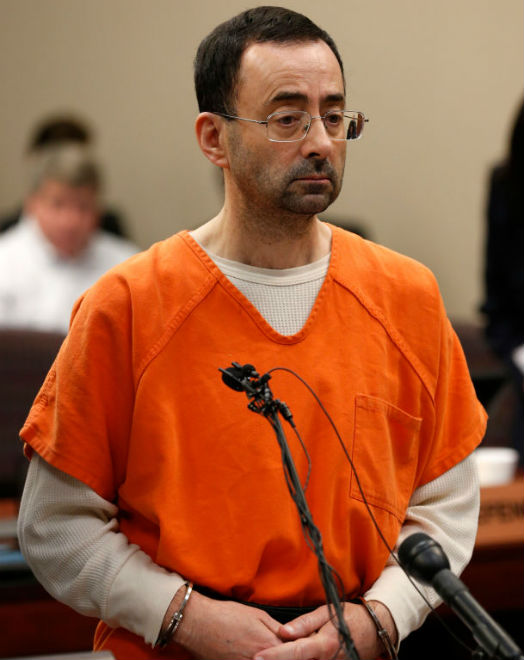 Back in October, Maroney posted to social media detailing years of abuse from Nassar since she was 13, also recounting a time when, at 15, Nassar allegedly drugged her with sleeping pills. She called this night the "scariest" of her life.
"Dr. Nassar told me that I was receiving 'medically necessary treatment that he had been performing on patients for over 30 years," Maroney wrote in a statement. "It started when I was 13 years old, at one of my first National Team training camps, in Texas, and it didn't end until I left the sport. It seemed whenever and wherever this man could find the chance, I was 'treated.'" She originally shared this statement on Twitter, but it has since been deleted. A Facebook post, however, still remains:
By speaking publicly about her claims, Maroney went against her non-disclosure agreement with USAG, potentially opening herself up to a countersuit. Manly told ESPN that this outcome is unlikely.
Was the settlement legal?
According to Manly, no.
He told ESPN that these types of agreements are "unlawful" in California, stating, "We're basically saying USAG and its lawyers violated the law by asking McKayla to agree to it and that she should be free to talk about her abuse to whomever she wants, whenever she wants." 
"I want people to understand that this kid had no choice. She couldn't function. She couldn't work," Manly continued. "They were willing to sacrifice the health and well-being of one of the most famous gymnasts in the world because they didn't want the world to know they were protecting a pedophile doctor."
Manly further detailed to Metro that California CCP section 1002, which went into effect August 23, 2006, "specifically outlaws 'confidential settlement agreements in any civil action the factual foundation for which is a felony sex offense.'" It was then amended "and made stronger with more stringent penalties for those parties or lawyers seeking to force plaintiffs to sign such an agreement." The amendment went into effect January 1, 2017, and Manly said that the last signature on the settlement between USAG and Maroney dated January 9, 2017.
Response
USA Gymnastics
In a statement on their website, USAG argues that, despite what Manly asserts, the agreement was legal. They also argue that Maroney's attorney at the time was the one to initiate a confidentiality agreement, not USAG. The statement reads:
"In 2016, McKayla's attorney at the time, Gloria Allred, approached USA Gymnastics, requesting that the organization participate in a confidential mediation process. USA Gymnastics cannot speak to the mediation process, which is confidential and privileged under California law. The process culminated in a settlement agreement that included a mutual non-disclosure clause and a mutual non-disparagement clause. The settlement in 2016 was in accordance with state law, despite what has been alleged. At all times, McKayla was represented by Allred, a California-based attorney, who actively negotiated and approved the settlement agreement signed by McKayla." 
Read the full statement here.
USAG claims that they relieved Nassar in 2015 following athlete complaints, but he disputed this statement. His former attorney, Matt Borgula, told IndyStar that he "retired" in September 2015 after 29 years "because it was a voluntary position and he wished to pursue other interests outside of USA Gymnastics." 
Michigan State University
MSU told both The New York Times and CNN that they "do not comment on continuing litigation," and Metro has reached out to confirm. 
In a letter addressing the MSU community about Nassar's 60-year prison sentence, President Lou Anna K. Simon enclosed a statement that MSU lead attorney Patrick Fitzgerald sent the Michigan Attorney General. It states that "no MSU official believed that Nassar committed sexual abuse prior to newspaper reports in the summer of 2016." MSU proceeded to fire Nassar in September 2016.
U.S. Olympic Committee
Spokesperson Mark Jones contacted Metro on behalf of USOC. He stated that they were not made aware of "the possibility that a USA Gymnastics physician had sexually abused USA Gymnastics athletes" until the summer of 2015 when informed by USAG. "At that time," Jones continued, "USA Gymnastics — which is a separate organization from USOC — indicated that they were in the process of contacting the appropriate law enforcement agencies."
Last week, Aly Raisman made a similar accusation as Maroney, stating on Twitter that both the USOC and USAG knew about athlete complaints against Dr. Nassar and allowed him to continue his practice. Additionally, she says she "can't understand how you allow those who knew [and didn't do anything] to continue working."
Jones responded with the contact information for the U.S. Center for SafeSport, an agency that directly handles reporting of such claims:
Aly, please know that we remain heartbroken about this abuse and stand with every brave victim that has come forward. If you believe someone at the USOC knew this was happening before it became public please report it to the U.S. Center for Safe Sport (720-524-5640/safesport.org)

— Mark Jones (@mpjones1) December 14, 2017
The U.S. Center for SafeSport website states that the Committee "entrusted the Center with the authority to respond to reports of sexual misconduct with the U.S. Olympic and Paralympic Movements involving sexual misconduct." It officially opened its doors in March 2017.
"We are hopeful that with the U.S. Center for SafeSport's continued education and prevention efforts, as well as their investigative and adjudicative authority, we will help ensure that tragedies like this will never happen again," Jones said. 
John Manly
When Metro spoke with Manly, he said that none of his clients "have any confidence in SafeSport." He stated that it was, in fact, a member of SafeSport's board whom Maroney first met with to address her sexual abuse claims against Nassar. 
He identified this woman as Fran Sepler, president of Sepler & Associates, a group that specializes in harassment prevention and workplace investigations. She served as a volunteer on the SafeSport board in January 2016 when the agency was still in development. 
"Sepler was the person who first spoke with McKayla who reported her sexual abuse claims," Manly stated. "[But] she didn't report it to the police or child protective services."
In response, Sepler told Metro that though she is not authorized to discuss her work "without specific authorization" by her clients, she would speak hypothetically: "If I interviewed someone who was 20 years old who described historic acts of abuse when that individual was a child, I would generally not inform police or child protection as I would not have information that a child was endangered," she stated.
"This would be the case particularly if I had been given assurance that the hypothetical abuser was not at the time in contact with any potential victims, at least insofar as my client was aware," Sepler continued. "I would, however, immediately and strongly advise my client to contact law enforcement, and I would subsequently cooperate with that law enforcement agency."
Furthermore, Sepler stated that she has never discouraged an Olympian from reporting her abuse. Any time she interviews someone about such claims, Sepler says "they are urged to come forward with any info they have."
Manly also called out USAG, asserting that it's "cowardly" that the organization pointed fingers at Maroney's former attorney. "Blaming Gloria Allred for this makes no sense," he said. "That agreement was written by USA Gymnastics, and pushing this off on someone else is a direct violation of federal law in my opinion. It's one more false narrative in a sea of false narratives."
IndyStar reports that USAG already lost major sponsors Kellogg's and Proctor & Gamble, and Manly stated that USAG only exists and "is the governing body for the sport because USOC says that they are." But given their history, he thinks "it's time that the Committee to take a stand."
A 2016 IndyStar investigation shed light on this history — it examined the USAG's dismissal of sexual assault claims and failure to report them to authorities. The investigation uncovered that, according to court records, "the organization compiled confidential sexual misconduct complaint files about 54 coaches over a 10-year period from 1996 to 2006." It also revealed that "at least 368 gymnasts have alleged sexual abuse over the past 20 years."
"Hollywood has taken action on this," Manly concluded, "and it's time for the U.S. Olympic Committee to."