No, that's not Trayvon Martin's dad getting shot in Childish Gambino's game-changing "This is America" video, it's Los Angeles-based actor and musician Calvin "Calvin the II" Winbush.
"My role in it was really just a black guitar player," he says. "To my knowledge, I do not in anyway believe that they wanted someone to look like Trayvon Martin's Dad. That would have ruined the whole video. Tracy Martin has gone through enough."
Winbush got the call from his agent that he was casted for the role while hanging out at Coachella.
"I drove back from Coachella to L.A. at 1 a.m.," he says.  "Got back at 3 a.m. and had to be at set by 6 a.m."
Talk about dedication. Winbush reveals that the whole team was super respectful by disclosing exactly how he'd be featured in "This is America."
"One of the producers for the project gave me a call to fill me in on the violent nature of what would happen to my character, and I was really happy about that, because that doesn't always happen," he says.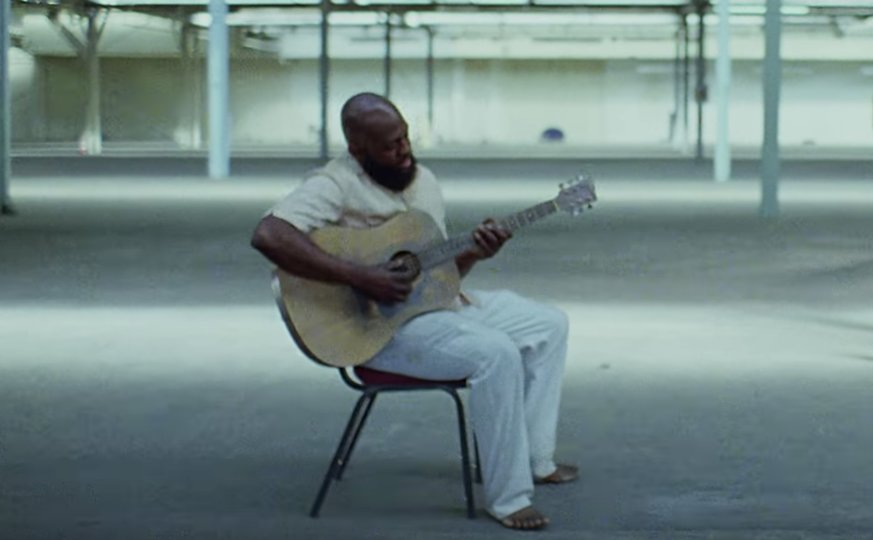 The first scene shot was actually one of Winbush's last scenes in the video — where he plays the guitar with a bag over his head, as Childish Gambino whips out impressive dance moves on the roof of a car.
"The director [Hiro Murai] was like, 'You ever play guitar with a bag over your head? I'm like yes? Short answer — yes, long answer — I'll tell you later,'" Winbush jokes. "It wasn't true, but I was just messing around, and he got a kick of out that. It was a jovial set."
In response to all of the articles searching for the meaning of "This is America," Winbush argues that everyone is going to have their own take on it.
"The moment an artist starts to break down their work, instead of a person having limitless ideas about what is happening, now there's just a period," he says. "But for me, it's about how we've become desensitized to violence, especially violence inflicted on people of color, and how we're distracted."
Winbush also emphasizes that Childish Gambino is not pointing a finger, he's simply holding up a mirror to our society.
"That wouldn't be a productive way to start a conversation," he says. "Goes to show how in life, it's hard for us to sit back and see the big picture — we only see our part. We have blind spots."
You can watch "This is America" below.
For more information on Calvin the II, visit: calvintheii.com.