UPDATED Septembrt 24, 2018
There have been several members of the Trump White House who have either resigned or were fired before Trump's first year in office and there may be more who plan to leave soon.
According to the New York Post, there might be a "mass exodus" in the Trump White House that may happen as President Trump ends his first year in office. The Post reports economic advisor Gary Cohn and Trump's son-in-law Jared Kushner may be the next people to leave the White House after Trump's first year.
Since President Trump took office, we have seen several people resign or get fired from The White House in less than one year.  National security advisor Michael Flynn, chief strategist Steve Bannon, FBI director James Comey and White House press secretary Sean Spicer are just some of the people who resigned or was fired from their positions less than a year of Trump's presidency.
Former attorney general Sally Yates, who was appointed to the position by former President Barack Obama, was fired within her first 10 days in office.
Former communications director Anthony Scaramucci had a brief stint in the Trump White House. Scaramucci was hired to his position just after Sean Spicer was fired, however, he was fired in less than two weeks. According to the New York Times, John Kelly requested for Scaramucci to be reported after he reportedly bragged about how secure his job was. Scaramucci was a loyal supporter of Trump and worked on Trump's transition team before he was appointed to communications director.
Since Trump has taken office in January, several members of the original Trump White House are no longer there. While it is uncertain who will make it into 2018, there is at least one White House staffer who is getting a lot of attention for remaining close to Trump from day one and has managed to stay under-the-radar and away from any White House drama.
John McEntee, a former University of Connecticut quarterback who became popular on YouTube for making a viral trick-throw video has been working alongside Trump since 2015. When President Trump tweeted a photo of some of his original team members who helped him become president, McEntee was pictured alongside Jared Kushner, Stephen Miller, Hope Hicks and Dan Scavino. 
John McEntee working in 2015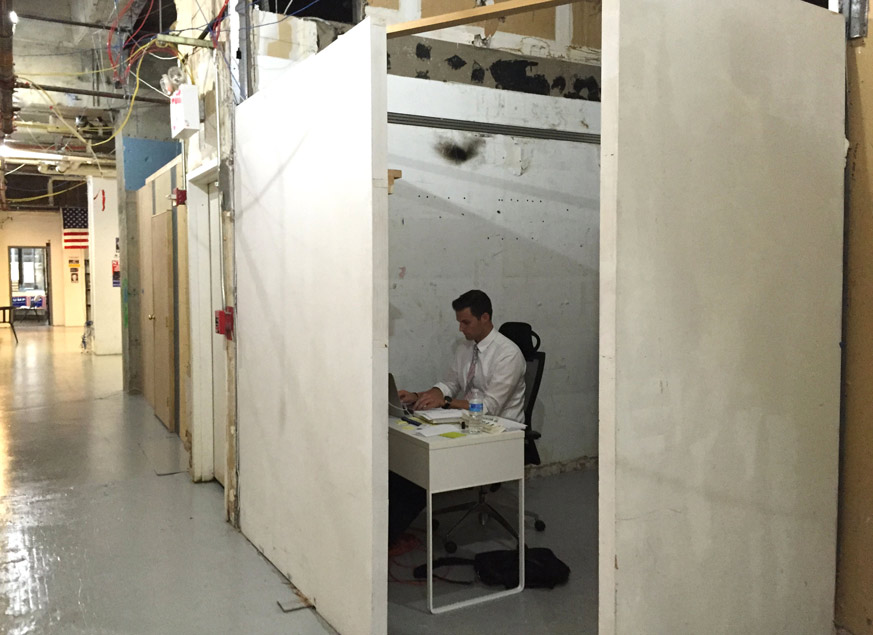 Talk about dedication: John McEntee, a staffer for Donald Trump's 2016 Republican presidential campaign, works at his desk inside the Trump campaign headquarters in 2015.
Click through the gallery to see the original Trump White House staff members who have been there since day one and have made it through President Trump's first year in office.  
Trump White House officials no longer there
H. R. McMaster — National security advisor
Rex Tillerson — Secretary of state
Steve Bannon  — Chief strategist
Gary Cohn — Chief economic adviser
Mike Dubke — Communications director
Michael Flynn  — National security adviser
Sebastian Gorka — White House advisor
Hope Hicks — Communications director
Rob Porter— White House staff secretary
Omarosa Manigault-Newman — Director of communications for the Office of Public Liaison
Anthony Scaramucci — White House communications director
Reince Priebus — White House chief of staff
Sean Spicer — White House press secretary
K. T. McFarland — Deputy national security advisor
Rob Porter — Staff secretary
Dina H. Powell — Deputy national security advisor
Keith Schiller  — Director of Oval Office operations
Katie Walsh — Deputy chief of staff
Sally Yates — Acting attorney general Josh Raffel — Deputy communications director
Rick Dearborn —  Deputy chief of staff
Preet Bharara — U.S. attorney, Southern District of New York
George Sifakis —  Director, Office of Public Liaison
Ezra Cohen-Watnick — Senior director for intelligence programs, National Security Council
Marc Short — Senior press assistant
Walter Shaub — Director, Office of Government Ethics
Vivek Murthy — Surgeon general
Angella Reid — White House chief usher
Rob Reinstein — Deputy Attorney General
Donald F. McGahn II — White House counsel
Scott Pruitt — E.P.A. Administrator
Joseph W. Hagin — Deputy chief of staff
Maj. Gen. Ricky Waddell — Deputy national security adviser
Nadia Schadlow — Deputy national security adviser for strategy
Thomas P. Bossert —  Homeland security adviser
Michael Anton — National Security Council spokesman