This Saturday, April 21st is officially Record Store Day 2018. This means tons of local shops from all over will be opening their doors early for avid record collectors on the hunt for exclusive vinyl releases.
Since 2007, Record Store Day has become a global phenomenon. Stores get in on the fun by offering special sales, live music, DJs and hosting signings from special artists. But the main attraction for most collectors is the huge list of Record Store Day exclusive releases. This year's official ambassador is the tougher-than-nails hip-hop group Run the Jewels, and the list of exclusive releases includes 422 titles.
People generally line up early to get everything on their bucket lists, and mapping out which stores you hit is crucial. Luckily for you, we picked out a few stores for you to hit. Happy record hunting!     
Metro's Guide to Record Store Day 2018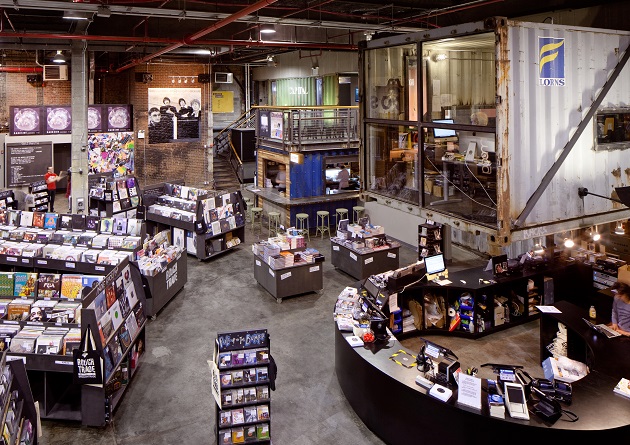 [Photo: The Palombo Group]
New York – Record Store Day 2018  
Rough Trade NYC 
Location: 64 North 9th Street, Brooklyn
Opening: 9 a.m. 
Rough Trade NYC is basically the one-stop shop for anyone looking for new vinyl in the Big Apple. The huge selection can be overwhelming for new shoppers as big-time collectors can spend hours sifting through the racks. The shop will be going all out for record store day this year with a full stock of official releases and a full day of live music in their separate show space that's set to include Titus Andronicus, Chris Stamey of the dBs, and the Shacks. "For us, and any local record store, it's kind of a celebration of the medium of vinyl itself. But it's also a great way to celebrate record store culture," says Rough Trade manager George Flannagan. "A big part of it is obviously the exclusives and the titles that are only available that day in limited amounts, but we also try not to lose focus on the regular record store experience. You can come in and see some live bands, browse the rack, and get some recommendations from the staff. The stuff we try to push all year round. It's a huge day for us and a great way to build our audience and get the word out to people who are rediscovering the format."
Record Store Day Pick: David Bowie "Welcome to the Blackout (Live in London '78), Latin Playboys "Latin Playboys".
Academy Records Annex 
Location:  85 Oak St, Brooklyn
Opening: 9 a.m.
In Greenpoint, Academy Record Annex has been providing shoppers with a large selection of rare and deep LPs and 45s for years. A true everyday collector's preferred choice, they've been known to embrace the spectacle that is Record Store Day by offering early morning shoppers free Stumptown coffee and doughnuts from Moe's Doughs. "I think overall it's a great thing for the shop. It's our busiest day of the year, hands down," says Academy Records buyer Jeff Conklin of the vinyl holiday. "People are psyched, people are happy and people are coming in and really enjoying being in a record store," he adds. "I think it's not without its problems. I think there are a lot of things that are put out that probably don't need to be put out. The Record Store Day stuff really kind of messes up labels trying to do regular releases. Things get pushed back. But overall, I think it's a great day and we try to have fun with it." The shop will host live music from HoZac records artist Velveteen Rabbit in the afternoon. 
Record Store Day Pick: Hot Tuna "Live at the New Orleans House"
Limited to One 
Location: 221 E 10th St, Manhattan
Opening: 9 a.m.
A different option from the typical Record Store Day fair would be the East Village boutique shop Limited to One. This store caters to rare and limited punk, metal, indie-rock and electronica releases that are nearly impossible to find outside of extremely competitive bidding wars online. They won't have any of this year's exclusive releases, but as shop owner Kristian Sorge told me, they'll have plenty of surprises. "Our store isn't carrying any of the record store day stuff but we know that a lot of people are going to be out and excited about record shopping generally, so we're participating in our own way," explains Sorge. "We've got a few collections of stuff that was sent to our store and we've been stashing some stuff that we're going to put out on Saturday. We support it even though we're not a part of the Record Store Day thing — it's nice to have people come out and record shop. For us, every weekend is Record Store Day. But, I'm sure a lot of people are saving up and record shopping all day, so it's nice to be a part of it." The store will be hosting live performances all afternoon from Second Letter (of Farside and Burning Airlines), Graduation Speech (of Aspiga), Jared Hart (of The Scandals and Mercy Union), and  Popeye (of Farside). 
Record Store Day Pick: Limited to One will be putting out an all R.E.M covers EP by Jeff Caudill of the band Gameface that will be limited to only fifty copies. Get there early! 
Boston – Record Store Day 2018 
Newbury Comics 
Locations: 332 Newbury Street 
Opening: 8 a.m. 
There are not a lot of stores that will be carrying official Record Store Day releases in the Boston area. But both Newbury Comics locations will be stocked full of all of the best titles and will be opening earlier than most. "The last two record store days I've worked have been crazy with huge long lines," says Faneuil Hall Market Place Key Holder Guy Dominguez. Newbury lets shoppers know what will be in-stock that day through social media. "We get a lot of people coming in," says Dominguez, "and we try to put up some of the special releases on social media with what we'll have."
Record Store Day Pick: Czarface & MF Doom "Man's Worst Enemy" 7″ 
Nuggets 
Location: 486 Commonwealth Ave
Opening: 11:30 a.m. 
If you're looking to avoid the madness at Newbury and still want to get some exclusive titles, try heading over to Nuggets on Commonwealth Ave. They'll be opening much later on, at 11:30 a.m., so that will give you some time to beat the people coming from Newbury who had their chance already. "I think it's pretty great," says Nuggets' Stuart Freedman about the whole frenzy of Record Store Day. "We do pretty well that day. We do order a bit of stuff. We don't really go overboard like we did the first couple of years. We order a couple of a lot of different items but not everything they offer." 
Record Store Day Pick: Freedamn was too overwhelmed by the number of exclusive releases Nuggets will be carrying to choose just one. But take his word for it, they will be carrying a lot of good titles. 
Philadelphia – Record Store Day 2018 
Creep Records 
Location: 1050 N Hancock St
Opening: 8 a.m. 
Creep Records in Philly will be going crazy with a signing from the famed jam band The Disco Biscuits and a skate expo with pro-skaters Kyle Nicholson and Kevin Taylor, sponsored by Philly Skate Supply. They'll have every single Record Store Day exclusive in stock as well as live music from local bands Gabe Preston, Uncle Dan, Sexoffice, Breathing, Tulpa and Star Wood. "For Record Store Day, we have all of the exclusive releases," boasts Creep's Will Angelos, "I don't think we didn't get one this year."
Record Store Day Pick: Run the Jewels "Stay Gold Collectors Editon Box" 
Digital Underground 
Location: 732 S 4th St
Opening: 9 a.m. 
Over in South Philly, gaming and record store Digital Underground will be opening its door a little earlier than usual with all of the Record Store Day exclusives shoppers will be clamoring for. According to owner Joe Scott, the festive rush is not only fun but brings attention to small, independent shops like his. "It's certainly good for us," he says "It brings a lot of people into our shop. Our shop is sort of a specialty store, but for Record Store Day we kind of go all in and get all of the titles. It draws new customers to the shop and it gets people excited about record stores like ours."  
Record Store Day Pick: Hans Zimmer, Jacob Shea and David Fleming "Blue Planet II: Original Soundtrack" 
Sit and Spin Records 
Location: 2243 S. Lambert St
Opening: 12 p.m. … kind of … 
South Philly's Sit and Spin won't be taking part of the official festivities per se, but rather will be rewarding yearlong record shoppers with special perks. Frequent shoppers of the rare punk, metal and hardcore shop will have already been aware that by owning one of their tote bags they automatically get 10 percent off of all used titles. But for Record Store Day, the shop will allow these tote-owners entry into their shop at 11:30 a.m. rather than their normal time of 12 p.m. to get first choice at some of the rare records they'll be putting on their shelves in honor of the celebration. And according to co-owner Leora Colby, there will be a ton of amazing titles to choose from. "This is going to be our 5th year participating," explains Colby, who co-owns the shop with her partner Colin McMahon. "Early on we went gung-ho with the whole Record Store Day concept, and participating with the special releases, but we learned that these releases only attract one-time buyers of that special item. So we took a new angle. In recent years, throughout the year, we'll reserve truly rare items that have spent a lifetime earning value. We reserve those things and on Record Store Day release those to the public, and what we found is that it brings in our loyal customers that we see on a regular basis. It's a way of thanking them." Thirsday? Their neighbor, ARS Brewery, will be partnering up to offer a discounted beer for all Record Store Day shoppers. 
Record Store Day Pick: "We got an original copy of Misfits 'Horror Business'" says Colby, "It's a stock copy that has never been played. A box recently got discovered in England and we managed to get a copy of one of them. That's a big ticket item and will bring some people in."