In late August of 2013, a little movie came out of nowhere and made a lot of money. It was called "Instructions Not Included," and it was a comedy from Mexico starring (and written and directed by) Eugenio Derbez — a big star in his native country yet largely unknown in the States. And yet it went on to gross $44 million (and $66 million more abroad), making it the highest grossing Spanish-language film of all time in the U.S. market.
"It opened a lot of doors for me," Derbez tells us. Not long after, he decided to take a leap of faith: He closed down his production offices in Mexico and relocated to Los Angeles. "I started everything from zero: a new company, a new home, everything."
It's paid off. Derbez scored a five-picture deal with Lionsgate. First out of the gate: "How to Be a Latin Lover," his first starring role in an English-language film. He plays Maximo, a gold digger whose rich, 80-something wife of 25 years abruptly trades him for a younger model (in the form of Michael Cera, as it were). Rather than recreate himself in middle age, he squeezes his potbelly into the same swanky clothes and tries to find another randy senior citizen to fund his lavish life.
It may have been a no-brainer to pair Derbez and Hollywood, but "Latin Lover" was no picnic. For one thing, comedy doesn't always translate across national borders.
"Drama is universal; we all cry for the same reasons. But comedy is very particular. It depends on each country, each culture," Derbez explains. "It was hard to make a script that would appeal to the U.S. and also to my audience. Because I didn't want to forget my audience."
While "Instructions Not Included" was a Woody Allen-style auteur project — written, directed and starring the same person — "Latin Lover" was helmed by Ken Marino, the prolific star of American comedies like "The State" and "Party Down," and written by Americans Chris Spain and Jon Zack. The supporting cast is stocked with American comedy names like Rob Corddry, Rob Riggle, Rob Lowe, plus Raquel Welch, as the wealthy lady he most wants to seduce. (Meanwhile, Salma Hayek plays his estranged sister.)
"At first I wanted to direct it, but then I decided it was too risky. It's a new market. It's not in my first language," Derbez recalls.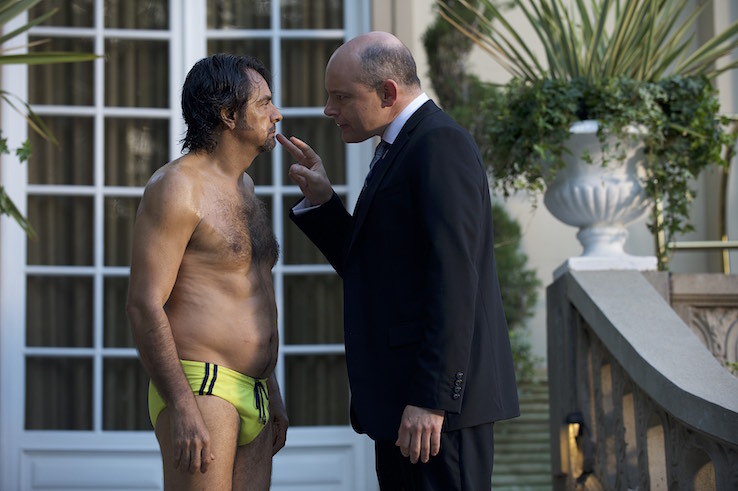 Though he says he'll direct again in the future, he thinks this was the right decision: Once he got on set, he realized he didn't always understand why the American jokes were funny. Hispanic humor generally tends to be very different.
"We're probably more broad," Derbez explains. "If you watch any Hispanic channels, we're really big. The jokes are big, the laughs are big. In the U.S., everything's very grounded, very cool. You don't want the U.S. market to think, 'This is too broad, too slapstick.'"
So everyone worked at finding a balance between the two cultures. Derbez himself had to change his comedy style a touch. "Usually, I play a lot with words — making jokes playing with the Spanish language," he says. But he can't do that with English yet. "I'm still learning. I'm not confident enough to play with words in English. But I'm getting there."
Derbez also found himself playing someone who's not like him at all.
"In real life, I'm very, very shy," Derbez admits. Gaining weight helped. He put on 20 pounds, so that Maximo's gut protrudes out of his high-priced duds. "He's not aware that he's already old. He feels he's still hot and sexy. But he's not anymore."
That Maximo exudes powerful obliviousness to his figure doesn't only provide plenty of comedy. It also taught Derbez a lesson in confidence, however misplaced.
"When you approach a woman and you feel confident, that's all you need," Derbez says. "It doesn't matter if you're skinny or tall. If you feel confident and you feel handsome, you don't need anything else."
Clothes help, too. "They make you feel different. When you're wearing a good suit, immediately you feel more powerful, sexier," he says. "That's all you need. And a good pick-up line, too."
Follow Matt Prigge on Twitter @mattprigge