Plastic straws are (understandably) getting a bad rap these days. Starbucks and McDonald's say they're not going to use them anymore, while states like California are considering banning them altogether.
But leading environmental groups and academics say that cigarette butts — not plastic straws — are putting our world's waterways in danger. Why? It all comes down to how they're made. Are cigarette butts biodegradable? Not exactly.
How many cigarette butts end up in the ocean?
Cigarette butts are the item found on beaches the most, according to The Ocean Conservancy. The group sponsors a beach cleanup every year and have collected more than 60 million of the butts since 1986 — about one-third of all the items they collect.
"It's pretty clear there is no health benefit from filters. They are just a marketing tool. And they make it easier for people to smoke," Thomas Novotny, a professor of public health at San Diego State University told NBC News.
Even worse: A study from Keep America Beautiful found that 77 percent of people don't think of cigarette butts as litter.
Are cigarette butts biodegradable?
Unfortunately, cigarette butts are litter — and as damaging as plastic straws.
It might not be apparent just by looking at them, but cigarette butts are made of 95 percent cellulose acetate, a type of plastic, encased in a paper or rayon shell. Cellulose acetate does decompose, but it takes anywhere from 18 months to 10 years.
But that isn't the worst of it.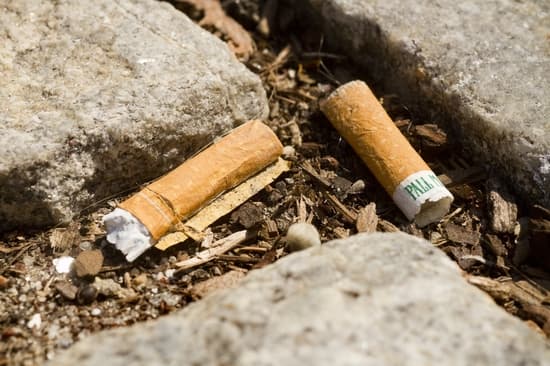 Used butts contain toxins (like nicotine) that, when discarded, can contaminate water and living things.
"More research is needed to determine exactly what happens to all of that," Nick Mallos, director of the Trash Free Seas campaign for the Ocean Conservancy, told NBC News. "The final question is what impact these microplastics and other waste have on human health."
Advocacy organizations are launching campaigns to either outlaw cigarette butt littering, or asking for cigarette companies to find a way to make filters biodegradable. One startup, Greenbutts, is working to bring organic cigarette butts made from hemp, wood pulp and other ingredients to the market.
"We are hoping governments incentivize use of the product," co-founder Tadas Lisauskas, told NBC News. "Or, at the end of the day, make it mandatory."