What's better than shopping at Target? Shopping there with a free Target gift card, of course.
In a perfect world, we'd all have an unending fountain of free Target gift cards — and a post your aunt or old high school classmate probably shared on Facebook is promising just that.
The Facebook posts typically contain some variation of "Text TARGET to 83361 and claim a free Target gift card" and seem to come from either fake bot accounts or compromised real accounts. Once a person texts the number, they get a response that asks for more personal information to claim their card.
And then, of course, the promised free Target gift card never arrives.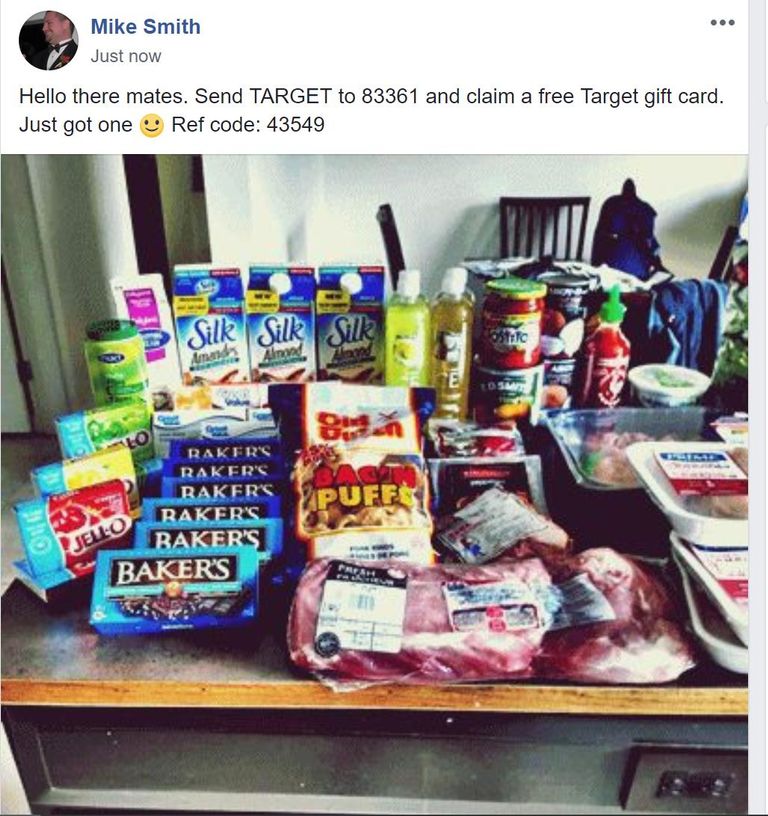 So, what's happening here? It's a type of online scam known as smishing.
What is smishing?
You're probably familiar with phishing, or those spam emails you get that end up stealing personal information and even bank account info. Smishing is similiar, but instead of in email it's via text.
According to the website IDTheftInfo, "you'll be required to provide personal information such as your credit card number or social security number before you can claim any gift card."
The scammers then use that information for their own nefarious purposes, or sell it to others.
Is there a way to get free Target gift cards?
Retailers like Target and Walmart commonly give away gift cards in exchange for filling out a survey. You can also get free Target gift cards when you buy certain items. These gift cards change from week to week, so check the circular to find out what you have to get your free gift cards. Target also sends out coupons via text, but you have to text "Target Mobile Coupons" to 827438 to get on the list.
When it comes down to free Target gift cards, just remember this: If it sounds too good to be true, it probably is.
"If the link provided in any text (or e-mail) message doesn't lead you directly to a page on the company's main website, it's more likely than not that the offer is a scam," IDTheftInfo writes. "The most popular website being used in this particular smishing scam, for example, is www.walmartgift.mobi (rather than the store's actual site, which is www.walmartstores.com)."