Imagine a 10,000-ton improvised nuclear device detonated over New York City. Would emergency responders be ready?
This and other questions are what federal authorities are trying to answer as they wrap up a four-day drill simulating that scenario.
In Operation Gotham Shield, the Department of Homeland Security and the Federal Emergency Management Agency teamed up to evaluate their prevention of, protection from, response to and initial recovery from a nuclear explosion in a major metropolitan area like New York City.
The drill simulated a nuclear device detonation on the New Jersey side of the Lincoln Tunnel, Fox NY reported. MetLife Stadium, which sits about 15 miles from Manhattan, served as the primary response center.
State, local and regional emergency responders from across New York and New Jersey worked together to act out the response, further developing relationships that will support more effective response and recovery operations during disaster situations, including nuclear incidents, FEMA said in a statement. From Monday through Thursday, the Gotham Shield exercise tested functional coordination, decision making and communications over a multiday disaster response.
Though North Korea, a sworn enemy of the U.S., has been ramping up its nuclear tests in recent weeks, a FEMA spokeswoman said the threat of attack from the southeast Asian nation did not factor into the preparedness drill.
"FEMA has been planning Gotham Shield for almost a year. The exercise is not in reaction to current tensions with North Korea or any other recent international incident," Lauren Lefebvre of FEMA said in an email to Metro.
The drills stirred up paranoia and conspiracy theories among the usual suspects — one Reddit user wondered if they could "fake a nuke" and trigger sprawling blackouts.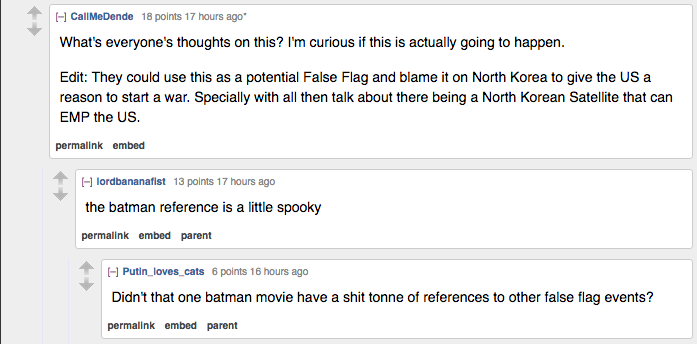 An InfoWars article declared the "false flag watch" active.
A "false flag" describes a covert operation that has been designed to deceive in such a way that activities appear as though they are being carried out by entities, groups or nations other than those who actually planned and executed them.
"Given all that is going on in the world, it is downright eerie to discover that the federal government is once again staging mock disasters that draw disturbing parallels with current world events," the blog said.
InfoWars wasn't the only blog that got its conspiracy theories churning — the idea of a "false flag" coming from the New York drill was visible in all corners of the conservative and alt-right internet.