As unforgettable as it is to be at a World Cup match, most of us are trying to avoid Russia right now. No, the U.S. didn't get a spot on the 32-team playoff roster this year, but for the next month you'll still be hearing a lot about soccer. So pick a team and cheer them on from June 14 through July 15 at the best bars to watch the World Cup in New York City.
Smithfield Hall
Tons of TVs, quality pub grub (Jameson wings and rosemary fries) and plenty of tall tables — what more do sports fans need? Chelsea's Smithfield Hall is a destination for all sports fans, but it's soccer that's held above all else here, with several New York clubs making it their home base. 138 W. 25th St.
Football Factory at Legends
The name says it all. You'll be surrounded by soccer memorabilia on the walls and wall-to-wall fans on the floor at Football Factory at Legends. Catch the games on this Midtown East bar's dozens of TVs, with plenty of beers on tap and a menu ranging from Irish classics to stone crab claws. 6 W. 33rd St.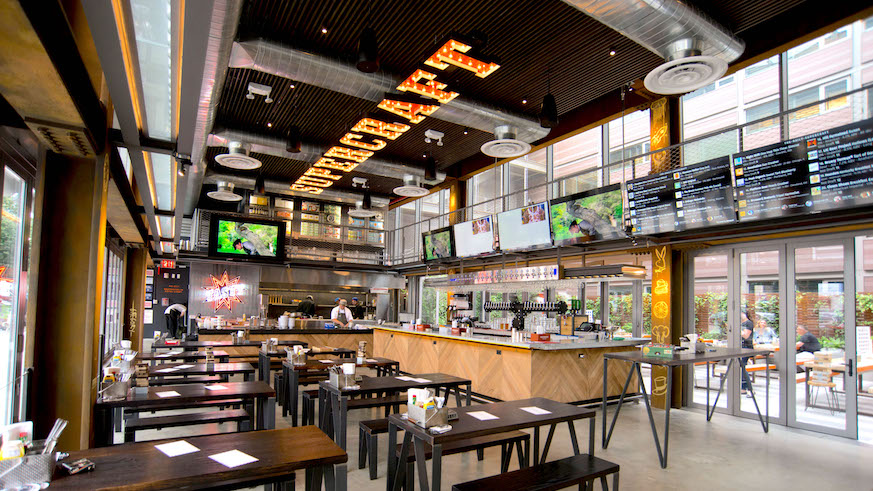 Clinton Hall Williamsburg
The growing chain of craft beer emporium Clinton Hall, with its all-burger menu, giant games and viral desserts, just opened its first Brooklyn outpost. Located on the rooftop of the Pod Hotel, Clinton Hall Williamsburg will open in time for kickoff at 8 a.m. each day of the Cup, showing all the games with drink specials (at all locations, though they won't open early) including $5 Bitburgers and $20 Modelo/Corona buckets. 247 Metropolitan Ave., Brooklyn
Brooklyn Tap House
It doesn't get better than watching sports in a beer garden during summer. Brooklyn Tap House has 20 TVs and four projectors so you never miss a minute, a huge backyard if you need a breather and 44 beers on tap for something new to try every game. 590 Myrtle Ave., Clinton Hill
The Monro Pub
South Slope's Monro Pub doesn't look like much from the outside, but inside this Liverpool bar you'll find the bar area strung with flags and a giant TV playing to an avid crowd. Lots of small booths and stools, cheap beer buckets and well-mixed cocktails make this the not-so-divey bar you wish were your local. 481 Fifth Ave.
Dog Haus
California's craft hot dog sensation Dog Haus just opened in SoHo, with a giant screen in the center of the dining room and plenty of tables to watch all the action. In addition to the perfect stadium food (as well as burgers), you'll find a good selection of craft beers — and it's always happy hour during games. Raffles for items like signed jerseys, dinners and trips also add to the excitement. 62 Spring St.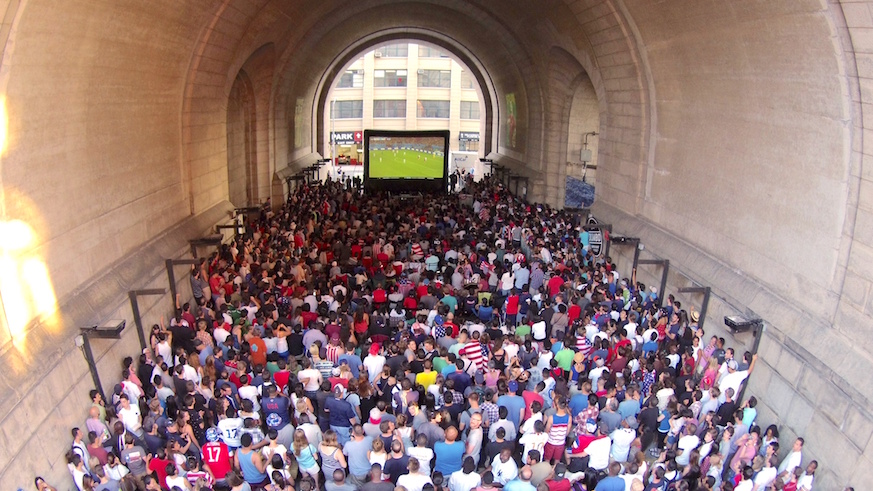 Outdoors in DUMBO
This one doesn't quite count as a bar, but it was too good to leave off the list. The DUMBO Business Improvement District is reprising its popular outdoor screenings, first at the Sands Street Plaza (73 Sands St.) from June 14 to July 6​ on an 80-inch screen, complete with "grass" for viewers to spread out on and nearby restaurants delivering to your seat. Then catch the semifinals (July 10 and 11) and finals (July 15) at the Manhattan Bridge Archway on a super-size screen. Various vendors will be cooking food for purchase both games.
Ribalta
Buy two beers get your third free at Ribalta, Union Square's Neapolitan-style pizza parlor. Every game will be shown on the restaurant's 16-foot screen, and they've even rolled out a  special margherita pie with tomato-vodka sauce in honor of host nation Russia. 48 E. 12th St.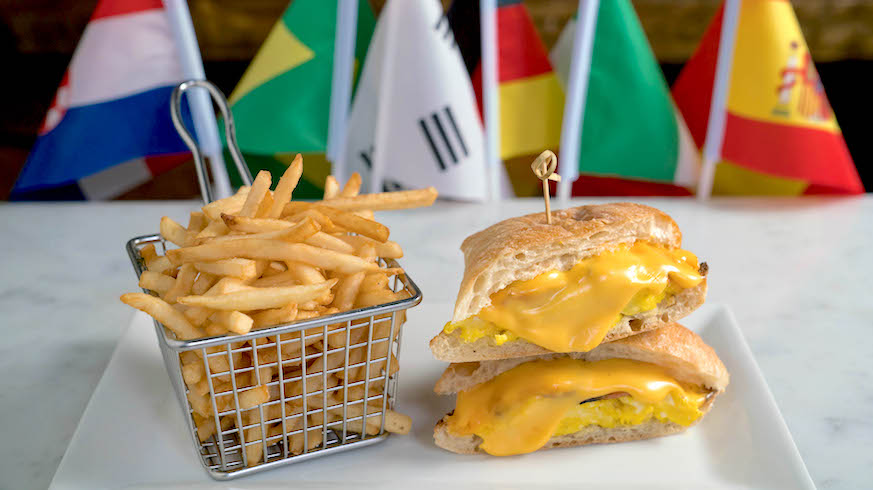 Mustang Harry's
Midtown's newly renovated Irish sports hub Mustang Harry's is launching breakfast just in time for the World Cup's 8 a.m. games through June 24 (after which the earliest games will be at 10 a.m.) With dozens of TVs around the two-story space, you won't miss a moment of the action. To get in on giveaways and specials throughout the tournament, download the Swing app. 352 Seventh Ave.