NYU Langone Health has unveiled the first look at its new digitally-focused inpatient facility, set to open June 24.
The Helen L. and Martin S. Kimmel Pavilion is 21 stories tall, with a whopping 830,000 square feet of hospital space, which includes 11 patient floors. Several floors will be devoted to Hassenfeld Children's Hospital—34th Street, the first children's hospital built in New York City in nearly 15 years, officials said.
After more than a decade of planning and construction, this new facility marks the "largest and most extensive revitalization" in NYU Langone's history, according to the medical center.
This new facility reflects the medical center's "overall vision to grow as a world-class, patient-centered, integrated academic health system focused on quality and excellence in clinical care, education and research," Robert I. Grossman, CEO of NYU Langone, said in a statement. 
Hassenfeld Children's Hospital will become NYU Langone's new flagship location for pediatric inpatient care. It will feature 68 single-patient rooms and services from more than 400 doctors across 35 specialties.
Beyond medical care, the space was designed to entertain kids and their families during their hospital stays, from theater and music performances to game and movie nights — even yoga and relaxation groups — for parents.
The Family Resource Lounge will feature laundry facilities, showers, a snack center and computer work stations. The hospital was designed with input from children who have undergone treatment at NYU Langone and their family members.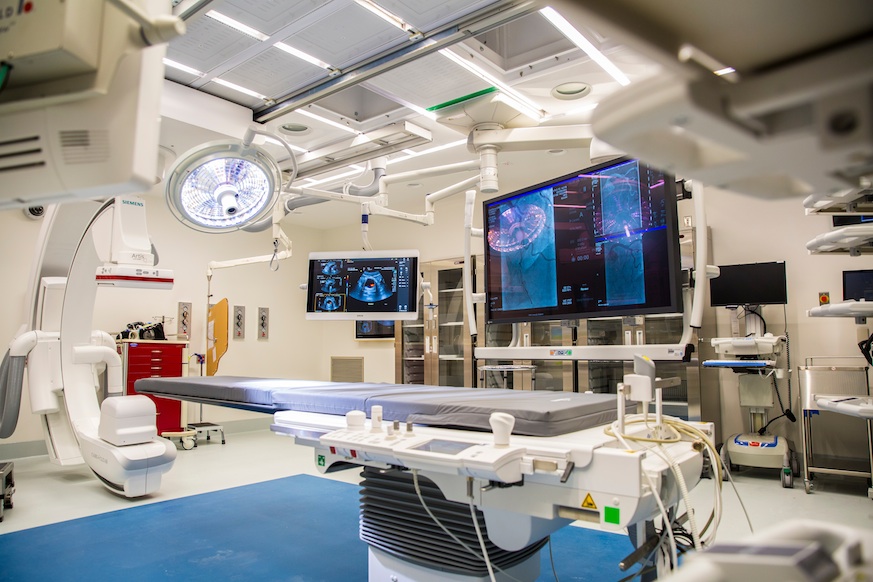 The new Kimmel Pavilion includes 30 operating rooms with high-resolution displays to allow surgeons to visualize a case in real-time and even interact with pathologists in the lab. Photo: Provided by NYU Langone
The new construction is meant to revolutionize the healthcare experience, officials say, bringing the hospital into the future. New amenities include 75-inch digital displays in every patient room through which they can learn about their care team, order meals, control their room's ambiance and access entertainment.
Robots will also make an appearance in the hospital halls to transport meals, linens, supplies, medications and to remove hazardous waste.
The new buildings help make NYU Langone resilient to extreme weather by forming a wall that holds back the East River in case of flooding. They'll also be energy efficient.
"We're extremely proud of technological systems we've built and deployed, which are truly first of their kind and represent a step forward for the medical field," said Nader Mherabi, senior vice president at NYU Langone, in a statement. "Patients expect a digital experience in their daily lives, and now they expect it from their care teams and hospitals."