There's no bigger brand in the world of entertainment than Disney, which now includes Marvel superheroes and Star Wars, 12 theme parks, its own TV channel and a vast movie empire. But as Walt Disney liked to remind people, it all started with a mouse — and Mickey Mouse got his start 90 years ago right here in New York City, and he's back to celebrate his birthday.
Mickey Mouse's introduction to the world was in 1928's Steamboat Willie, which screened at the Colony Theater, now known as the Broadway Theatre where King Kong rules. His return to New York is no traditional celebration. Disney sought out contemporary artists who love Mickey in their own unique ways to fill its 16,000-square-foot interactive gallery show Mickey: A True Original Exhibition.
One of the first artworks you'll see, in fact, is a Mickey you've probably never known: an angry one, sculpted in neon from a 1930s character sheet by artist Jeff Shelly.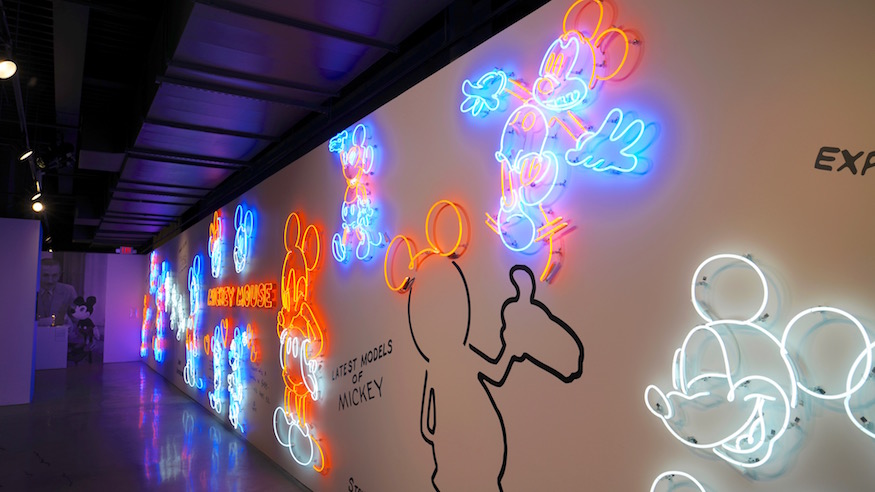 "He was very persnickety and feisty in the beginning," says Shelly, Disney's director of character art who's been an animator and designer with the company for 28 years. "Then he slowly became so popular that his personality became more of a role model. Then Donald came along in 1934 and took over the angry role."
If you know that level of Disney trivia, Mickey: A True Original is an exciting trove of treasures for you with plenty of hidden Mickeys, easter eggs like a Steamboat-era Mickey Mouse with gloves (which he didn't get until two cartoons later) and Annette Funicello's original Mickey Mouse Club outfit.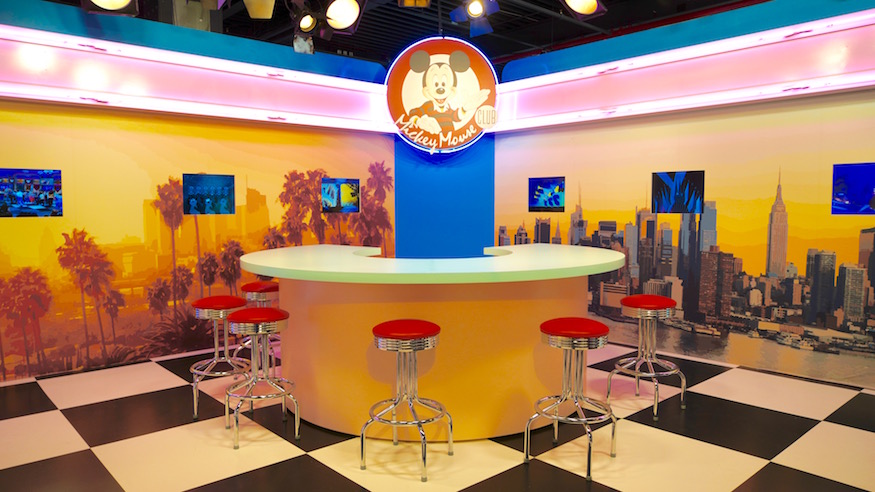 For the casual fans, there are plenty of photo ops like Daniel Arsham's Mickey emerging from a wall, Mickey's Fantasia magic recreated in yarn by Brooklyn fabric artist Shinique Smith, an ice cream stand by longtime Disney partner Ample Hills and a recreation of the original Mickey Mouse Club set.
One thing you don't need a ticket for is the gift shop; there's an online store with even more special 90th anniversary swag as well. The store also includes a free peek into the exhibit with a psychedelic black-light Cosmic Cavern stuffed with paraphernalia created by New York artist Kenny Scharf — in case you ever wondered what Mickey's house would look like if he were a teenage Led Zeppelin fan.
"Hopefully," says curator Darren Romanelli, "you're inspired and leave reconnecting with Mickey but also feeling a new sense of connection with Mickey."
Mickey: A True Original opens Nov. 8-Feb. 10, 2019 at 60 10th Ave. in Chelsea. Hours are Tues-Sun from 10 a.m. to 8 p.m.; tickets are $38, showclix.com.