We have some good news if you've had it with the frigid cold temperatures that plagued us during the winter and spring: The Farmers' Almanac summer 2018 prediction says it's going to be a hot one.
All together now: Yay!
The Farmers' Almanac summer 2018 outlook shows "warmer-than-normal temperatures for most of the nation." The hottest weather will hit the Midwest and West Coast, especially in July. The Southeast will be hot and humid, too — but the Pacific Northwest is expected to experience cooler temperatures.
The Northeast can also expect hot weather, along with drier-than-normal days, meaning there could be a drought coming.
How accurate is the Farmers' Almanac?
The Farmer's Almanac dates is based on a formula created 200 years ago.
"We base our predictions on a specific and reliable set of rules that were developed back in 1818 by David Young, the Farmers' Almanac's first editor," current editor Peter Geiger told Country Living. The exact formula is kept top secret and has been altered over the years — all Geiger will say is that the Almanac "now includes both mathematical and astronomical factors" along with parts of the original formula.
Predictions are made up to two years in advance and are told in the Almanac by a fictional forecaster, Caleb Weatherbee.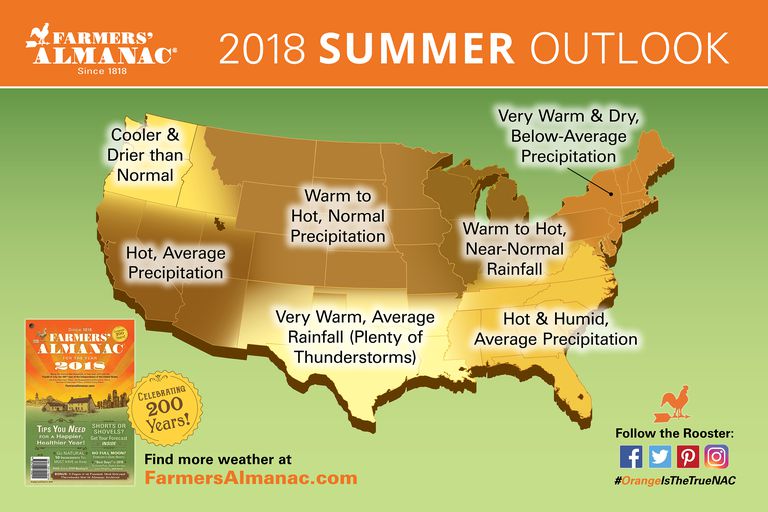 This seems to go against meteorologist predictions that'll we'll have a wetter-than-normal summer that will keep allergy-causing pollen at bay.
So, will the Farmers' Almanac summer 2018 prediction be right, or are meteorologists on target? We won't know until summer arrives, but the Farmers' Almanac was spot on with their cold and wet predictions for winter and spring 2018.
Should we believe the Farmers' Almanac summer 2018 prediction?
The bottom line: Don't ignore the Farmers' Almanac. It's probably a good idea to stock up on fans and sunscreen now — and get those air conditioners serviced so you're not sweating when the temperatures start blazing.