Puppy Bowl 2018, or Puppy Bowl XIV, is upon us. Here's what you need to know about the paw-some Sunday afternoon showdown you won't want to miss.
What is Puppy Bowl 2018?
The Puppy Bowl (aka the best sporting broadcast ever to air on television) is an annual event bringing together America's love of football with its love for, well, puppies — puppers, if you will.
The two lucky teams to face off at the 14th annual Puppy Bowl are Team Ruff and Team Fluff, and they're comprised entirely of recues.
Puppy Bowl XIV is a whopping two hours long and was actually filmed back in October. The goal? To carry as many toys across the field as possible to win the Chewy.com "Lombarky" trophy. 
This year, the network announced that Puppy Bowl XIV will take place on a brand new field, according to Vanity Fair, who spoke to executive producer Simon Morris.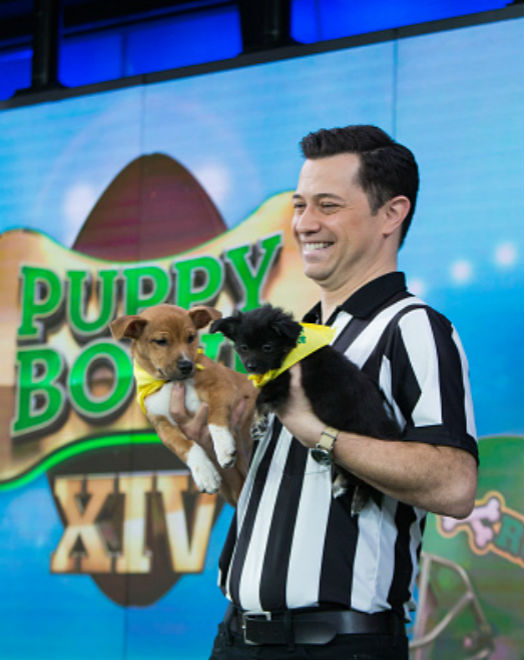 As for the referee — he's a sloth. A sloth named Shirley, that is. (Ok, the actual ref is host Dan Schachner, but the sloth's going to be there too.)
Puppy Bowl XIV lineup
Animal Planet works with shelters around the country to fill their roster.
"We've got special needs dogs, we've got dogs from areas that have been affected by natural disasters [pups rescued during Hurricane Harvey, Maria and Irma], so a really incredible roster this year," Schachner, who referred to the game as the "biggest competition on four legs," told PEOPLE in an interview this week.
"We used to have to appeal to shelters, now they come to us every year," he continued while holding one of these pups in his hand. "And we try to showcase a variety of breeds, a variety of sizes…" (He proceeds to be interrupted by dog kisses.)
According to executive producer Morris, the players to watch are Mango, a rescue from Mexico and the Puppy Bowl's first international player, a Chihuahua-poodle mix named J-Paw (short for Jennifer Pawrence) and a Pomeranian named Morris (not to be confused with Morris, the producer).
Morris (the producer) told Vanity Fair that Schachner had to step in during filming to give a call "reminding all the puppies that Morris is, in fact, not a chew toy, but actually a puppy, and shouldn't be treated as a chew toy."
Here he is in all his glory:
Puppy Bowl 2018 will feature up to 90 puppers, but Team Fluff and Team Ruff's starting lineup, which you can view in full here, consists of 39 total. To find out how to adopt these adorable players, you can head over to the Animal Planet website.  
When is Puppy Bowl 2018?
Puppy Bowl XIV will air on Sunday, Feb. 4 at 3:00 p.m. EST and noon PST on Animal Planet. To be clear, there will be no live streaming of the event since it was pre-filmed in the fall.
Last year, Team Fluff won the prize with a 93-38 victory over Team Ruff. Watch highlights from Puppy Bowl XIII here.
Puppy Bowl 2018 halftime show
If you thought this couldn't get any better, the Puppy Bowl XIV has its own halftime show.
In honor of JT performing at the Super Bowl, the Puppy Bowl's mid-game kitten act will perform "Meow Meow Meow," a cover of the NSYNC hit song "Bye Bye Bye."
Last year's halftime show featured Chicago Rock Cats with headliner Kitty Gaga singing "PUParazzi." It was pretty epic. (Watch it here.)
But wait, there's more!
Along with a field makeover, there's another new addition to Puppy Bowl 2018: The Dog Bowl, which will air the night before and will feature around 40 full-grown puppies, including some Instagram stars like Manny the Frenchie and Chloe Kardoggian (not to be confused with the Kardashian).
"It's much harder for [shelters] to find homes for those dogs versus puppies, and so we've just been trying to listen to that," Morris told Vanity Fair.
The Dog Bowl will air Saturday, Feb. 3 at 8:00 p.m. EST on Animal Planet.
Puppy Bowl 2018 Pre-Game Show 
The Puppy Bowl XIV Pre-Game Show starts at 2:00 p.m. EST, and Animal Planet calls it the "ultimate 'Tail'gating experience" — which I'm kind of jealous I didn't come up with.
If you can't wait until then, Puppy Bowl specials will air on Animal Planet all day Sunday starting at 8:00 a.m. EST. And if you're not really into dogs (*gasp*), you can check out the fifth annual Kitten Bowl on the Hallmark Channel Sunday at 12:00 p.m. EST.
So, before you get all worked up over the Pats and the Eagles, sit back, relax and enjoy the fire and furry (yes, I went there) of adorable puppies competing for the biggest prize of all: your love.