Cotton candy-hued lakes and beaches are not as rare as one might think. Here's where to find pretty waters and soft pink sands in that perfect shade of millennial pink.
Balos Bay
Legend has it that the sand at this Greek beach is pink due to the blood of thousands of Turks who died in battle. In reality, it's the abundance of crushed seashells that make the hidden lagoon on this picturesque Crete outpost so pink. The cliff views are surreal and there's an ancient Venetian castle nearby. The waters are warm, shallow, and family-friendly, but go early in the morning to avoid crowds. There are no amenities, so bring your own food and water and shade umbrellas if needed.
Pekelemeer Lake
The shocking pink waters of Pekelmeer Lake in Bonaire pop out of the blue like a mirage and are flanked by blindingly white mountains of salt that look like snow. The water is colored by the abundance of tiny brine shrimp that flourish within them. These shrimp attract more pink delights- flocks of Caribbean flamingos that number in the thousands and congregate to feast on the tiny crustaceans.
Pink Sand Beach
Many of Barbuda's beaches turn a cotton candy hue when the conditions are right, like Pink Beach and Low Bay's 17-mile stretch of absolutely pristine heaven. When the sea swells are very strong, they crush the millions of minuscule pink foraminifera shells until they uniformly carpet the sand. In fact, they can be so numerous that you'll hear a distinct tikka-tikka-tikka sound as they collide together on their slide-and-tumble journey back into the sea when the waves recede.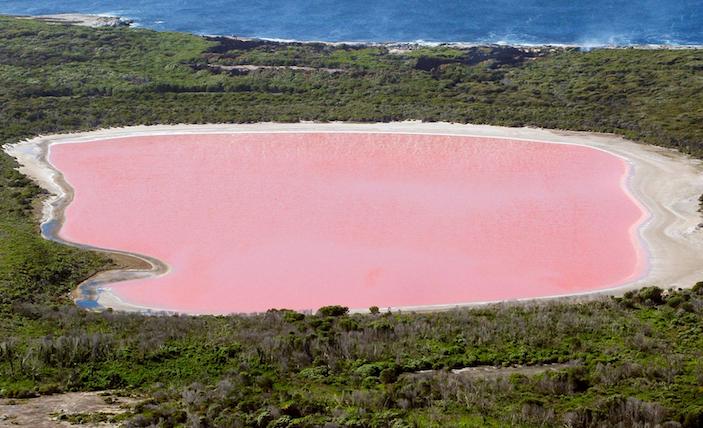 Lake Hillier
While most foreigners who make the giant leap across the ocean to explore Australia come to see the outback and the Great Barrier Reef, the breath-taking natural beauty of Western Australia is nothing to shake a stick at. Lake Hillier is a perfect example of Western Australia's lesser-known hidden gems; the pink salt water in this lake looks like something out of a fairytale! Among other microorganisms, researchers attribute the bubblegum color of the lake to a type of micro-algae that thrives in salty conditions called dunaliella salina. The rare algae produce a pinkish-red dye to help it to better absorb sunlight under the water.
Getting There: Situated on Middle Island, Lake Hillier is a part of the Recherche Archipelago Nature Reserve. The best way to experience this natural wonder is to book a day cruise, as the lake is in a remote location.
Las Salinas de Torrevieja
As it turns out, Australia isn't the only one with Kool-Aid colored lakes. For similar biological reasons as Lake Hillier (high salt content and the micro-organisms that thrive in it), Valencia's Las Salinas de Torrevieja has a pink lake of its very own, and this one is home to 2,000 flamingos.
While the Spanish lake and the wildlife are absolutely stunning, locals know an even better secret; the pink lake in Spain's Las Salinas de Torrevieja has all the therapeutic properties of a natural spa. Treat yourself to a moisturizing mud bath and facemask and let it dry while you take in some sun. Rinse off with a soothing swim in the pink lake, the salt makes you almost as buoyant as in the Dead Sea, adding to the overall relaxation.
Pink Beach (Pantai Merah)
The UNESCO World Heritage Site of Komodo National Park in Indonesia is the perfect stopover for nature lovers visiting Indonesia. Here, the soft, blushing, sand and crystal-clear waters make it the ideal place to snap some envy-inducing vacation photos before delving into world-class snorkeling along the reef. Yet again, our microscopic friends (foraminifera) are responsible for the dazzling pink sands on this beach. These tiny organisms turn the coral red, and when red coral particles crumble off into the sea, they mix with the white sand, and just like magic, it morphs into a pretty pink beach.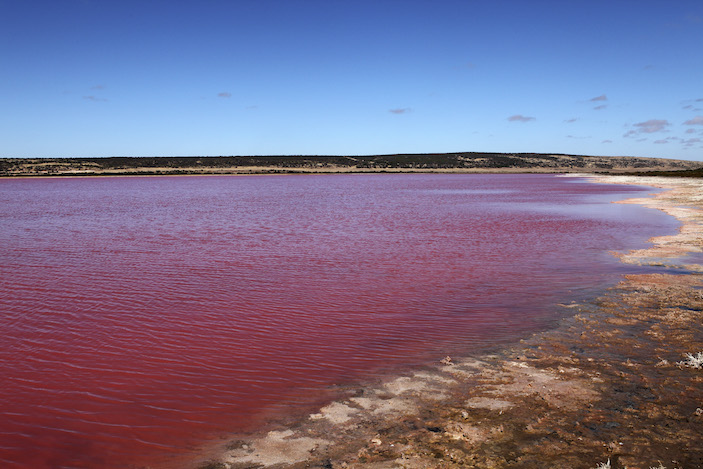 Hutt Lagoon
The Magenta ponds near Perth, Australia aren't exactly the spot to visit for your next beach vacation, but they are stunning to view from an airplane. As the largest Beta-Carotene farm on earth, Hutt Lagoon uses these salty pink algae ponds to manufacture vitamin supplements, pill casings, and food dye, among other things.
You may not have heard of Beta-Carotene but you've surely consumed it. It's the scientific name for the brightly colored pigment that gives vegetables such as carrots and sweet potatoes their vibrant shades of orange and red. Not only is it used as an organic food coloring agent, but also when ingested, Beta-Carotene turns into Vitamin A, which is great for your skin and eyesight.
Horseshoe Bay Beach
As one of Bermuda's most iconic tourist destinations, Horseshoe Bay Beach is a must-see for its picturesque coastline views, turquoise-colored water, and you guessed it, pink sand. Southside beaches between Horseshoe Bay and Warwick Long Bay are blessed with pastel pink sand from tiny pieces of foraminifera shells. As a treasured part of Bermuda's natural beauty, it's actually illegal to take any sand off the beach, but they do sell it in shops in souvenir bottles.
Often touted as one of the most beautiful beaches in the world, this crescent strip is very popular with cruise visitors, so get there early to snag a prime spot. Nearby coves make for the excellent calm water swim spots, and the waters are full of vibrant blue parrotfish, so bring a snorkel.
Los Coloradas
Thanks to beta-carotene pigments, red algae and shrimp can take credit for the blushing pink waters of Mexico's Los Coloradas, making it another fantastic habitat for flamingos. This lovely lagoon is a part of another UNESCO world heritage site, the Rio Lagartos Biosphere Reserve. Adventurers can expect to find crocodiles, various reptiles and hundreds of species of birds in the surrounding areas.
This lake is lovely to visit and photograph, but not so much for swimming. You might notice piles of salt along the shoreline where water has dried up. The natural salt deposit of Los Colarados have always been a valuable asset to the area, where the ancient Mayans harvested salt thousands of years ago.
Pink Sands Beach
With the laid-back lifestyle, aquamarine-colored waters and famous Junkanoo carnival festivals, we know we don't need to give you another excuse to book a trip to the beautiful Bahamas. But, we've got one for you anyway: Harbour Island boasts powdery pale pink sands made from broken pieces of coral and tiny-shelled creatures (foraminifera). Although the sand may be a lighter shade of pink than some of the other contenders on this list, Pink Sands Beach has been named one of the prettiest beaches in the Caribbean. The best time to view the sand's rosy hue is at sundown, or at low tide.
For more of the world's most unique destinations, visit Fodor's.