In the span of a few months, the New York Rangers went from a perennial playoff team and Eastern Conference contender to a rebuilding franchise after it became clear during the second half of the 2017-18 season that the team would not make the postseason for an eighth-straight year. 
It led to the team dealing the likes of captain Ryan McDonagh, Rick Nash and J.T. Miller prior to the league's February trade deadline before firing Alain Vigneault after the regular season concluded. 
The trades prompted general manager Jeff Gorton and president Glen Sather to level with Rangers fans, explaining how the rebuild would be in full effect following what turned out to be a 77-point campaign, the lowest output in a full season by the Rangers since 2000-01. 
New York was able to get a top-10 pick as a consolation prize to its down year, selecting Russian right winger Vitali Kravtsov at No. 9. 
He'll be expected to one day team up with promising prospects like Lias Andersson and Filip Chytil, all of whom are 19 years of age or younger. It's fitting the bill of management's desire to get younger and build from within, though it might take a few years before the Rangers can make it back to a high perch in the East.
But Kravtsov, Andersson and Chytil's full introductions to the NHL is likely to come with a team that will look very different from its current state. The Rangers could still be busy on the trade market in the coming months as they have some veterans that could compel to contending teams while yielding solid returns on the market.
Here are a few names that could be dealt this year.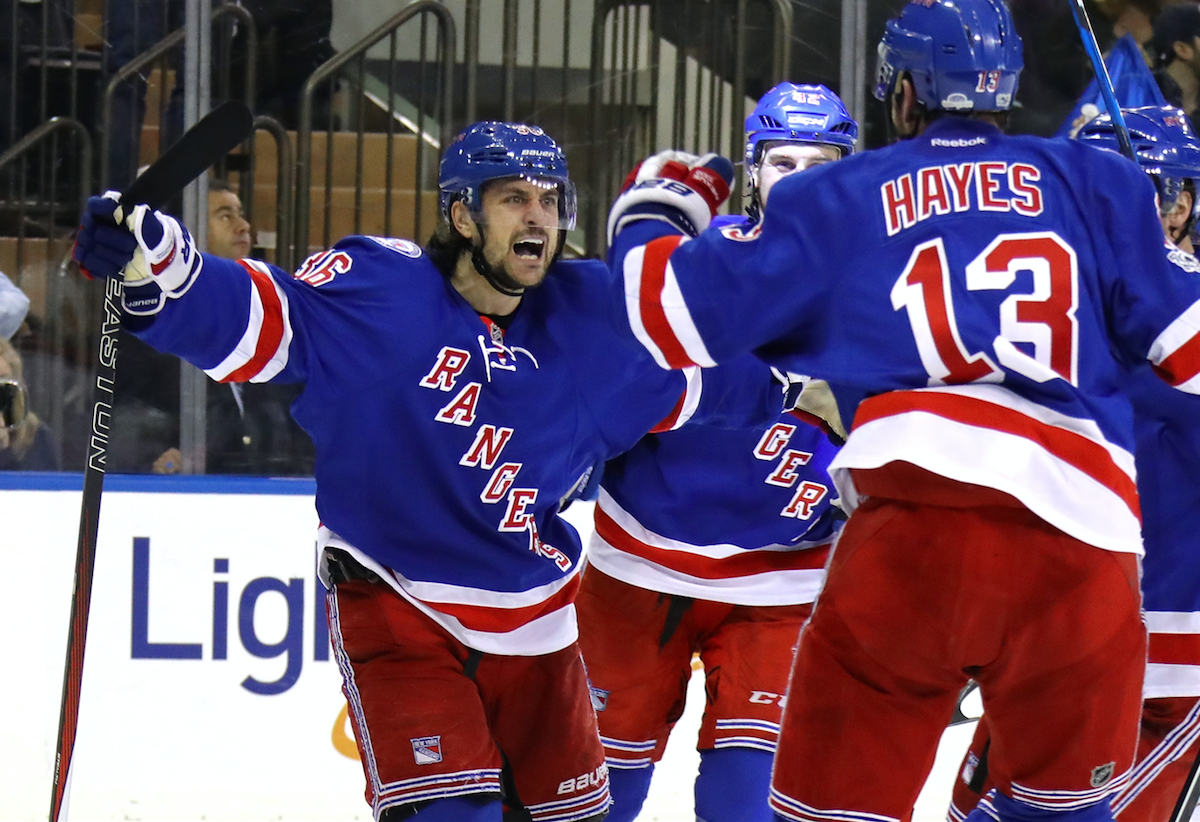 Rangers NHL trade rumors: Mats Zuccarello
Entering the final year of his contract, Mats Zuccarello will likely see even more interest surrounding him on the trade market this year. While the Rangers purged McDonagh, Nash, Miller and Nick Holden, there were rumblings that Zuccarello would be on his way out as well. 
Instead, he remained with the Rangers and continued to cement his status as the team's most valuable remaining forward. He's led the team in points in four of the last five seasons, recording at least 53 points in those four years. 
The gritty 31-year-old is not only a playmaker but an invaluable penalty killer and back checker, which only helps his value. 
Kevin Hayes
The Rangers' actions in regards to Hayes' contract only indicates that his future is not in New York. While they were able to avoid arbitration, settling on a one-year deal, the Rangers would have already taken steps to secure the right winger to a long-term deal. 
Now he is set to become an unrestricted free agent much after the 2018-19 season, a year in which he will be looking to further improve on a 2017-18 campaign in which he put up a career-high 25 goals. 
At 26 years old, Hayes is a power forward that could challenge the 30-goal mark if put in the right situation.