Ravi Ragbir was in court again on Tuesday, but this time for a case he filed against Immigration and Customs Enforcement.
The U.S. Court of Appeals for the Second Circuit on Tuesday heard oral arguments in Ragbir v. Homan, a First Amendment lawsuit filed against Immigration and Customs Enforcement (ICE).
Ravi Ragbir, an immigrant rights activist in New York City who was detained in January, filed the lawsuit along with other immigrant rights organizations New Sanctuary Coalition, CASA, Detention Watch Network, National Immigration Project of the National Lawyers Guild and the New York Immigration Coalition. Ragbir is also the executive director of the New Sanctuary Coalition.
These plaintiffs are challenging the "unlawful targeting of immigrant rights activists," claiming that ICE has been retaliating against those who have been speaking out against the federal government's immigration policies.
"They are silencing free speech," Ragbir said about ICE after his First Amendment court hearing. "They're silencing the community."
Ravi Ragbir & Immigration and Customs Enforcement
Ravi Ragbir was detained in January during a routine check-in with Immigration and Customs Enforcement. That action sparked a rally in which dozens showed their support for Ragbir, including New York City Council Speaker Corey Johnson and other elected officials.
In February, Ragbir received a temporary stay of deportation. Immigrant rights activists say that Ragbir was "abruptly targeted for deportation" by ICE a decade after he was given an order of supervision to live and work in the U.S. In a statement, an ICE representative said that Ragbir "exhausted his petitions and appeals through the immigration courts."
Ravi Ragbir is just one of many outspoken immigrant rights leaders who has been targeted for his actions, the immigrant organizations say.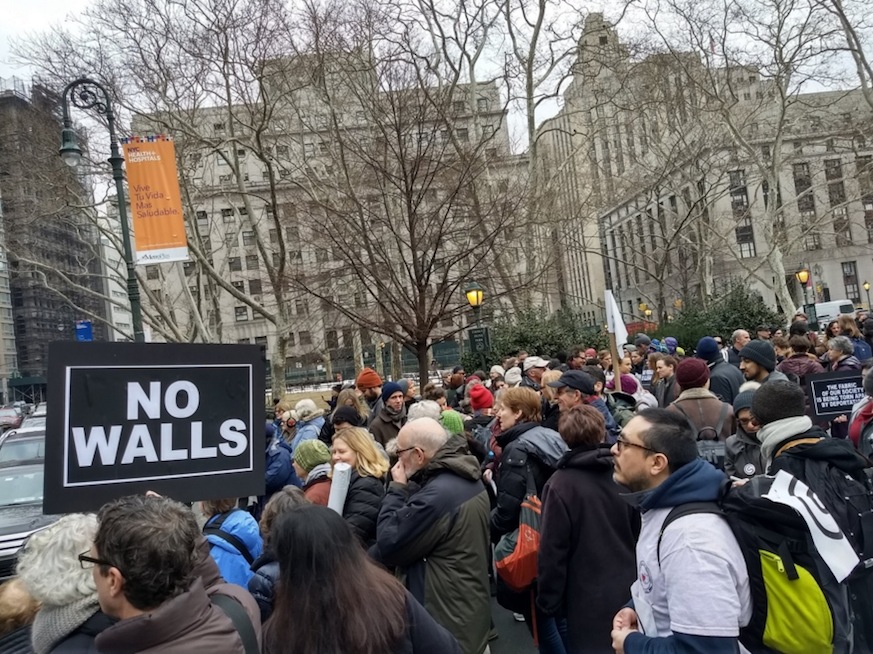 Ragbir v. Homan
Ragbir v. Homan challenges such targeting. The defendant is named as Thomas D. Homan, deputy director of Immigration and Customs Enforcement.
As part of that lawsuit, the plaintiffs sought a stay of removal for Ravi Ragbir, but a district court denied these protections for Ragbir.  The plaintiffs appealed and are now seeking a motion for a stay of removal from the appellate court.
The Knight First Amendment Institute at Columbia University, as well as Georgetown Law's Institute for Constitutional Advocacy and Protection, submitted an amicus brief in Ragbir v. Homan to "explain the First Amendment concerns raised by retaliatory deportations of prominent activists like Ravi Ragbir," per the Knight Institute, "who is now seeking to prevent ICE from removing him from his family and community in New York City."
"Because the government's removal actions against Ragbir appear to have been motivated by his political speech — in an emerging pattern of viewpoint discrimination by ICE — and because no legitimate government purpose justifies those actions," officials at the Knight Institute explain, "the brief argues that the First Amendment bars Ragbir's removal from the United States."
Dozens of activists and Ravi Ragbir supporters gathered at Thurgood Marshall Courthouse Tuesday morning to listen to the arguments, filling up two overflow rooms. The plaintiffs' co-counsel, Arnold & Porter, argued before the Second Circuit about why the court should grant Ragbir a stay of deportation until ICE can prove that trying to deport him was not a retaliation for Ragbir's words against federal immigration policies.
Activists then recited the First Amendment at 26 Federal Plaza. "Our love & community will bring the walls of injustice down," the New Sanctuary Coalition said in a tweet. 
We just left that courtroom with We just left the 2nd circuit courtroom at 40 Foley Square with #RaviRagbir His lawyers gave oral arguments for his stay of removal. Hundreds showed up in support. There were two overflow rooms! #YouCantDeportAMovement #abolishICE pic.twitter.com/I2wPjQZqYo

— New Sanctuary NYC (@NewSanctuaryNYC) August 14, 2018