The internet is enthralled with one very random yet remarkable (and extremely funny) fact. The company to thank for Reese's Pieces, festive easter eggs, peanut butter cups and much more, only follows a single account on the Reese's Instagram, despite having over 100K followers. She's a celebrity and her name sounds just like the brand. Ok, we'll tell you — it's Reese Witherspoon.
One Twitter user pointed this out recently, and Reese's responded, "She has a great name." Epic.
She has a great name

— REESE'S (@reeses) May 7, 2018
If you don't believe us, here's a screenshot of the Reese's Instagram: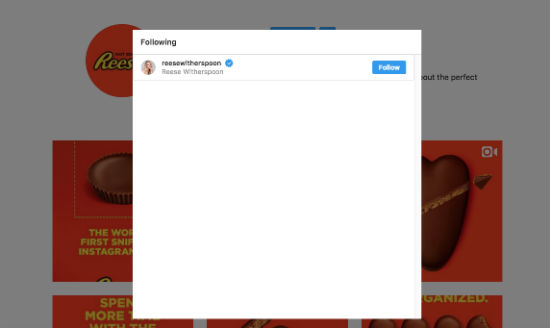 Reese Witherspoon: Reese's Instagram legend
Witherspoon, the only person cool enough to be followed by the Reese's Instagram account, has even been in on the joke: 
For me!? ?? #ReesesPieces @ReesesPBCups pic.twitter.com/Ps3O6gOBFn

— Reese Witherspoon (@RWitherspoon) October 25, 2016
And Reese's plays right into it. Take this hilarious response to her above tweet from 2016:
.@RWitherspoon How does Reese Witherspoon eat her Reese's? WIT-HER-SPOON. ?#NoWrongWayToEatAReeses

— REESE'S (@reeses) October 26, 2016
They really have shared some great back and forth on Twitter:
.@RWitherspoon Reesza has now been added to our vocabulary. By the way, that looks delicious!

— REESE'S (@reeses) February 11, 2016
And she seems to love her Reese's like the best of them:
My secret stash. #DontTellTheKids #ReesesForLife #HalloweenPrep @DraperJames pic.twitter.com/iFRLU2NsMX

— Reese Witherspoon (@RWitherspoon) October 29, 2017
This isn't the first time a brand has received attention for being witty on social media (looking at you Wendy's), or for making clever statements with who they follow.
KFC broke the internet when it was uncovered that the company was only following the five members of Spice Girls and six men named Herb (Herb?) on Twitter. It turned out to be an ode to the 11 herbs and spices included in the KFC fried chicken recipe. See for yourself.
.@KFC follows 11 people.

Those 11 people? 5 Spice Girls and 6 guys named Herb.

11 Herbs & Spices. I need time to process this.

— ???? (@edgette22) October 19, 2017
"We're glad someone finally noticed!" a spokesperson for Yum, the parent company of KFC, told TODAY back in 2017. "The Colonel was the ultimate salesman. Taking inspiration from him, we thought, 'Why not follow 11 herbs and spices on Twitter and see if anyone notices.'"
We noticed.