Within the first half of The Conners premiere Tuesday night, the family uncovers just how Roseanne dies.
Leading up to the series debut, it was unclear exactly what ABC would do to kill off the main character played by Roseanne Barr — who, in case you forgot, ultimately caused the cancellation of the Roseanne reboot's second season with a series of racially charged tweets.
Then, last month, Barr revealed that she did in fact know how it would go down.
Roseanne dies in The Conners series premiere
In The Conners, Roseanne dies due to an opioid overdose — and The Conners premiere picks up three weeks post-funeral.
The matriarch's addiction was first introduced in the Roseanne reboot, when she began taking painkillers for a knee injury.  
Roseanne dies: Barr responds online
Barr tweeted after The Conners premiere, "I AIN'T DEAD, B*TCHES!!!!"
I AIN'T DEAD, BITCHES!!!!

— Roseanne Barr (@therealroseanne) October 17, 2018
The actress then released a statement through friend Rabbi Shmuley Boteach, expressing her disappointment in her character's death.
"While we wish the very best for the cast and production crew of The Conners, all of whom are deeply dedicated to their craft and were Roseanne's cherished colleagues, we regret that ABC chose to cancel Roseanne by killing off the Roseanne Conner character. That it was done through an opioid overdose lent an unnecessary grim and morbid dimension to an otherwise happy family show," the statement begins.
"This was a choice the network did not have to make," it continues. "Roseanne was the only show on television that directly addressed the deep divisions threatening the very fabric of our society. Specifically, the show promoted the message that love and respect for one another's personhood should transcend differences in background and ideological discord. The show brought together characters of different political persuasions and ethnic backgrounds in one, unified family, a rarity in modern American entertainment. Above all else, the show celebrated a strong, matriarchal woman in a leading role, something we need more of in our country."
Addressing Barr's racially charged tweets earlier this year, the statement says, "After repeated and heartfelt apologies, the network was unwilling to look past a regrettable mistake, thereby denying the twin American values of both repentance and forgiveness. … The cancellation of Roseanne is an opportunity squandered due in equal parts to fear, hubris, and a refusal to forgive."
To view the full statement, click through to the rabbi's Facebook page.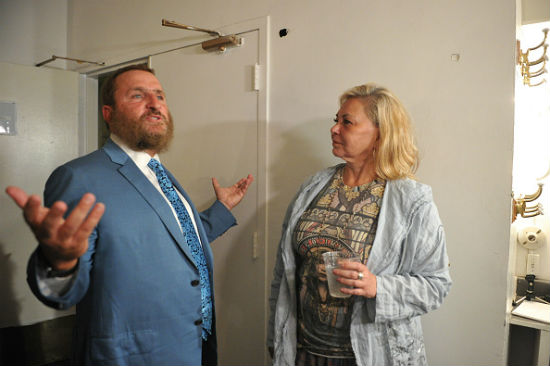 In a guest column for The Hollywood Reporter published Wednesday morning, The Conners showrunner Bruce Helford writes, "regardless of where you stand in that debate — I supported ABC's decision, as painful and difficult as it was for those of us who had positive working relationships with Roseanne — this action left a huge creative hole."
He admits that there was a "lot of unfinished business for Roseanne Conner," and that "none of the writers or the cast wanted to end the legacy of this show on a tragic note."
Yes, Roseanne dies, but Helford lays out how the writers came to their decision: "There was a lot of chatter in the ether about how we should explain Roseanne's absence: Should she have a sudden heart attack, a mental breakdown or go off into the sunset on a boat with her son Jerry Garcia? But back in the writers room, we firmly decided against anything cowardly or far-fetched, anything that would make the fierce matriarch of the Conners seem pathetic or debased. …  [H]er death would have to be reverent to the woman who was so beloved by her family. And the result would have to leave no shadow over Dan, Jackie, Darlene, Becky, DJ and all of Lanford."
"So in episode one, we mourn the loss of our matriarch," he concludes. "In the coming episodes, we'll be doing what I love most about this show: being brave, tackling subjects most comedies would find too difficult and shining a light on the lives of the unbowed Conners as they deal with the economic inequalities of life in lower-income America with love and humor. That's what I signed up for."