The annual march of Santas is almost here. Ready or not, SantaCon 2018 is taking place Dec. 8 in New York City, just one of dozens of cities around the world that have taken up the beloved yearly tradition of dressing up in their holiday best and bar crawling until they're actually seeing elves.
Whether it's your first time participating or this isn't the first time you got jolly with the Christmas crew, here's what you need to know about SantaCon 2018 in NYC.  
What is SantaCon?
SantaCon was started in 1994 by a San Francisco theater group as a critique of the consumerism of the holidays, and still describes itself as "a charitable, non-commercial, non-political, nonsensical Santa Claus convention that happens once a year to spread absurdist joy."
That's not how most New Yorkers would describe it though. Santacon in NYC is a festive bar crawl where people dress up in Christmas costumes and day-drink their way through a long Saturday, alongside their fellow merry revelers in more than 300 cities around the world. 
Yes, bar crawling dressed as Father Christmas, naughty elves, snowmen and even reindeer can add up to a ready-made Naughty list for the real Santa Claus. But that's not what SantaCon NYC wants to be. Since 2015, the nonprofit organization that runs the event has been partnering more closely with bars and the NYPD to make sure Santas only go where they're wanted.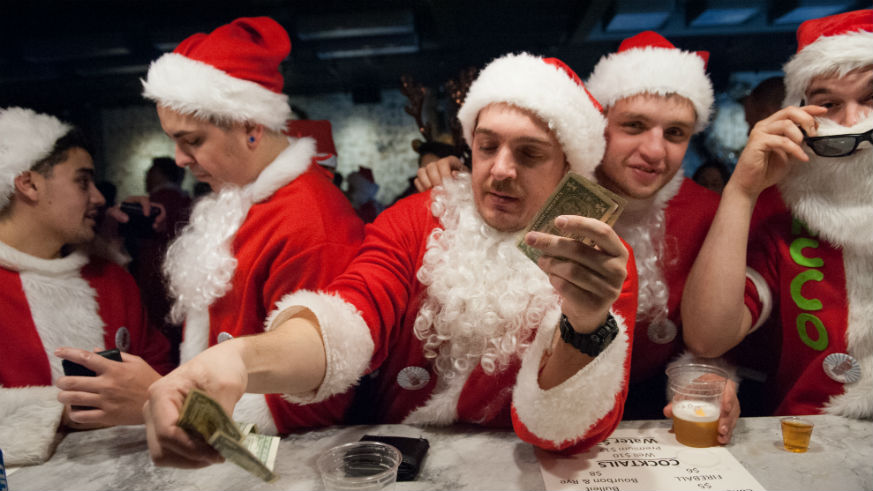 When is SantaCon 2018, and what time does it start?
SantaCon 2018 kicks off on Saturday, Dec. 8 at 10 a.m. and usually winds down at 7 p.m. But you'll have to wait to find out everything else — the details of the event start trickling out a few days before it begins.
UPDATE: SantaCon 2018 begins at Plaza 33, located at 33rd Street and Seventh Avenue. This year's impressive list of venues spans from Midtown down to the East Village with over 60 sites. The new nightlife venue Sony Hall will hold a day-long celebration with special acts from noon to 9 p.m., and it's all free with your $12 SantaCon ticket, which is really a donation to help a range of charities in the city.
The fastest way to get all the SantaCon in NYC info before and during the event is to sign up for updates by text message directly from the organizers. To get on the list, text "Follow Santa" to 40404. You can also get updates on their Facebook page.
What's the SantaCon 2018 route?
The official SantaCon 2018 route isn't revealed until 24 hours before the event. There's no guarantee which borough you'll be merrily haunting, but the list of participating bars and clubs will start to be revealed in the days leading up to the event. Be sure to check that list of venues twice — not everyone is down with welcoming a giant group of sloshy Santas.
Are there rules to SantaCon in NYC?
Christmas may feel like a magical time of year when anything is possible, but the same rules apply as every other day. SantaCon does have its own rules — five, to be specific — and they're pretty straightfoward: "Don't F*** with kids, cops, bar staff, NYC or Santa's charity mission."
The SantaCon website has some additional rules to make the event the best it can be: You must wear a full head-to-toe costume — no throwing on a Christmas sweater and calling it an outfit. The bartenders at these venues are going to be slammed, so bring cash. No fighting, littering or vomiting in public. 
The key is to pace yourself. You're gonna spend up to nine hours, and maybe even more, drinking your way across the city. Know your limits — unlike Santa, you don't have to visit every stop on your route.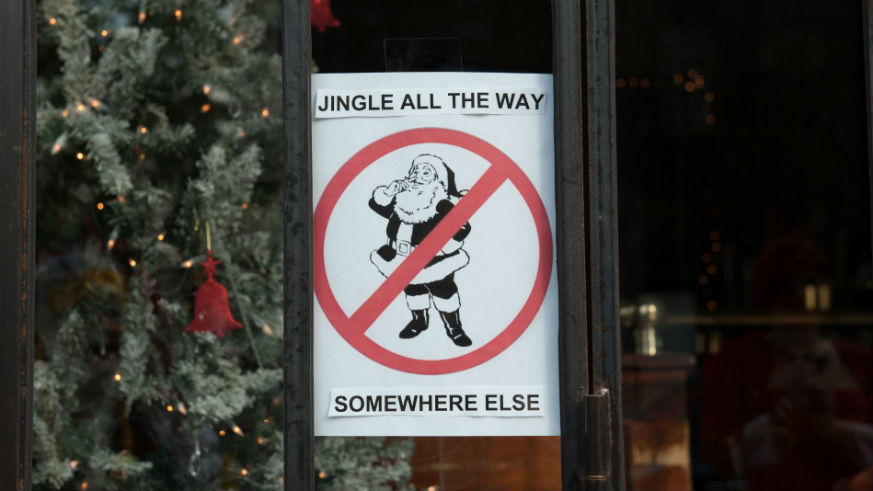 How to get SantaCon 2018 tickets
Don't be fooled by Eventbrite listings claiming to be selling tickets for SantaCon 2018. The real SantaCon in NYC doesn't sell tickets, but to participate you'll have to donate $12 to a charitable organization through their website and bring your receipt. If you somehow "forgot" to do your good deed, there will be elves at the start of the event to collect your good tithings. And speaking of cash, please remember to tip your bartenders generously.
Anything else I need for SantaCon 2018?
If you want to enjoy the Santa extravaganza to the fullest, familiarize yourself with the group's guide to dirty carols. You don't want to be the only guy who doesn't know the words to Cannabis Is Coming To Town, right?