Whether you want to order your 2018 Christmas trees on Amazon, or you'd rather cut them down from a local tree farm like the spirited person you are, it's about that time of year again. (After all, Thanksgiving is almost one week away.)
In terms of purchasing firs and pines, one Metro staffer says he'd pay $100 at most if "it was a really nice one."
Another explains he's never really gotten a real tree before. Growing up in an apartment with carpet in the living room, an artificial one was the best, less-hassle option. But, if he had to spend money on the real thing, he "might get the little tabletop one for like $20."
Last year, the National Christmas Tree Association (NCTA) reported that there was a rise in prices by 10 to 15 percent due to a tree "shortage." In the long run, the difference in retail price was "minuscule."
However, Tim O'Connor, Executive Director of NCTA, denies there ever being a shortage. And, this year, "everyone who wants a real Christmas tree will be able to get one," he tells Metro.
For these 2018 Christmas trees, financial service Square teamed up with the NCTA to release a Christmas tree report with data that will help you navigate the season's best and worst times for purchasing trees.
2018 Christmas trees: When to buy them
According to this report, Christmas tree prices increased 17 percent from 2015 to 2017, with the average price rising from $64 to $73. Despite this increase, industry experts estimate prices will hold steady for 2018 Christmas trees.
The first major day that people will buy 2018 Christmas trees this year is Black Friday, and per the report, prices will be above average at about $77. Costs will spike again on Cyber Monday to $81 on average.
"Those are prime Christmas tree shopping days at the very beginning of the season," O'Connor tells us. "As a perishable seasonal item, they are priced [at] full value when the demand is at its peak and discounted as the sales season closes out."
The best time to buy 2018 Christmas trees price-wise is a week before the holiday when you could save up to $25, or get 22 percent off your purchase. O'Connor explains that people save money because "the window to sell [trees] is closing fast. Sellers are trying to move any remaining inventory at that time and are willing to offer discounts to encourage sales."
And, if you want to wait until the very last minute, tree costs on Christmas Eve will reach a low of $47 (though the selection may not be as promising as earlier in the season). 
View this data below: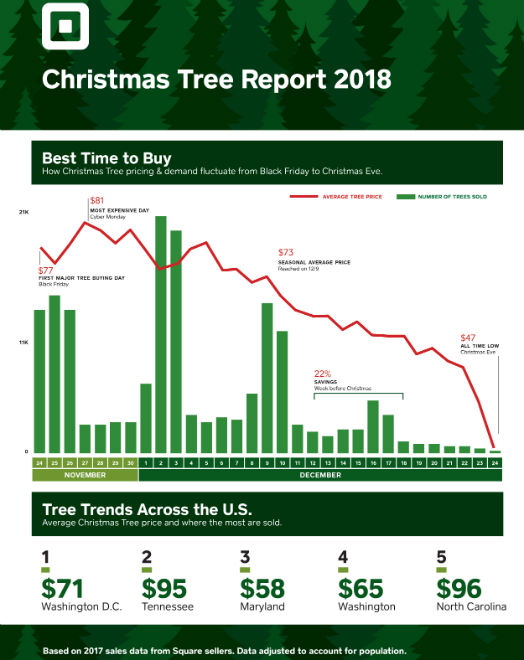 Are millennials saving the Christmas tree industry?
Another interesting finding from this report is that millennials might actually be "saving" the Christmas tree industry with their eco-conscious lifestyles. They're opting to buy locally grown trees due to a "hyper-awareness and affinity for all-natural and locally sourced" products.
"When you look at millennials, they want everything in their life to be authentic, natural and meaningful. Real Christmas trees and the process of selecting your tree at a family farm fall right in line with all of these trends," O'Connor says. "Unlike their baby boomer parents, who have turned to fake trees, millennials are creating their own Christmas traditions and seeking out real [ones]." 
"From an environmental perspective, Christmas trees are a crop that is grown by farmers for people to enjoy," he explains. "For every tree harvested the grower plants a new tree to keep the cycle going and have future crop to sell. They are not harvested from a forest where they are gone forever once they're cut. So, for this reason, buying a real Christmas tree is an environmentally conscious decision millennials can feel good about." 
A millennial Metro staffer says she always gets a real tree for Christmas. Her reasoning, though, isn't about the environmental aspect, but about tradition.
"I mainly get the real [tree] because my family always did," she admits. "It just wouldn't be the same Xmas without one."