Halloween falls on a Tuesday in 2017 — which really just means we start shambling around like the undead from Thursday to Sunday before the big night.
You'll find parties at clubs all over the city, from an undead-themed Zombie Prom at Mr. Purple to a black tie masquerade at Refine Rooftop. 
But if you want an all-out party of seriously costumed people, proper decorations and Halloween games, this is your ultimate guide to Halloween weekend parties in the city.
Explore a haunted house created on the internet
The distorted, haunting graphics of YouTube's Cool 3D World come to life at a haunted house co-created with Giphy for a three-hour immersive experience called Ghoul 3D World "where both nightmares and dreams will come true." Wander through art installations, 360-degree projections and more as you're "plunged into a captivating set of grotesque yet surprisingly alluring realms." $31-$41, Oct. 27-28, 7 p.m., Future Space, 350 Meserole St., Brooklyn, must be 21+, eventbrite.com
Take a walk in a jack o' lantern garden
For the first time, we've got a haunted pumpkin patch within city limits. Governors Island is open for the first time in October, and there's plenty of fall and Halloween fun. But the biggest attraction is Night of 1,000 Jack O' Lanterns, where you can walk a decorated path of illuminated spooky and silly pumpkins hand-carved by artists from the tri-state area — then stop by Little Eva's for hard cider. $24, Oct. 26-29, 6-10 p.m., Colonels Row, therise.org
Lynch Lovers Unite
Come ready to worship the thriller master of the year at this David Lynch-themed soiree in Park Slope. The Nest will have a Red Room downstairs for canoodling or dark arts — your choice — along with a costume contest, a "severed ear hunt," themed photobooth and $5 Laura Palmer cocktails all night. Live music by The Agent Jeffries playing David Bowie covers "with a David Lynch edge" and A Place both Wonderful and Strange performing The Laura Palmer Deviations. $5, Oct. 27, 8 p.m.-2 a.m., The Nest, Bluebird, 504 Flatbush Ave., Brooklyn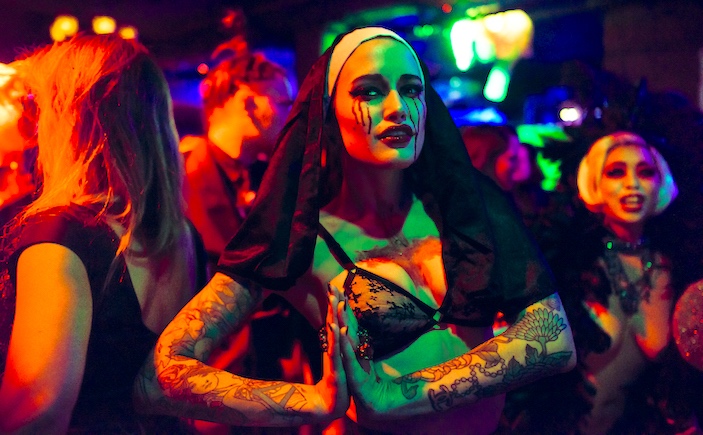 Burn the night away
The home of Sleep No More always puts on an immersive party to remember. This year's edition of The McKittrick Masquerade: Inferno promises to be the biggest one yet, taking over multiple floors of the hotel with an occult-themed night of dancing, special performances and surprises. The open bar — make that several bars all around the hotel — last all night. Dress your occult best (think zombie, sorcerer, beast, witch, etc.), or all black will do if you're not a worshipper of earthly magic. $75-$485, Oct. 27, 28, 31, 10:15 p.m.-?, 530 W. 27th St., mckittrickhotel.com
An all-anime Halloween
From the people who brought you Japan Fes and the Dumpling Eating Contest comes J-Anime Night, the first all-anime themed Halloween party. Dress your anime character best for this party featuring performers, voice actors and food straight from Japan. Kawaii! $45-$70, Oct. 27 & 28, 7 p.m.-?, The Muse, 350 Moffat St., Brooklyn, j-animenight.com
Art After Dark
The Guggenheim Museum is throwing its first-ever Halloween party with Art After Dark. Fun includes after-hours access to its exhibits, live music by Bearcat, and get nerdy with your costumes — the attendee with the best Guggenheim-inspired outfit will win a prize. No masks allowed though. $65, Oct. 27, 9 p.m.-midnight, guggenheim.org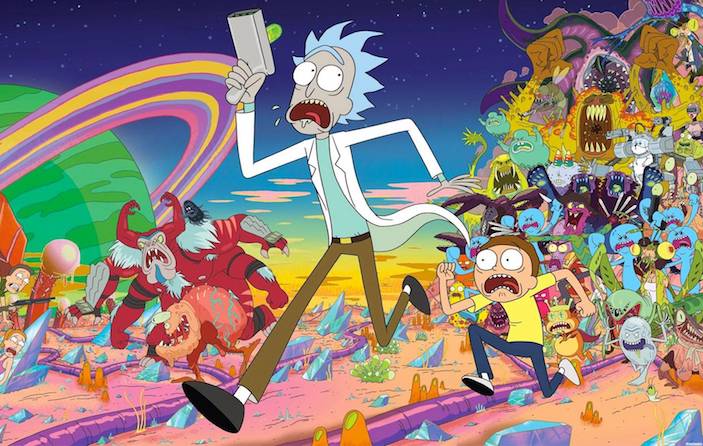 Party with Rick & Morty
The pairing of an eccentric scientist and his young grandson may not seem like a recipe for one of the most soul-penetrating shows on TV, but Rick & Morty delivers the goods, depressing as they may be. On Friday night though, it's time to get riggity-riggity wrecked at Lot 45 during a night of drinking games (with themed specials), trivia, a "multi-dimensional" costume contest, a "Virtual Rick-ality zone" and lots of themed decor. $27.37, Oct. 27, 10 p.m.-4 a.m. 411 Troutman St., Brooklyn, must be 21+, facebook.com
Get super weird
Ripley's Odditorium belongs to the true lovers of all things offbeat at the New York Adventure Club, who invite you to their Halloween Bash to explore 20 themed rooms (including a "perception-altering black hole and a laser maze), compete in a costume contest and dance all night, free spooky food and drinks. All, of course, in the company of the strangest oddities of the world. $20-$40, Oct. 27, 8 p.m.-midnight, 234 W. 42nd St., nyadventureclub.com
Bite reality back
"Things just aren't like they used to be," starts the description of the skint's Reality Bites retro dance party. Groove out your frustration with the world by kicking it back to a better time and place at Littlefield with '80s and '90s tunes by DJ Brian Blackout, a spooky photo booth and drink specials like My Corona and Tonic Youth. Come in costume but no clowns, please. $7-$10, Oct. 27, 10:30 p.m., 635 Sackett St., Brooklyn, littlefieldnyc.com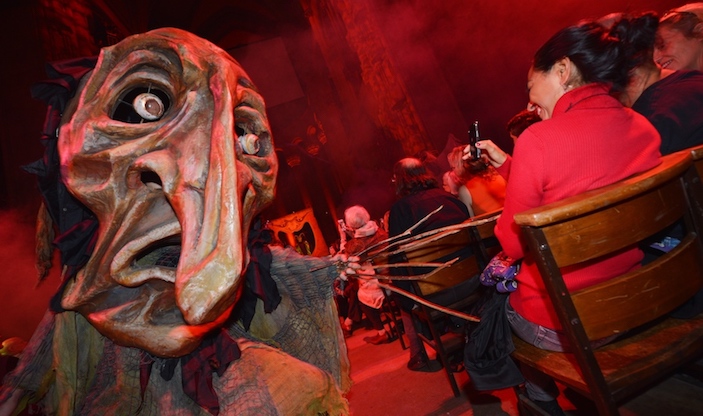 Meet the creatures of the night
A church is not where you'd expect to celebrate Halloween, but the annual Halloween Extravaganza at the Cathedral of Saint John the Divine is a spectacle few other events can match. The night begins with a screening of 1925's The Phantom of the Opera with live accompaniment from the most foreboding of instruments, the organ. Then, prepare for some real life frights as ghouls, demons and witches make their way down the aisles of the church. Oct. 27, 7-9 p.m., 10-midnight, 1047 Amsterdam Ave.
Solve a murder mystery
Every year, a new dead body turns up at Mount Vernon Hotel and Museum. Not really, but for the purposes of its annual Halloween Murder Mystery, very much figuratively. Team up (or go it alone!) to puzzle out the fate of the unidentified skeleton — who's dead, who killed them, and how — by exploring the museum by candlelight and gathering clues. $25, Oct. 27 & 28, 6:15 & 7:30 p.m., brownpapertickets.com
A Nite To Dismember
Williamsburg's Nitehawk Cinema invites you to its annual all-night horror fest. This year, enter the Haunted Library to relive five scares from the past like Ringu and new classics like The Babadook. Come in costume for a contest sponsored by Jameson (shots!), free David Lynch Coffee and candy to keep you buzzed, and there's breakfast and a gift bag for those who survive the night. $65, Oct. 28, 11:45 p.m.-dawn, 136 Metropolitan Ave., Brooklyn, nitehawkcinema.com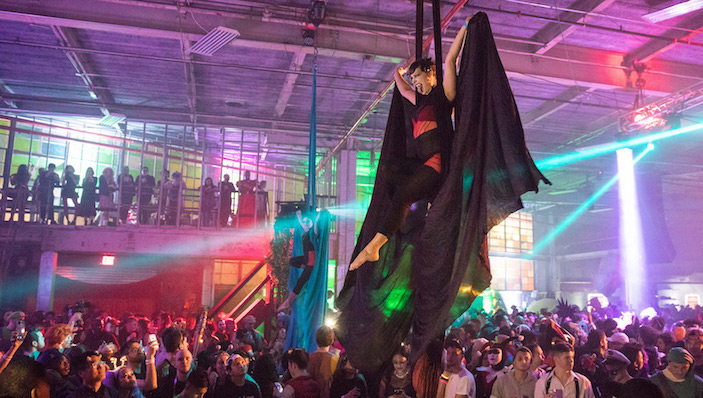 Dance all night
BangOn!NYC has a new East Williamsburg home with two stages and a silent disco, but also the same freaky circus/sideshow performers, interactive art and new activities likes human bowling, trick-or-treating and more "ghastly curiosities" at Warehouse of Horrors. Fatboy Slim headlines the musical acts of the hard-partying affair $85-$140, Oct. 28, 10 p.m.-4 a.m., 1 Ingraham St., Brooklyn, bangon-nyc.com
Return to the Upside Down
Gemini & Scorpio's decadent party requires your full participation — costume and willingness to experience the world beyond our own. Step into the Masquerade Macabre for a Stranger Things-themed evening with a forest of fear by artist Sara Jane Munford, face off against a mentalist G-man, join a seance to the other side, eat Eggos in the blanket fort and sip the evening's themed drinks. A live DJ makes sure the party goes until dawn. $25-$35, Oct. 28, 9 p.m.-5 a.m., Chemistry Creative, 305 Ten Eyck St, Bushwick, must be 21+, masqmacabre.brownpapertickets.com
A carnival from the beyond
Join the always provocative and beautiful Company XIV for their annual Dances of Vice Halloween ritual. This vintage costume party goes down at DTA, a Victorian club that will be transformed into the Halls of Hadens for "a night of otherworldly performances" from the worlds of the circus, sidehow, opera, dancehall and theater. Dress your macabre best for entry. $95, Oct. 28, 2017 9 p.m.-2 a.m., The DTA, 60 Pine St., dancesofvice.com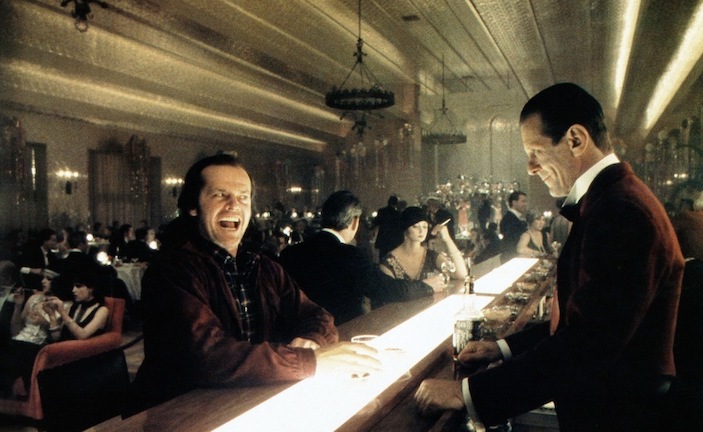 Drink like Jack
Stephen King is SO hot right now, and Stanley Kubrick's masterful adaptation of his novel really holds up. Videology has undergone a makeover to turn it into the Overlook Hotel's Gold Room for its The Shining Halloween Party — check in for a drink of Jack Daniel's and Advocaat before showtime, then hold on tight to your sanity. $25, Oct. 28, 4, 7:15, 10:30 p.m., Videology Bar & Cinema, 308 Bedford Ave., Williamsburg, videologybarandcinema.com
Relive the days of Disco
Gramercy's cocktail bar for sophisticated drinkers, Dear Irving, resurrects Studio 54 for one glorious night of disco hits and drinks that definitely know how to boogie (the bar was a Tales of the Cocktail finalist). Themed libations are included in the ticket price, with '70s hits by DJ Sid V all night — dress your era best to be allowed entry. $125, Oct. 28, 10 p.m.-2 a.m., 55 Irving Place, dearirvingsmasqueradeball.eventbrite.com
See your favorite comedians*
Just as you dress up as someone else, the 40 comedians who will grace the Bell House on Sunday will bring their best imitations of your favorite comics for the 10th annual Schtick or Treat! Past fake performers have included Joan Rivers, George Carlin, Weird Al, Russell Brand and more. $15, Oct. 29, 7 p.m., 149 Seventh St., must be 21+, thebellhouseny.com