The 2017 Bacon and Beer Classic delivered hard on both of its promises, bringing 50 food vendors and over 100 brews for an ambitious walk-around tasting at Citi Field.
Before we get into the details, let's take a moment to acknowledge that the Mets' home field is the ideal setting for outdoor events. The stadium is famous for not needing a ticket to enjoy the games since there are practically no walls to block views of the field from any of its three floors.
For bacon and beer lovers, this meant a breezy, shaded way to stroll among the booths, with no lines or crowding. There's tons of seating, no gravel or dirt, and any drinking event is made infinitely better by having access to tons of bathrooms.
In three hours (VIPs who don't sleep in on Saturday mornings got four), we managed to get through about 90 percent of the vendors, sit in the Mets' dugout, meet a beer-loving bridal party (good luck, Kristin Walsh!), figure out that sour beers are a fine trend for other people, and taste just enough bacon-based bites that we didn't need to be rolled back to the 7 train.
Check out our gallery of all the beautiful and nerdy people who attended, and the best things we ate and drank:
What this day needed was a great cold dish, and Cafe Cochera's Bacon Esquites delivered. The sweet kernels of corn got a hit of spice from jalapeños and just an accent of salt from the bacon.
Bringing a taste of summer was Otter Creek Brewing Co. out of Vermont. Their Free Flow IPA is the intensely sharp but not bitter drink die-hard IPA lovers will want on the beach.
Beloved family-run doughnut shop Cuzins Duzin will return inside the new DeKalb Market Hall in Downtown Brooklyn with its Dream Machine, which sends mini rings of dough down a river of oil and cascading onto a platter to be glazed with a little Corona-infused lemon topping. Head baker Todd Jones — who goes by The Donutologist — has been making doughnuts for 44 years, and his airy, sweet bites (glaze or no) will be a destination food once again.
The candied bacon soft tacos at Camacho's proved you don't need to do much more if you make good bacon — the beautifully crispy but not overdone bacon mingled with avocado, raw red onions and tomato, then sprinkled with cotija cheese was a tasty, surprisingly complex bite.
Broadway's favorite cookie emporium Schmackary's brought three varieties of its sweet treats, but the star was its Guinness Cookie, a soft dark chocolate cookie drizzled with the smoothest, slightly sweet frosting made from Ireland's signature brew.  
Bareburger could've gone for the obvious, but we're glad it went with a vanilla-chocolate-hazelnut milkshake shooter with candied bacon instead. The cold, not-too-sweet shake offset the rich, greasy bacon, all packed into a chocolate cookie cup. Dominique Ansel, we owe you so much.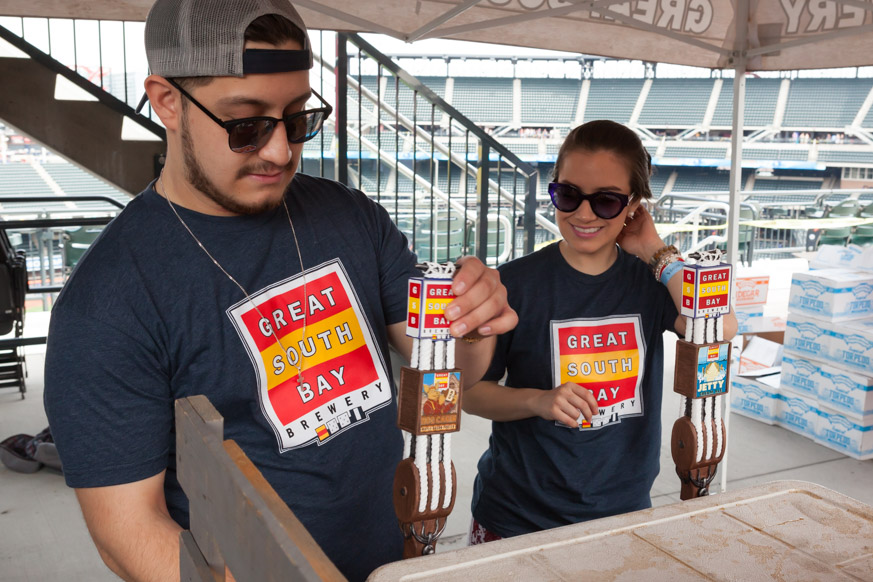 Long Island's Great South Bay Brewery came correct with their super rich Hog Cabin, a porter made with maple and bacon. Go beg them to make more.
Empanada Sonata, an outstanding addition to any seasonal market where it pops up, pushed the limits of sweetness in a non-dessert dish with its Blueberry Bacon Pulled Pork with Blueberry Bacon Coleslaw.