Green-Wood Cemetery is a place to contemplate mortality — or, for one Brooklyn couple, find a way to create something new.
Jeremy Hammond and Joy Doumis have been hobbyist cidermakers since 2004, and their latest project is three hard ciders made with apples grown in the nearly two-centuries-old graveyard. Though they're not for sale, you can taste one of them at a special event, Pouring Green-Wood, on May 21.
"We live across the street from the cemetery, and we started spending more time in there just walking around, reading headstones and using it kind of like our backyard," says Hammond, who collected the fruit with Doumis in late 2015 and spent the past year and a half fermenting and aging it for release this month.
"One day I found a big pile of regular-size apples not near any apple tree and I followed a path up a hill and found the most enormous tree near the grave of [yes, that] Samuel Morse, and it was just spewing apples. We tested them out for sugar content and said, 'Let's give it a go.'"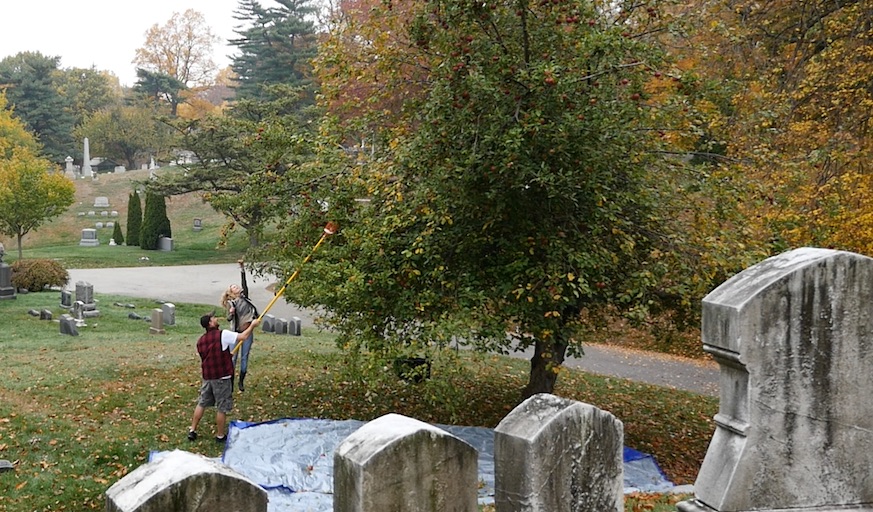 That tree, a Baldwin, yielded the majority of the fruit, along with Granny Smith, various crabapples and a yet-to-be-identified variety for the drink they've dubbed Malus Immortalis, or Immortal Apple, a dry and fizzy cider with notes of nectarines, honeycomb and flowers.
At Pouring Green-Wood, the couple will also discuss their cider-making process — the same centuries-old techniques practiced by many of Green-Wood's permanent residents — from collecting the apples to fermentation. Tickets are $30, with all proceeds going to support the cemetery's programs.
Hammond trained as a winemaker in the Loire Valley, one of France's most prestigious wine regions, and their cider uses those same techniques. That means no cooking, only open-air fermentation in their (actual) backyard, using apples they collected in the late fall of 2015. (There is no 2016 batch because of a drought.) The fruit is then put through handmade presses and aged in their basement across the street from Green-Wood.
"We've actually had wine sommeliers confuse our ciders with natural wine," says Doumis. "They're part of a deeper, funkier, rustic complexity that are very close to what people used to make back in the day."
"Just let it do its thing until all the sugar is gone, and then put it in a bottle," adds Hammond. "Then you can say, 'This is what the cemetery gave you.'"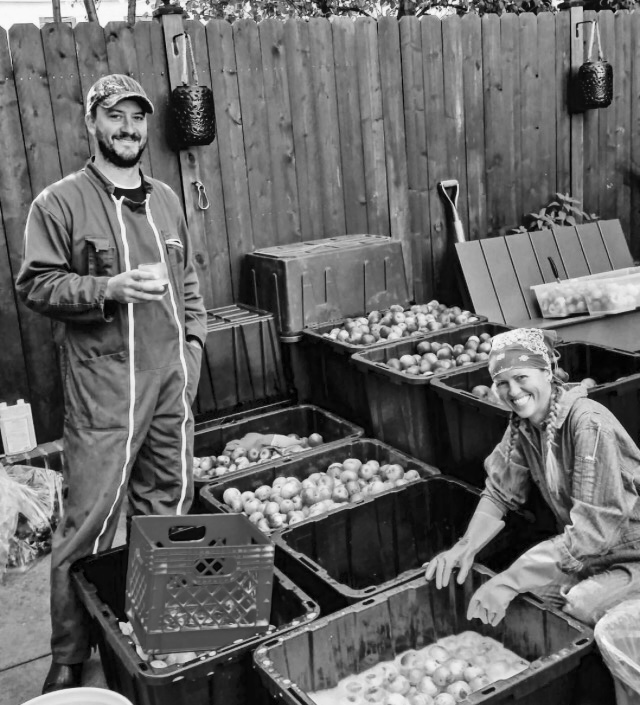 Speaking of which, there's one question that immediately springs to mind. Given that most of the apple trees are scattered among the graves, could any of Green-Wood's 560,000 residents (and counting) have become fodder for this brew?
"I don't really think much about it," says Hammond. Green-Wood's Director of Horticulture Joe Charap did not address this in an email to Metro. But Doumis did recount a fascinating story about Roger Williams, the founder of Rhode Island: Nearly 200 years after he was buried, residents wanted to create a memorial for him. So they dug up his grave and found only an apple root in the shape of Williams. "Apple trees apparently do like bones," says Doumis. "They find a lot of good, healthy things and sustenance in that."
"It's the cycle of life, really," Hammond muses. "The tree goes dormant and then it wakes back up, it flowers, it creates an apple, the apple in a way dies and changes into a new thing. It's just about the phase changes."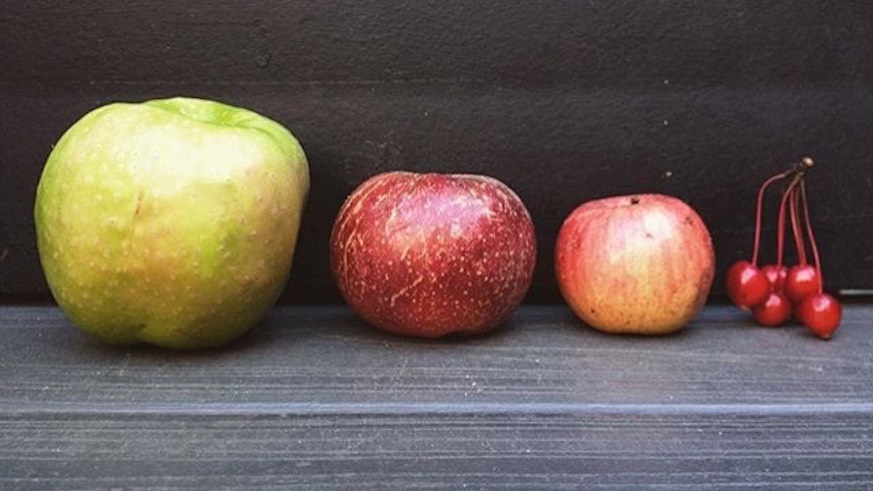 When they first had the idea in 2015, the couple didn't think Green-Wood would go for it — two hipsters making booze with apples from a Gothic landmark where "everyone who was anybody in 19th-century New York wanted to be buried"? "We thought they were gonna send us a cease-and-desist, like, 'Don't come in here taking our apples, this is strange,'" says Hammond.
Instead, their idea was immediately embraced, according to Charap. The cemetery is already home to another culinary project: 15 hives of bees, which have been producing a honey called Sweet Hereafter since 2015.
"The 'sweet spot' for us is the intersection of our commitment to maintain and preserve Green-Wood's natural environment with the dedication Brooklynites have to sustainability and to locally sourced foods," he writes in an email. "Since 1838, Green-Wood has embraced its role as an oasis of rolling hills, glacial ponds, wildlife and thousands of trees, and this cider project is a yet another way to celebrate our landscape."
This method also connects Hammond and Doumis — and those who have the chance to enjoy their cider — with some of Green-Wood's famous cidermakers whose final resting place is now their orchard, like newspaper magnate Horace Greeley.
"There was a time when everyone had something bubbling in their basement, it was totally normal, and that's how we live, too," Hammond says. "What we're doing is more like what was made in the 1800s; we're making what the people buried in that cemetery were drinking."
Natural ciders
If you're interested in the natural cidermaking that Doumis and Hammond practice, they recommend these commercial cideries using similar pre-Temperance methods. Besides stores, they can also be found at the Lower East Side's acclaimed cider-focused restaurant Wassail: