A funny and curious thing happened over the past couple of days, as people all over noticed that the concert ticket purchasing site TicketFly had gone down with little explanation as to why. Instead music fans were greeted with a "404" site failure message as they tried to log onto their accounts to purchase tickets for upcoming summer shows. This was a total bummer when a few friends of mine and I tried to secure some tickets to a Kaiju Big Battle event at Brooklyn's The Bell House this weekend. Long story short, we percervered and are now going to see a bunch of men dressed up like monsters battling it out in a wrestling ring. But for many others, the site shutting down was a huge inconvenience when trying to secure both presale and general public tickets for some of this year's hottest shows. So what happened? 
TicketFly targeted by Cyber Attack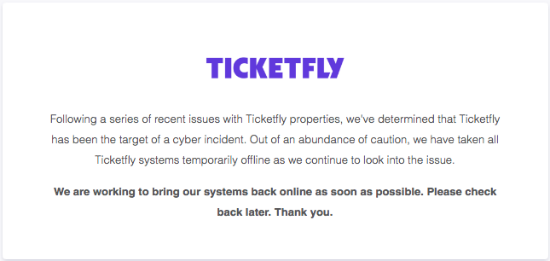 [Photo: TicketFly]
Well, today TicketFly has broken their silence via twitter siting that these site issues are a result of a pointed cyber attack against their site. In a statement made by their support account, they said the following: 
"Following recent site issues, we determined that Ticketfly has been the target of a cyber incident. To protect our clients and fans, and to secure the website and related data, we have temporarily taken all Ticketfly systems offline," adding an assuring "we'll keep you updated." 
The site was bought by rival ticket seller Eventbrite last year for $200 million and according to Billboard the two companies combined were projected to do "$4 billion in global ticket sales annually, selling 2 to 3 million tickets per week to consumers in 180 countries". 
Who hacked the site? 
The credit for this cyber attack has been taken by a hacker who goes by the name of "IShAkDz". The hacker wrote a message to the TicketFly site saying ""Your security down, I'm not sorry. Next time I will publish database." This is apparently in reference to thousands of different spreadsheets that the hacker was able to obtain in the attack including customers' personal information including email addresses, phone numbers and adresses. "IShAkDz" had written an email to CNET explaining that he or she had warned TicketFly numerous times and had tried to blackmail for 1 bitcoin in order to restore the stolen data. 
How does the TicketFly cyber attack affect you? 
As of right now, this is a developing story. But, according to their official statement, TicketFly seems to be assuring customers that their private data is being perserved during the site's time offline. 
Here is their offical tweet from TicketFly in response to the cyber attack: 
Following recent site issues, we determined that Ticketfly has been the target of a cyber incident. To protect our clients and fans, and to secure the website and related data, we have temporarily taken all Ticketfly systems offline. We'll keep you updated.

— Ticketfly (@ticketfly) May 31, 2018