It's been well documented that President Trump is bigly concerned with cultivating a tremendous image, claiming to have the biggest, ultimate accomplishments, bragging about huge nonexistent deals, even changing the numbers on the floors of his buildings that make them seem taller.
But there's one attribute he's obsessed with minimizing: His double chin.
That's according to the new book "Ultimate Insiders: White House Photographers and How They Shape History," in which former White House correspondent Kenneth T. Walsh details the extent of Trump's above-the-neck vanity.
"It's clear that for many years Trump has sought to create and enhance an image of being a larger-than-life leader," Walsh writes. He would even stage-manage "his appearances as much as possible to minimize photos of him from the front at a low angle or from the sides, because he thought his double chin became too obvious."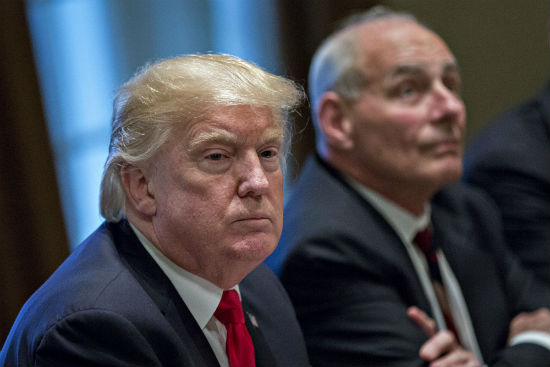 Yet he is still "deeply distrustful of what the called the 'fake' mainstream news media, including the photojournalists," Walsh writes.
The dirt on Trump is only one of the behind-the-scenes details offered in the book. Walsh reveals that President Obama wasn't particularly trusting of photographers himself, shutting them out of events they previously covered and allowing in only the official White House photographer, Pete Souza. By contrast, former president George H.W. Bush would throw parties for the photographers who followed him around, and affectionately called them "photodogs," because the would follow him around in a pack.
Walsh also reveals how photographer Stanley Tretick got the iconic shot of John F. Kennedy Jr. peering out from the bottom of his father's Oval Office desk: Jackie Kennedy, who shielded her children from photographers for fear they were being used as PR, was out of town. JFK was less concerned and planned with Tretick to take a series of father-son photos. And the rest was the one of the most adorable shots in presidential history.