While Americans struggle to avoid psychological collapse at home — a new poll has found that the Trump/Russia allegations have 55 percent of Americans "nervous" and "worried" about the future of their families and the country — President Trump has taken a different struggle with him on his first foreign trip: The continuing battle to have the manliest manly-man handshake in the world. And he finally seems to have met his match.
Trump's handshakes are fraught with drama. He refused German chancellor Angela Merkel's request for one, drawing criticism. He jerked future Supreme Court justice Neil Gorsuch nearly off-balance. His overlong clinch with Japanese prime minister Shinzo Abe became a meme when Trump refused to allow Abe to slip from his grasp.
Then three men signified there were new sheriffs in town.
In his first meeting with Trump, Canadian prime minister Justin Trudeau stood his ground with a proactive clasp to Trump's shoulder. And at yesterday's NATO meeting, the new prime minister of France, Emmanuel Macron, dominated Trump not once but twice, according to social-media referees.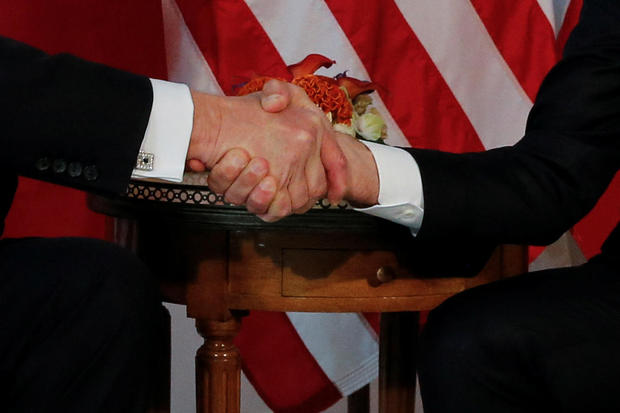 A simple photo op begat the first handshake play-by-play in presidential history, if not recorded history itself. Philip Rucker of the "Washington Post" reported that the leaders "gripped the other's hand with considerable intensity, their knuckles turning white and their jaws clenching and faces tightening." Ultimately, Macron shook Trump's hand with enough force that Trump tried to uncle out of it, loosening this fingers.
"Je suis très heureux de pouvoir, ensemble, changer beaucoup de choses", dit Macron aux côtés de Trump pic.twitter.com/7rQzMjGxBa

— BFMTV (@BFMTV) May 25, 2017
The setting for a rematch was an outdoor photo op of NATO leaders. Macron appeared to blow off Trump to shake Merkel's hand. Trump reached for Macron and his hand hung in the air. Macron relented. Trump yanked on his arm, Macron yanked back. Trump went for another yank but was blocked by Macron — who had clearly studied Trudeau — with a firm hand to the forearm.
Another weird Trump/Macron handshake at the NATO Summit. pic.twitter.com/ARz47xh4yI

— Erick Fernandez (@ErickFernandez) May 25, 2017
Overall, Trump has seemed off his game during this trip. When he met Tajikistan president Emomali Rahmon on Tuesday, he attempted the signature yank. The sturdily built Rahmon did not budge. Trump's upper arm appeared to undulate with effort slightly, as if he wanted to start a pop 'n' lock arm wave.
Найден человек, который переиграл Трампа в рукопожатии pic.twitter.com/snhfDgJr2r

— тем временем… (@a_imanaliev) May 23, 2017
Twitter pronounced the result:
Trump gets utterly demolished in this round of Handshake Wars https://t.co/RqbwUFTB2k

— vid (@vid_icarus) May 23, 2017
someone came ready to play https://t.co/moY5KJ2ZBC

— Sam Stein (@samsteinhp) May 23, 2017