Is Clay Aiken planning something sinister against Ruben Studdard? That's certainly the impression you get from the marketing campaign announcing their new Broadway holiday special. The former American Idol rivals are making up and taking up residence at the Imperial Theatre from Dec. 7-30 for a show that may or may not be an elaborate revenge plot for Ruben Studdard beating Clay Aiken in Season 2 of American Idol.  
Your first clue that something may be off is right in the title: Ruben & Clay's First Annual Christmas Carol Family Fun Pageant Spectacular Reunion Show. Which totally doesn't sound at all like the name of a fake event that a villain create knowing it would irresistible to his victim. 
Then there's the first official sentence of the press release: Ruben Studdard and Clay Aiken join forces for a monumental, one-of-a-kind holiday spectacular Broadway show. Okay, let's pump the brakes there, nobody's teaming up to fight dragons here. And if you're actually looking to own the word monumental on Broadway this season, you've got an actual 20-foot ape named King Kong to get through first.
The show is described as a "family affair," where the duo will mix beloved Christmas songs with "sprinkled with hilarious scenes and sketches." There's a live band, so presumably there will be someone close enough to act if the bloodlust flairs up in Clay Aiken's eyes.
Press releases usually contain totally bland quotes from the stars, and Ruben & Clay's First Annual Christmas Carol Family Fun Pageant Spectacular Reunion Show is no different. Not Clay Aiken: "There are really only two things that could get me back in stage after taking a break for over five years: my buddy, Ruben, and Christmas! It's been 15 years since he beat me on Idol, and it's taken an entire decade and a half for me to lick my wounds. But the holidays are about togetherness, so now that he is older and I am wiser, I can think of no better way to celebrate 15 years of friendship than by spending this holiday season together on Broadway."
There is so much to unpack here. Did he hold a 15-year grudge, or have they been friends? And if "now that he is older and I am wiser" doesn't sound suspicious to you, then I don't know what could.
Next up, as all family gatherings eventually arrive here: Airing of the grievances! This is the first line of the canned bio written for Ruben Studdard: "Ruben Studdard, the second American Idol winner, won the contest over runner-up Clay by only 134,000 votes out of the 24 million cast in the 2003 finale." Fine, yes, that's a small number — a little over 0.5% of the total, so within the margin for a recount if this were a real election — but it's still a decisive victory.
Apparently, as Clay Aiken's biography reminds us, becoming the first artist to have his first single debut at the top of Billboard's Hot 100 chart does not soothe the sting of defeat. He's also written a best-selling memoir, had a Broadway run in Spamalot, become an ambassador for UNICEF and run for Congress in North Carolina. But nothing will quench that single moment that didn't actually matter in the grand trajectory of his life anyway.
Included with the announcement is a "cute" behind-the-scenes video of a commercial they're shooting for the special, including such "adorable antics" as Clay Aiken mock-strangling Ruben Studdard with a plaid scarf, Clay Aiken using a red top hat to block Ruben's face and tying him up with twinkling lights, and ending not with the two of them announcing the special but just Clay Aiken by himself, declaring vaguely, "This Christmas at the Imperial Theater on Broadway."
And then there's the smoking gun at the bottom of the press release, this image confirming everything: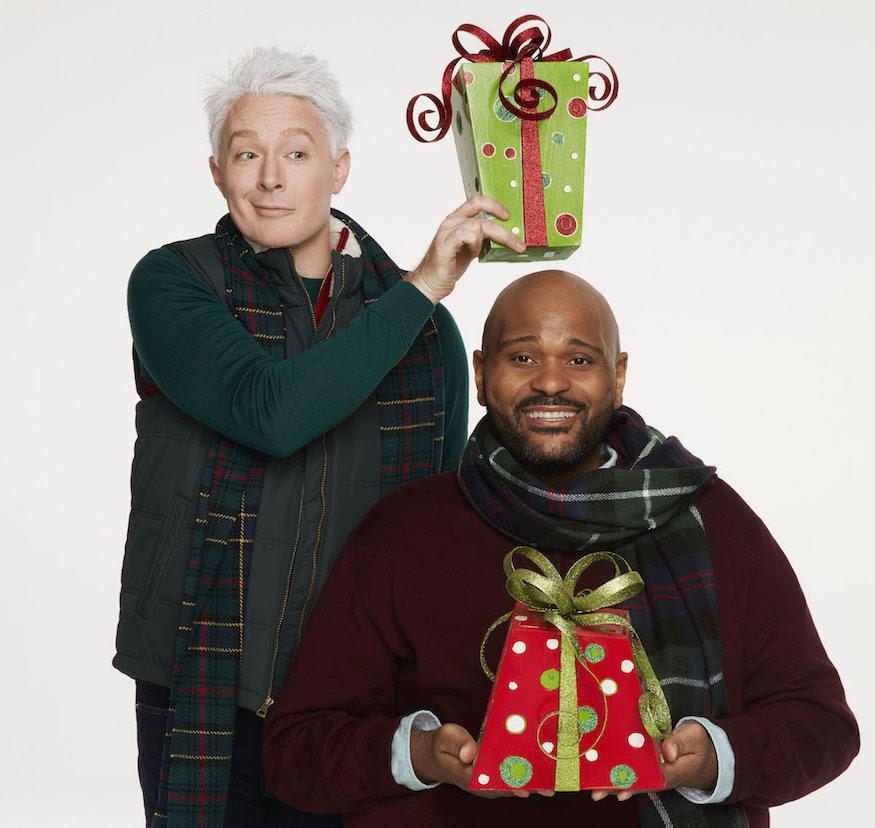 In conclusion, Clay Aiken is definitely up to something, and even Ruben Studdard suspects it. God help us, everyone.
See what actually happens when performances begin Friday, Dec. 7 at the Imperial Theatre, 249 W. 45th St. Tickets are on sale now for $39-$129.
Editor's Note: No one at Metro New York actually believes Clay Aiken is out to get Ruben Studdard. But he might want to have a word with his marketing team if he doesn't want to give that impression.