Victoria's Secret Fashion Show 2017: It's known as the sexiest night of the year and it's right around the corner.
The VS Angels are taking to the runway to strut their stuff in Shanghai for the Victoria's Secret Fashion Show 2017, living up to the high expectations the lingerie has set for putting on a show that's larger-than-life.
And, believe us, they're pulling out all the stops again this year. Need some evidence? This should be enough: VS is producing a special bra for the show called the "2017 Champagne Nights Fantasy Bra" — bet you didn't know they gave the bras names, did you — which was designed by Mouawad. The bra features almost 6,000 precious stones that are all hand-set into the luxurious piece of lingerie. That and, of course, some 18 carat gold for good measure. You'll spot the special bra, which is worth a cool $2 million, on VS Angel Lais Ribeiro when she walks down the runway in Shanghai.
So, when is Victoria's Secret Fashion Show 2017?
The Victoria's Secret Fashion Show 2017 launches — lingerie, giant wings and all — Tuesday, November 28, 2017. Victoria's Secret has a handy countdown clock for those of you keeping track, closely. Though we don't blame you if you bookmark it. The star-studded event features performances from top musical artists, toned and tight models wearing wings bigger than their bodies and completely themed lingerie costumes that take months upon months to produce.
Victoria's Secret Fashion Show 2017 watch online
Your best bet for watching the show online — if you want to catch it as it's happening — is the CBS All Access service, since they're the network airing the show from Shanghai. They offer a free trail that you can conveniently sign up for right before the show and cancel immediately after — but don't tell anyone we suggested it.
You can do the same with other live TV streaming services, such as Fubo. This service also offers a free 30-day trial membership so that you can catch the star-studded event before deciding if you want to keep an active account.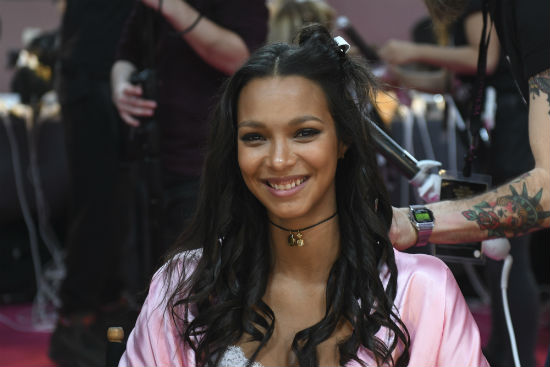 If you're not concerned about seeing the show live as long as you eventually get to see the whole thing, keep checking YouTube for uploaded videos of the entire event. Past years' runway shows have been uploaded and are still available. Read further for a direct link to a video of 2016's show as an example. This year's event is sure to be uploaded as well, the only question is when.
Victoria's Secret Fashion Show 2017 models
All of the Victoria's Secret Angel will be strutting their stuff and some lacy lingerie down the runway on November 28 — that's to be expected. But there are also some fresher faces in the bunch. You can check out our gallery of the Victoria's Secret Fashion Show 2017 models to see each one and read a bit about their bio. We included the VS Angels, the girls who walked their first show last year and the newbies that are making their debut in Shanghai later this month.
It's also worth noting that this year, the Victoria's Secret Fashion Show will feature a record number of Asian models. It's a timely show of diversity for the mammoth lingerie brand. This year's show in Shanghai, China will be the company's first show in Asia, and they're hitting a company record of seven Asian models in this year's show. Though there's definitely room for more diversity in the lineup — there are over 50 models walking in the show — it's a step in the right direction toward showcasing a more inclusive look at all different types of beauty.
Who's performing at the Victoria's Secret Fashion Show 2017?
Tune in for the models, stay for the — ok, well, you'll probably stay for the models, too. But every year there are also stellar performances from top musical artists that only enhance the stage production of the event. Victoria's Secret hasn't yet announced the official lineup of who's taking the stage alongside the models, but the internet has no shortage of theories.
It's been rumored that Harry Styles will be one of the performers. And, in what seems to be a forming tradition for the show, one of his ex-girlfriends might be there, too. (If you don't remember, The Weeknd performed in last year's show with his now-girlfriend Selena Gomez while his ex Bella Hadid strutted past in lingerie looking, well, less than pleased about it.) Harry's ex that's been rumored to take the stage? None other than Taylor Swift.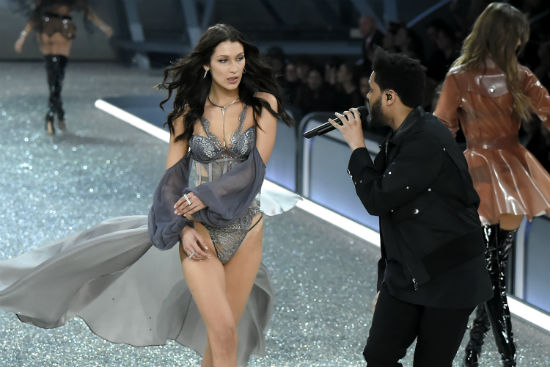 Swift is a known friend of many of the models that are hallmarks of the Victoria's Secret runway, and as PopSugar pointed out, she may have just dropped a massive hint about the upcoming performance in a recent Instagram post. She was caught sporting PINK brand socks (Victoria's Secret's younger franchise) in a video posted to the social media platform.
We'll have to wait and see who actually signs on to confirm or deny these rumors, but Metro will update you as soon as the final lineup is announced.
How can I watch the Victoria's Secret Fashion Show 2017 full version?
If you're tuning in on TV, you can catch the whole thing. The show will start right at 10 p.m. EST (9 p.m. CT) on November 28, 2017 on CBS. You'll also be able to find Victoria's Secret Fashion Show 2017 full videos on YouTube shortly after the show airs. Check out the VS Fashion Show 2016 full video for a preview of what's to come, and to get excited for this year's event that's looking like it might be the best yet.