Mayor Marty Walsh aims to help financially-struggling college students who are close to graduation cross the finish line with the launch of a 'last mile' college scholarship.
The Graduate Ready To Achieve Degree (GRAD) Last Mile Scholarship will award a maximum of $2,500 to students at five Boston colleges: Bunker Hill Community College, MassBay Community College, Roxbury Community College, Benjamin Franklin Institute of Technology and UMass Boston.
The program is in partnership with the Frieze Family Foundation, a donor-advised fund of the Combined Jewish Philanthropies of Greater Boston. The Foundation will fund the pilot year of the GRAD Last Mile scholarship.
The college scholarship will be a resource, the city said, for students whose financial hardships are an obstacle to completing their higher education, despite being so close to receiving their degree.
This last mile problem is an issue for college students across the country. Nearly one in five students who leave college without a degree actually complete 75 percent or more of the necessary credits to get a degree, according to a spring 2018 analysis from Civitas Learning. One in 10 dropouts reach at least 90 percent of the credit threshold.
These students drop out for a range of reasons, but top among them is not having enough financial aid.
Thirty nine percent of college students say they would consider dropping out to avoid taking on more debt, according to a survey by MagnifyMoney.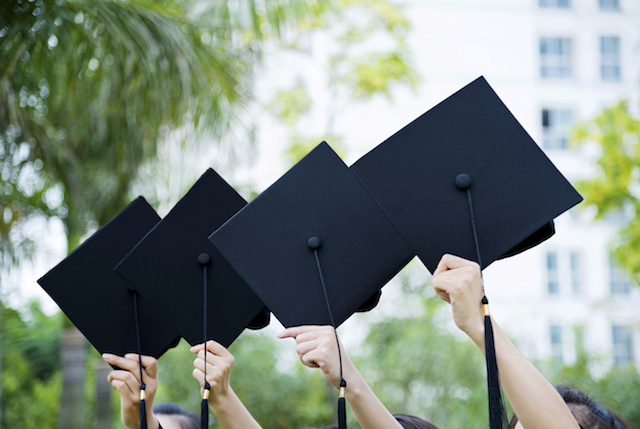 "The GRAD Last Mile Fund will enable more Boston students to realize their dream of graduating from college," Walsh said in a statement. "Financial hardship should not prevent any student from completing the 'last mile' on their journey toward earning a college degree, and I am proud that through this new fund, we will be able to help more students cross the finish line and earn their degree."
Taressa Jones, a senior at UMass Boston, is one GRAD Last Mile Scholarship recipient. She said in a statement that the award will cover her transportation and books as well as allow her to take time off of work in order to study for exams.
"At UMass Boston,we have a number of students who are very close to completing their degrees but experience insurmountable financial challenges such as food and housing insecurity, family medical issues, childcare, and employment challenges that make it impossible for them to finish," Joan Becker, vice provost for Academic Support Services at the University of Massachusetts Boston, said in a statement. "The GRAD Last Mile Scholarship will make it possible for these students to walk across the stage with their degree proudly in hand."
A push for college scholarship in Boston and beyond
Walsh's announcement comes on the heels of another college scholarship effort meant to help Massachusetts students afford higher education.
State officials announced this week that beginning Jan. 1, 2020, every child born or adopted as a Massachusetts resident will be eligible for a free $50 deposit into a college savings account.
Called SeedMA Baby, the program is designed to help families begin to save for their kids' college education.
"This program is designed to empower families from Boston to the Berkshires, all over the state, to save for their child's higher education," State Treasurer Deborah Goldberg said on Tuesday. "With the price of education increasing each year, we must ensure that individuals of every background and income level are equipped with the resources to finance their higher education and enter the workforce debt-free."