This Thursday, Cynthia Nixon challenges incumbent Gov. Andrew Cuomo for the Democratic nomination leading up to November's midterms. Politics aside, she's already got him beat in one category: breakfast. Behold, the Cynthia Nixon bagel (the talk of NYC).
The Sex and the City alumna and New York native placed an order at Zabar's this past Sunday that caused lox lovers everywhere some unwelcomed discomfort. The order was, as documented by Gothamist in a five-minute YouTube video: lox, plain cream cheese, red onions, capers and tomato on a cinnamon raisin bagel.
"That's what I want—a full load," Nixon said of her unlikely order.
Nixon defended her breakfast choice, which a fellow Metro staffer dubbed the "Nixy," as "sweet and salty." She later set up a sweepstakes of sorts — a chance to chat over bagels with or without a donation to the Team Cynthia campaign.
Yes, I like to eat a Cinnamon Raisin Bagel with… lox, capers, red onions, cream cheese, and tomatoes.

Give a few bucks to help support our campaign in the last days before the primary and enter for a chance to have YOUR favorite bagel with me: https://t.co/Q9Whsj4T6j. pic.twitter.com/pkfjRLNZuT

— Cynthia Nixon (@CynthiaNixon) September 11, 2018
While some theorized this could have been a "stress order" or, perhaps, a ploy to boost support before Thursday's primary election, Nixon argued that it's her go-to pick. "Don't yuck my yum. Don't knock it till you try it," she says.
Metro followed suit to find out if the Cynthia Nixon bagel is a no good, very bad decision, or one we'll order in a heartbeat from now on.
The verdict: Is the Cynthia Nixon bagel order any good?
I will preface this Cynthia Nixon bagel taste test by admitting that I've never tried lox. And, being a Jew, I have seemingly failed my faith. (Even my father, a self-proclaimed atheist, has eaten his fair share of bagels, lox and schmear.)
It's safe to say that I did not picture my first lox experience to be so, well, risky. Capers? Onions? On cinnamon raisin? Not the ideal way to lose my lox virginity. 
When I placed the order at Leo's Bagels in FiDi, I was met with a look of disgust from the man behind the counter (the same sort of look you make when you smell something rotten). But, once I shot back a furrowed brow and a panicked, "I know it's a weird order!" he quickly got to work.
Here's how the Cynthia Nixon bagel came out: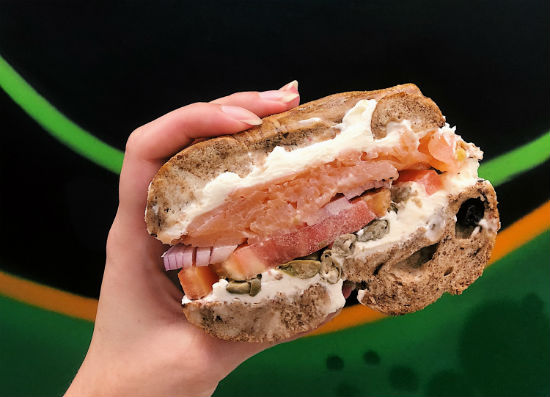 It was a thick bagel and smelled questionable, but I proceeded with the vigor of any valiant journalist.
The verdict? A whole bite wasn't bad. The lox were surprisingly less fishy than I was expecting, and the slight sweetness from the bagel did seem to complement the saltiness of the condiments.
As one Metro staffer (and fellow first-time lox eater) accurately declared, "I'm not mad at it."
The one thing I did not, by any means, enjoy was the bite I took with capers and raisin bagel alone. That combination is something I would not want to relive. Ever.
I will admit that it had too much going on for me to handle before my 9:00 a.m. morning coffee, though it wasn't a nightmare.
The level of tastiness definitely differs bite to bite, but the general consensus seems to be this: the Cynthia Nixon bagel — the no good, very bad "Nixy" — wasn't so bad after all.