As if flesh-eating STDs weren't enough, several cases of monkeypox have been reported in the United Kingdom. The two most recent cases were in people who both traveled from Nigeria to England, but otherwise had no connection to each other.
The two cases come just one week after another Nigerian resident was diagnosed with the disease in Cornwall, Public Health England confirmed.
It is very unusual to see two cases in such a relatively short space of time. We are working hard to contact individuals, including healthcare workers, that might have come into contact with the individual to provide information and health advice," Nick Phin, the deputy director of the National Infection Service at PHE, told CNN.
"We know that in September 2017, Nigeria experienced a large sustained outbreak of monkeypox," he added. "It is likely that monkeypox continues to circulate in Nigeria and could, therefore, affect travelers who are returning from this part of the world."
But what is monkeypox —and should we concerned about it spreading worldwide?
What is monkeypox?
Monkeypox is a virus that was first discovered in 1958 when two outbreaks of pox-like disease broke out in research monkey colonies, according to the U.S. Centers For Disease Control and Prevention. The first human case wasn't diagnosed until 1970 in the Democratic Republic of Congo.
It's believed that the monkeypox virus is spread through rodents and transmits to animals and humans that come in contact with an infected rodent, though it can also come from other animals, humans or materials contaminated with the virus, according to the CDC.
The monkeypox virus makes its way into the body through broken skin — even if the broken skin is invisible. It can also enter the body through mucous membranes in the eyes, nose and mouth, or through the respiratory system.
Symptoms of monkeypox
Now you know what is monkeypox, but what about the symptoms?
The symptoms of monkeypox are like smallpox symptoms, but milder. The symptoms start anywhere from five to 21 days after infection and include fever, headache, muscle pain, back pain, chills and exhaustion.
And, unlike smallpox, monkeypox causes swollen lymph nodes.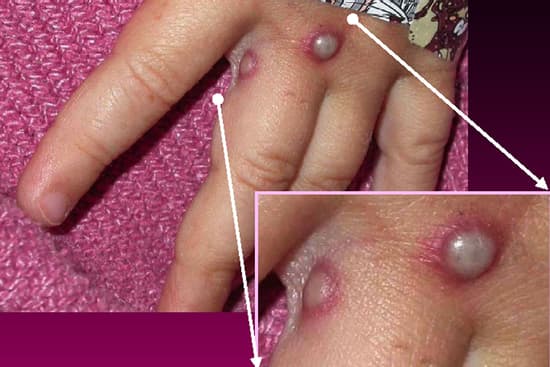 Sooner after the initial symptoms comes a rash, along with lesions that progress from bumps (known as macules and papules) to pus-filled bumps before scabbing over.
Can monkeypox kill?
There are two types of the monkeypox virus, according to the CDC. The Central African monkeypox and the West African monkeypox. The West African monkeypox is usually milder and causes fewer deaths.
That said, about one in 10 people in Africa who contract monkeypox die.
The infected people in the U.K. are receiving medical attention for the virus.
"The patient is being cared for on our specialist infectious and tropical diseases unit, by highly trained staff who are experienced in dealing with a variety of infectious diseases,"
Mike Beadsworth, clinical director of the Tropical and Infectious Diseases Unit at the Liverpool hospital, told CNN, adding that there is "currently no risk to other staff, patients or visitors."
Could monkeypox spread to the United States?
There was an outbreak of monkeypox in the United States in 2003 — the first reported outside Africa. There were 37 confirmed cases and 10 probably cases in five states during that outbreak that was tied to a shipment of rodents from Africa.
There are currently no cases of monkeypox reported in the United States.