Sukkot 2017 is upon us already!
This weeklong Jewish holiday comes just five days after Yom Kippur, so if you thought you learned g'mar tov just in time, you've got some more boning up to do on your Jewish holidays. This holiday is a much happier occasion than the solemn Yom Kippur as it commemorates god's protection of the people of Israel when they fled Egypt and celebrates the gathering of the harvest. (Read: No 25-hours fasting this time around!)
So, when is Sukkot 2017?
Sukkot 2017 starts tonight, Wednesday, October 4 at sundown and goes through sundown on Wednesday, October 11. The first two days of the holiday — sundown on October 4 through sundown on October 6 — are called yom tov. On these days, work is forbidden and candles are lit in the evening. Meals are preceded by the Kiddush, or traditional blessing, and part of the celebration is enjoying challah dipped in honey.
October 6 through October 9, 2017, the intermediate days in the weeklong celebration, are quasi holidays known as Chol Hamoed. During these days, people who observe the holiday dwell or at least spend as much time as possible in a sukkat and bring the Four Kinds every day (except Shabbat, or the Sabbath). Don't worry, we've got you covered if you're wondering, what is a sukkat? The Four Kinds are four different types of vegetation: palm branch, willows, myrtles and citron, the first three of which are bundled together in a special way. These four different plants represent the four different types of Jews, and bringing them together is symbolic of the unity of their unity as a nation.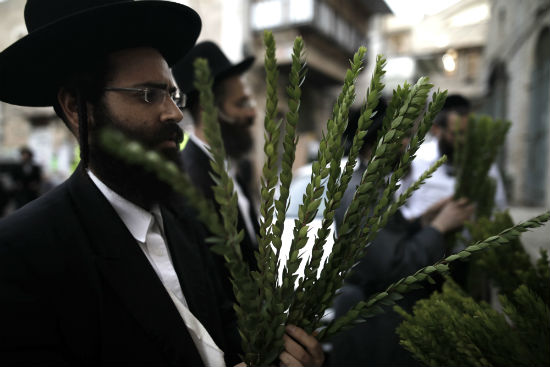 The final two days of the celebration, or sundown October 9 through sundown October 11, go by another name: Shemini Atzeret or Simchat Torah. That last or seventh day of the weeklong holiday, called Hoshanah Rabbah, is when it's believed that your fate for the coming year is finalized. (Remember that if you sinned against god or your fellow man, you made amends and repented them during Yom Kippur.)
Although that's the end of Sukkot, that's not quite the end of this stretch of holidays. Sukkot is immediately followed by another yom tov day called Shemini Atzeret – or the Eighth Day Of Solemn Assembly. That is also followed the festival of Simchat Torah, or Rejoicing of the Law, which marks the end of a year-long reading of the Five Books of Moses at the synagogue. It's celebrated with drinking, dancing and the chance to start reading the Five Books all over again.