In many ways Vida is a rare series: a distinct drama with a decisive point of view. The show, which premieres on Sunday, follows two Mexican-American sisters coping — with their mother's death and the secrets she kept while she was alive, with their old neighborhood and with each other. It's a refreshing and beautiful series that feels both current and seriously overdue. So why has it taken so long?
In its worldly approach, Vida recalls moments from a variety of other cable series — Shameless, The L Word, Sex and the City. While wading knee-deep in a vague sense of magical realism, Vida manages to easily take on both issues that are specific to minority communities, like gentrification and selling out; and those that are broader and more widely relatable. Love. Death. Sexuality. In fact, Vida is impressively frank about sex and humans as sexual beings, a refreshing reprieve from the endless sexposition of the late aughts (looking at you, Game of Thrones). All while giving us the rarely seen on screen queer Latinx woman — one that is a full-fledged, wholly developed character.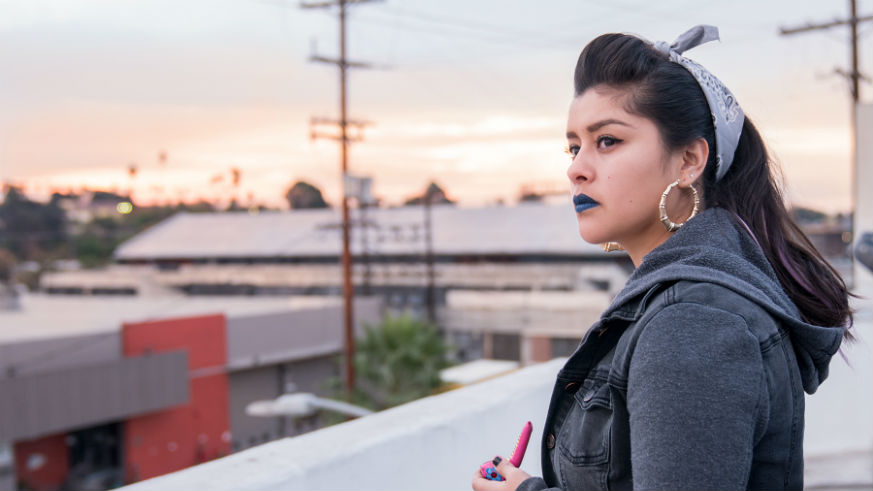 But there's a reason this all feels new. Media has a long and sordid history with Latinx representation, or rather, the lack thereof. According to a report by the Media, Diversity & Social Change (MDSC) Initiative, only 5.8% of speaking roles were said by a Latino in film and television in 2016. Meaning very excellent series like Jane the Virgin and One Day at a Time are one of a kind — even though they shouldn't be.
That frustration is felt in the entertainment industry and beyond. Jaime Camil, who plays Rogelio in Jane the Virgin, insisted "There's no true diversity in Hollywood." And his co-star, Gina Rodriguez certainly agrees: In an essay she penned in Variety earlier this year, the actress called for more Latinx representation on screen, writing "The underrepresentation of Latinos in Hollywood both on and off screen is not just a feeling; it's a sad reality."
Although Vida alone is unlikely to be anecdote to the lack of Latinx representation in the entertainment industry, he proves once again that stories about underrepresented people are necessary and powerful. Here's hoping that as Hollywood and the powers that be continue their long "awokening," we get more stories like Vida — fierce and feeling and utterly watchable.