While dairy farmers and food manufacturers argue over what can be considered milk, the brains behind the newest plant-based craze are raking in the profits. Oat milk is becoming the go-to for those who want the creamy texture and flavor of milk without the cows and lactose.
And it's shot up in popularity in 2018 with nearly 100,000 posts about it on Instagram.
"GUYS – I am team oat  – and did you know it's super  environmentally friendly? I'm loving that oat milk is now EVERYWHERE – as someone who is v. Lactose intolerant I'm always searching for alternatives – and this is a dang good one: creamy, [vegan] friendly, and [dairy] free," The Little Blonde Yogi wrote on Instagram, along with a photo of her oat milk latte.
But what is oat milk exactly — and why is it so popular now?
What is oat milk?
Oat milk is exactly what it sounds like: a drink made from oats. It's made by soaking steel-cut oats or groats in water for at least 20 minutes, then blending. The final product comes from straining the resulting juice (milk) through a nut milk bag or cheesecloth.
"While the leftover oat pulp has the bulk of the fiber and most of the protein in the oats, the liquid or 'milk' that results does have some of the nutrients in oats, registered dietitian Kelly R. Jones told Shape. "Because oats absorb water more easily than nuts, when blended well enough, more of the food itself winds up passing through the cheesecloth, giving a creamier texture than nut milk without added ingredients."
Oat milk nutrition is pretty solid, too: Though it has less protein than cow's milk and soy milk at 4 grams per cup, it contains more than other plant-based milks like coconut milk, rice milk and almond milk. It does contain 130 a cup — higher than most almond milks — it does have 35 percent of the daily recommended amount for calcium and 25 percent for vitamin D. It's decidedly not keto, thanks to the its relatively high level of carbohydrates per serving.
Oat milk also contains other vitamins and minerals like thiamin, folate, magnesium, zinc, phosphorus, manganese and more.
How does oat milk taste?
But the most important question: Does oat milk actually taste good?
It seems like oat milk would taste a lot like drinking your morning bowl of oatmeal, but fans say it's much better than the other plant-based options out there. The creamy texture lends itself well to coffee (hence why oat milk lattes are the new trend).
Want to try oat milk yourself? You have a few options. Starbucks added an oat-milk option to its European menus earlier this year, but it's still not in the United States.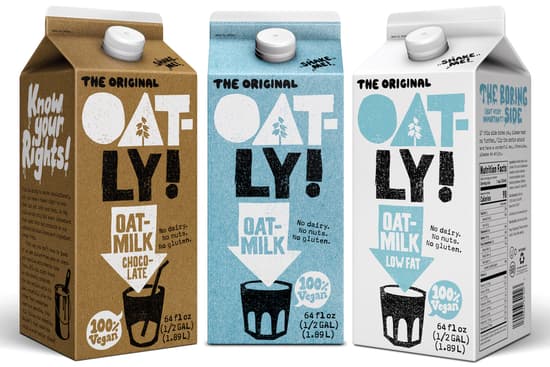 Oatly, a Swedish company, is considered the pioneer of oat milk and now sells it in the United States in plain, low-fat and chocolate flavors. Pacific Foods and Elmhurst also sell their own variations for prices that rival other plant-based milks.
The only caveat: If you have Celiac disease or are gluten intolerant, you need to look for oats that are certified gluten free before imbibing. 
"While oats are gluten free in nature, they're often processed on the same equipment as gluten-containing grains, which contaminates the oats with gluten enough to cause a reaction in those with celiac or a serious intolerance," Jones told Shape.