Dream Kardashian's parents really are the worst. On Wednesday, Rob Kardashian took to his Instagram to levy some very serious allegations against his on-again, off-again girlfriend and full-time baby mother, Blac Chyna. Yes, the one I went to high school with.
Kardashian — whose Instagram account has since been suspended — went on a rant of epic proportions, accusing Chyna on various accounts of promiscuity, drug use and general irresponsibility. I mean, can Chyna live?
The, um, reality star and sock designer then posted screenshots of their texts, videos that Chyna allegedly sent him of her having sex with another man, and nudes photos of her — including a photo of Chyna in a skirt without underwear. In that post, he wrote "This is from Chyna yesterday to me> I never been so disrespected in my life. I just bought her 250k of jewelry yesterday. This woman is so disrespectful and I don't care."
In another photo, Chyna appeared topless, and Kardashian claimed that he bought her a $100,000 breast augmentation. "Man they f—d up on the nipples," he wrote. "They used to be so cute." He also posted a variety of other accusations, including the claim that Chyna only had a baby with him to make her ex, Tyga, jealous. It's all really a mess.
But disregarding the ridiculousness of that for a moment, there is one thing that is very important. And that's that Rob didn't have Chyna's permission to post any of it. In fact, as Broadly notes, Kardashian's rant is more than disturbing, it's illegal. In California, where Kardashian lives, "revenge porn" — revealing or sexually explicit images or videos of a person posted on the Internet without the consent of the subject — is a misdemeanor. Revenge porn lawyer Carrie Goldberg told the site that Kardashian could also face charges in civil court.
"The fact that Rob has 9.2 million followers makes his attack on her sexual privacy particularly cruel. Those photos were likely screen grabbed by his millions of followers seconds after they went up. This will follow her around for the rest of her life. I'm also glad to see that many people commenting on this story on social media are expressing shock at Rob's act! It means that more and more of the public understands that leaking someone's intimate photos or videos—no matter the 'justification' or defense—is never OK."
Nevertheless, looks like the 30-year-old is still at it. As of 4:14pm on Wednesday, he's taken to his Twitter to continue his rant — and he's uploading the revenge porn all over again.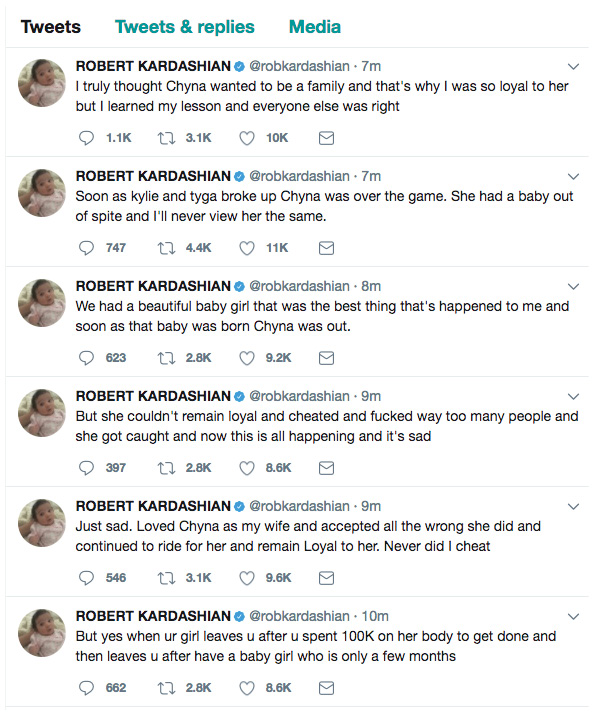 Next time, maybe Kardashian will think twice before impregnating his 19-year-old half sister's boyfriend's baby's mother. Or, even better, he'll be way less terrible in the future. Here's hoping.