For the cat lover who also loves to travel, a number of interesting and unexpected destinations provide furry love as well as cultural understanding.
The Coliseum
The Italian word "gattare" is slang for "crazy cat lady," and to see le gattare in action, visit the Coliseum in Rome late in the day. That's when these dedicated volunteers arrive to feed the cats that live in the nooks and crannies and secret passages of this ancient institution. And what do le gattare feed the cats? Spaghetti, of course.
The Torre Argentina, where Julius Caesar was murdered, is now a sanctuary for about 250 cats. Crazy cat ladies and crazy cat gentlemen are welcomed to play with the cats as they tour the site. The irony of Torre Argentina is that Julius Caesar was rumored to have a phobia of cats.
Japan's Cat Island
Cats outnumber humans five to one on Aoshima Island in the Ehime prefecture in northwestern Japan. Once a thriving fishing village, the population of Aoshima has declined to just 15 permanent residents. But the cat population continues to thrive, thanks in large part to the belief here that feeding stray cats brings wealth to the family.
While Aoshima is perhaps the best known, Japan actually has about a dozen islands identified as "cat islands."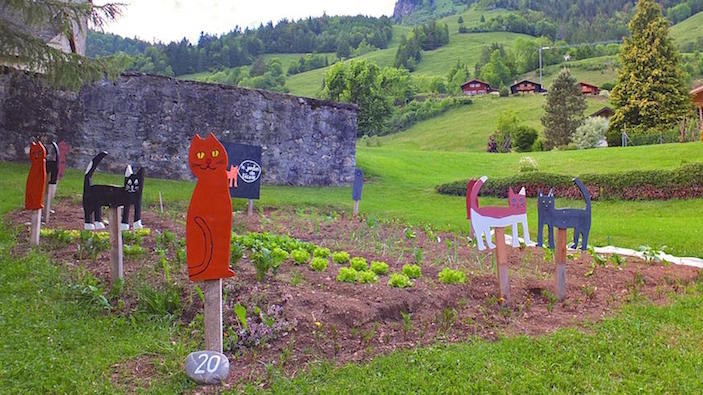 King of Cats Festival
The French painter Balthus was fascinated by the image and movement of cats, often incorporating them into his work. He called himself "the king of cats." When he died at his home in Rossiniére, Switzerland, the community honored his creativity with a biennial King of Cats Festival.
But this isn't your typical corn dog and funnel cake-filled festival. This is a summer-long community art project that encourages each business and household in Rossiniére to create some piece of art that represents a cat. The public gets to vote on their favorite and the winner gets bragging rights.
The Cat Boat
A fabulous opportunity to scoop kitty litter during your vacation is at depoezenboot, which means "the Cat Boat." Actually, it's two barges floating on Amsterdam's Singel Canal that have been retrofitted as animal shelters. It's a beautiful setting, but lots of volunteers are needed to help keep it from getting too stinky inside because, you know, 50 cats produce a lot of pheromones. Yet, you can't beat the view and the reward of a having a grateful kitten napping in your lap at the end of the day.
Hello Kitty Rooms at the Keio Plaza Hotel
The overdose of pink cuteness may make you throw up just a little, but if you or the children in your life are fans of Hello Kitty, these hotel rooms will play right into your madness.
Hello Kitty toiletries, a Hello Kitty doll souvenir, and Hello Kitty bedtime snacks are among the treats that make the eight themed rooms at the Keio Plaza a destination for family travelers in the Shinjuku area of Tokyo. The Keio Plaza in the Tama area also has four Hello Kitty rooms.
Ernest Hemingway's House
The four dozen or so six-toed cats, all descendants of a cat given to Papa by a ship's captain in the 1930s, are the primary reason about half of the visitors say they come to Hemingway's home in Key West. These semi-freaky fur balls are free to roam the property, even where visitors are not allowed. Feel free to pet them, but don't try to pick them up. The cats will come to you if they are in the mood, but what else is new?
The Brookstown Inn
Sally, the resident cat at the Brookstown Inn in Winston-Salem, North Carolina just wandered in the front door four years ago. Her new family — the staff at this 70-room boutique hotel — caters to her every need, as do many of the guests who appreciate it when Sally chooses to spend the night in their room.
Best Friends Animal Sanctuary
With about 1,600 animals, the Best Friends Animal Sanctuary is the largest animal rescue facility in the country. Many vacationing volunteers stay in one of 12 on-site cabins and cottages. It's OK to take a kitten or two to your room for a little overnight snuggling. Area hotels allow you to bring Best Friends cats to your hotel as well.
Laughing Cat Winery
The official name is Carlson Vineyards, but most people know the Palisades, Colorado vineyard as the Laughing Cat Winery because of the playful cat juggling mice on the labels. The Laughing Cat series includes semi-sweet wines like Riesling, Gewurztraminer, and a few blends. Hank and Gunny, the current feline residents, greet each guest with a handshake. Take that any dog that ever called a winery home.
Cat'n Around Catskill
If the word "cat" is a part of your destination, you simply have to do something with it, right? So the people in Catskill, New York, fully embraced their name with a public art project called Cat'n Around Catskill.
Each summer, about 50 fiberglass felines appear on the streets of Catskill disguised in some incredibly creative interpretations of our world today: Surfer dude cats, Spiderman cats, and Katniss Everdeen. Cleopatra the Cat, Zombie Cats, Cats in Hats, Cat Scans. Cats in cap and gown, in tuxedos, in velvet smoking jackets, and dressed as Strawberry Shortcake — an identity for all their nine lives.