There has been a lot of discussion over the past few years as to whether or not the 1988 action classic Die Hard is the greatest Christmas movie of all time. As someone who is not necessarily a fan of cheery seasonal X-Mas "classics", I feel like I probably don't have enough skin in the game to really weigh in effectively. But what I can say is that there isn't another movie that gives me as much joy as seeing Bruce Willis' classic character John McClane, expertly pursed-lipped, shooting up bad guys and tossing off one-liners with ease as he scales Nakatomi Plaza. As the Holidays get closer, we may need to watch this badass classic to really know for sure. So, where can we stream it? Is Die Hard on Netflix? 
Is Die Hard on Netflix?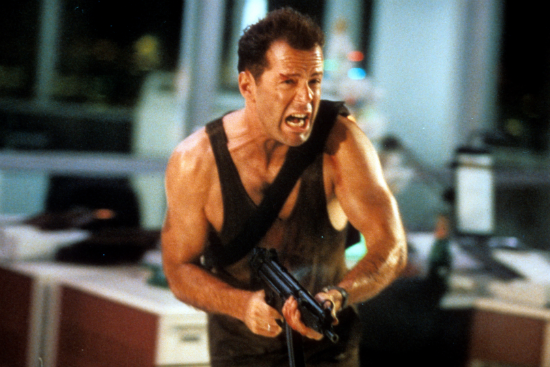 Is Die Hard on Netflix? 
Unfortunately, the biggest streaming platform out there did not secure the rights to this masterpiece so you have other ways than just watching Die Hard on Netflix. 
Currently, the only place where you can stream the movie is if you have a subscription to Cinemax. Unless you are the world's biggest fan of the series Strike Back or want to watch old episodes of The Knick, chances are you probably don't have access to it. But, if you really have a hankering to see John McClane do his thing you can sign up for a free week-long trial to Cinemax and even sync it up through various platforms such as Hulu, Amazon Firestick, and Apple TV. 
There are some other options for not watching Die Hard on Netflix such as renting it through platforms like Amazon Prime, Vudu, YouTube, iTunes, and Google Play. 
So Hans … Bubby. Get your affairs in order and use one of these platforms to rent or stream one of the greatest, wait for it, films ever made this Holiday season. Who cares if you can't watch Die Hard on Netflix? As John McClane proved time and time again throughout the franchise: Where there is will, there is a way. Yippee ki yay.