Country legend Willie Nelson smokes weed — that we know.
The 85-year-old Texas native sat down with Stephen Colbert on a segment for The Late Show that aired Wednesday. Nelson talks about his September 29 gig in Austin where he's headlining a free concert in support of Texas Democrat Beto O'Rourke. Though admission is free, you must RSVP for the event, held at Auditorium Shores, on the rally page. 
Nelson even invited O'Rourke on stage during his 45th July 4 Picnic festival this past summer: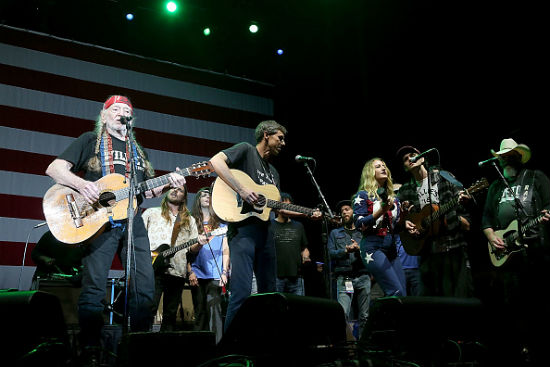 Nelson's conservative fanbase is calling him out for supporting O'Rourke instead of Republican Sen. Ted Cruz in November's midterms — though Nelson has a history of supporting Democrats like Jimmy Carter, the Clintons, Bernie Sanders and Barack Obama.  
Nelson tells Colbert in regards to the upcoming O'Rourke rally, that he's done similar fundraisers for Dennis Kucinich (former Democratic U.S. Representative) and Ross Perot (who ran as an independent presidential candidate in 1992 and 1996).
When Colbert muses, "So you always back the winners," Nelson declares, "Of course!"
Nelson also tells Colbert that he'd smoke with none other than Donald Trump.
WATCH: Willie Nelson says he'd smoke weed with Donald Trump
Nelson, a long-time advocate of legalizing marijuana, tells Colbert on The Late Show that he'd light up with Trump.
In a rapid fire game we're loosely calling, "Would You Light Up With This Person?" Colbert presents Nelson with pictures of public figures. Nelson, in return, says whether or not he'd smoke with them.
"Heck ya!" the singer responds to a photo of the Pope.
When Colbert holds up a picture of Trump, Nelson says that the president "needs one bad," continuing on to say that smoking weed would be "good" for him. Watch below:
Back in 2015, when CNN asked Nelson if he'd smoke with the then-presidential-candidate, he replied, "Oh, I'd smoke one with anybody."
Nelson even wrote a satirical song about Trump and the 2016 presidential election entitled "Delete and Fast-Forward." It appeared on his God's Problem Child album released in April 2017.
The lyrics go: "Delete and fast-forward, my friend/ The elections are over and nobody wins/ But don't worry too much, you'll go crazy again/ Delete and fast forward, my friend."
Willie Nelson may not agree with Trump, but he'd light up with him any day.