Art in New York City is all around us: Just loop up at the magnificent Art Deco buildings of Midtown, walk past one of the painted storefront shutters that beautifies the East Village courtesy of the 100 Gates Project or step off at any station on the mural-rich Second Avenue subway line.
But come summer, the art that pops up in our public spaces serves a greater purpose. Whether it's to raise modern issues, recall a part of history or envision a better world, the temporary art exhibitions that flourish all over the city during the warmer months challenge us to stop, reflect — and, yes, take a selfie or two.
These 11 amazing public art exhibits will make you laugh, think and pause for a rare moment of reflection.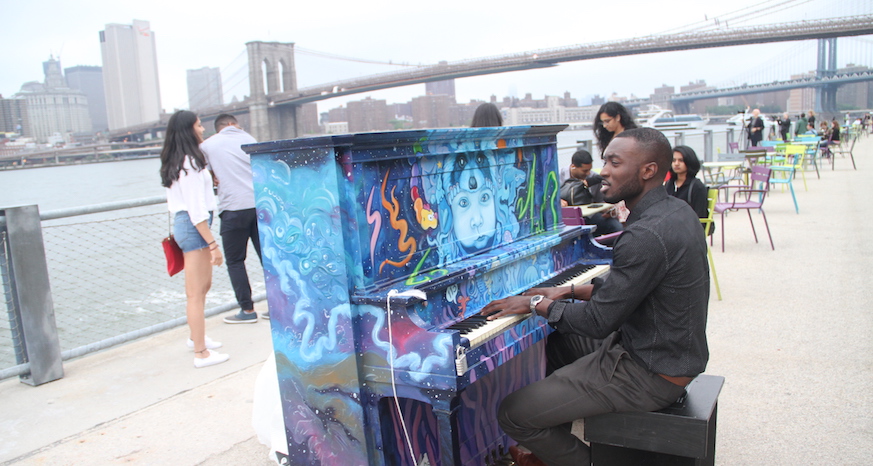 Sing for Hope
One of the perks of urban living is that around every corner, there's some kind of music. Sing for Hope pianos lets you add some joyful noise to the city when 60 pianos — hand-painted by some of New York's biggest stars like "SNL" comedian Kate McKinnon — pop up in parks and plazas free for anyone to play. Mark your calendar for the exhibit's unveiling on June 5 at 28 Liberty Plaza, when star performers will help unveil the project. When it's your turn, play them gently, please: At the end of the exhibition, most of the pianos will be donated to schools. June 5-25, singforhope.org
Earth Potential
In a short time, we've gone from not being able to see some of our planet's smallest life forms to sequencing their DNA for scientific research. For her work Earth Potential, Estonian artist Katja Novitskova created silhouettes of these fascinating creatures like squids and round worms, displayed almost like microscope slides on large metal disks printed to look like planets. The works provoke questions about technology and nature, and how much of the world we're truly seeing. June 22-Nov. 9, City Hall Park, Lower Manhattan, courtesy of The Public Art Fund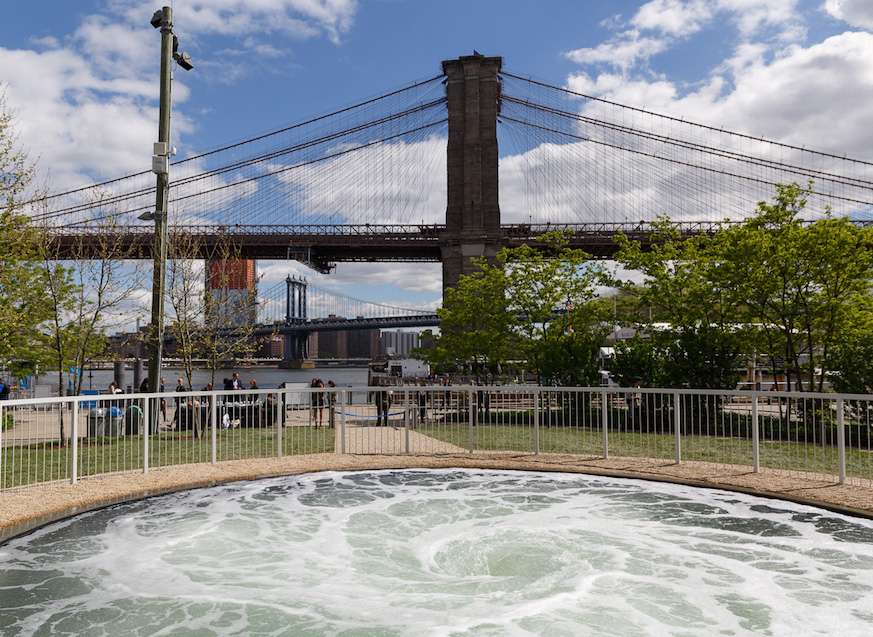 Descension
Anish Kapoor's swirling whirlpool may seem a little too on the nose these days. But in his view, Descension is meant to be a contemplative piece on the infinitely varying nature of water — and humanity itself. So look past the obvious and maybe try to sublimate your emotions by letting them drain away beyond the boundaries of our world. Through Sept. 10, Pier 1, Brooklyn Bridge Park, courtesy of The Public Art Fund
The Theater of Disappearance
Perched on the roof of the Met is one of the city's most scenic bars — and you know it's got to have some art, too. For Theater of Disappearance, Argentinian artist Villar Rojas digitally scanned works from the Met's collection as well as some of its staff to cast a 16-person dinner party out of white concrete that blends history and challenges who's worthy of being immortalized in art. Through Oct. 29, 1000 Fifth Ave.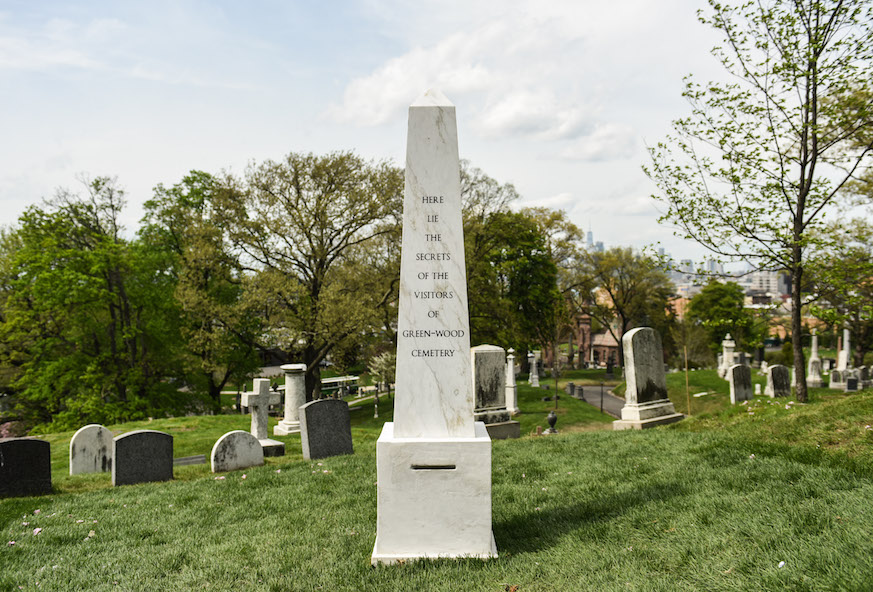 Here Lie the Secrets of the Visitors of Green-Wood Cemetery
In the most cathartic art piece of the season, French artist Sophie Calle asks New Yorkers to unburden their souls in one of the city's most spectacular final resting places. Here Lie the Secrets will stand in Green-Wood Cemetery for 25 years, inviting visitors to write down their painful confessions and deposit the paper inside a marble obelisk, which stands over a hollow grave. Calle will return occasionally to gather and burn the slips of paper and purge our worries from this life. Through 2042, Green-Wood Cemetery, 500 25th St., Sunset Park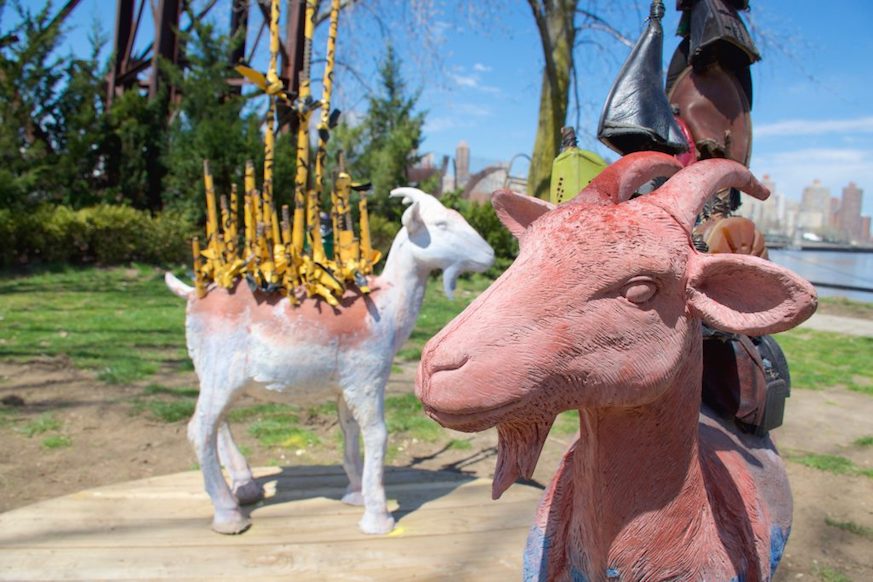 G.O.A.T., Again
Jamaican artist Nari Ward had all five acres of Socrates Sculpture Park to build his show G.O.A.T. Again, a seemingly whimsical collection of six sculptures featuring goats that delves into the complex issue of pride and how it can both mislead and empower. The clue is in the name: G.O.A.T. is a nod to its subjects, and an acronym for Muhammad Ali's personal title, "Greatest Of All Time." Through Sept. 4, Socrates Sculpture Park, 32-01 Vernon Blvd., Long Island City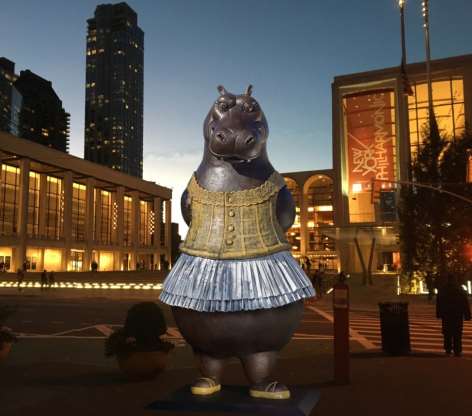 Hippo Ballerina
Adding a whimsical touch to the Lincoln Center neighborhood is Bjorn Okholm Skaarup's tutu-clad Hippo Ballerina, ready for her debut on one of the city's most prestigious stages. The "Fantasia"-esque bronze sculpture stands 15 feet tall clad in a copper ballerina ensemble. Best part: Take a selfie with the statue and tag it #DanceWithHippoBallerina for a chance at real-life ballet tickets. Through July 31, Dante Park, at 64th Street and Broadway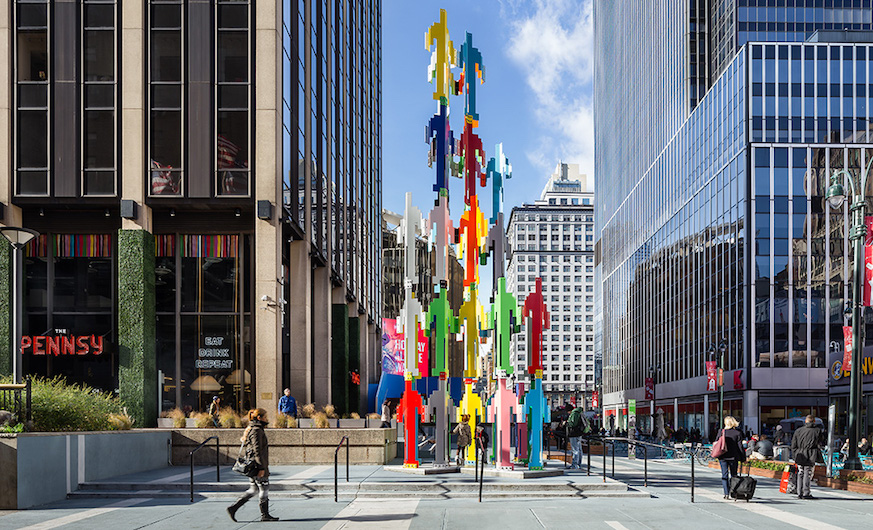 Human Structures
Just outside one of the city's busiest transit hubs, Penn Station, Human Structures is a call to pause and consider how we could be living a better life by connecting with each other. Artist Jonathan Borofsky's colorful figures stand on top of each other to build a pyramid, showing how we can reach higher and farther together than alone. Explore the sculpture while enjoying pop-up performances of music and other entertainment all summer. Ongoing, Plaza33, 33rd Street between Seventh and Eighth avenues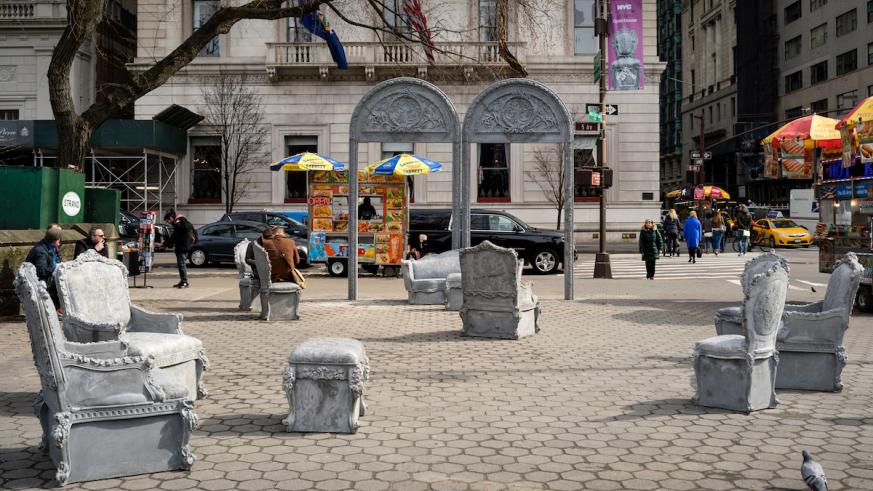 Open House
One of New York City's legendary ballrooms is once again open — this time for anyone to enjoy. Liz Glynn's 26 concrete sculptures recreate the Gilded Age-era ballroom of a long-gone Fifth Avenue mansion with grand archways and delicately carved Louis XIV-style chairs, ottomans and sofas. In a city where class divide is growing ever wider, Open House invites anyone to experience a taste of 1900s opulence in Central Park. Through Sept. 24, Doris C. Freedman Plaza, 60th Street and Fifth Avenue, courtesy of The Public Art Fund
The Floaters
Though New York has many amazing pools, none of them are on the High Line. No worries — muralist Henry Taylor has created a larger-than-life pool scene of himself and friends relaxing in a Palm Springs swimming pool called The Floaters. Just try not to hear the Beach Boys at you take in the 1960s vibe and perfect summer color palette. Through March 2018, The High Line at West 22nd Street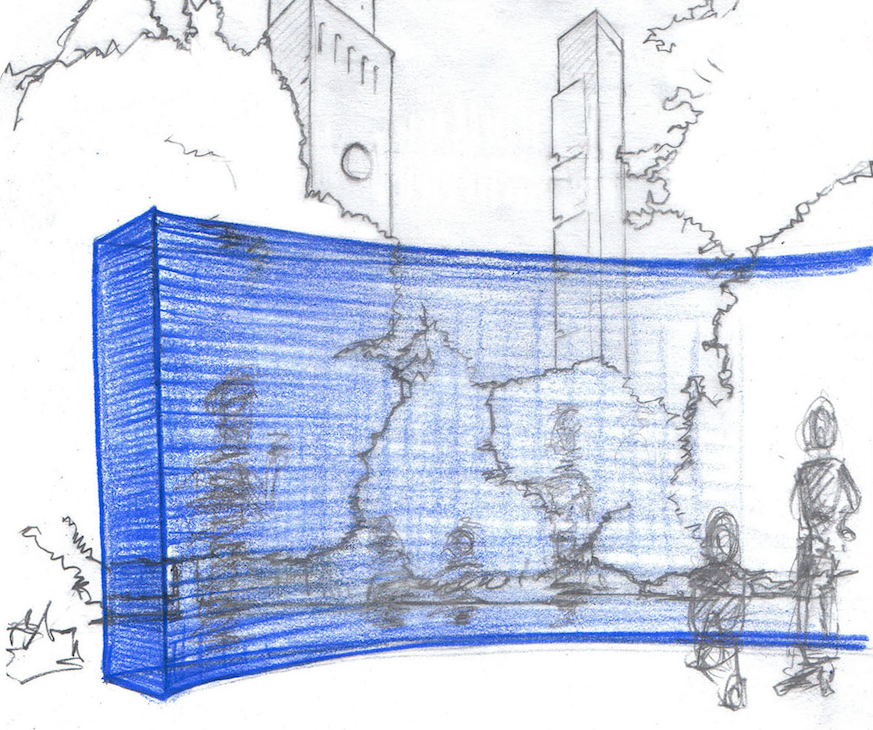 Prismatic Park
While Josiah McElheny's three wood-and-glass structures that make up Prismatic Park — a curved blue sound wall, a red and yellow pavilion and a green circular stage — are art themselves, they also serve as a space to create new art. Performance collective Blank Forms, dance troupe Danspace Project and Poets House will "inhabit" the glimmering exhibit to develop new works, while anyone who feels inspired is also welcome to follow their muse. June 13-Oct. 8, Madison Square Park, Madison Avenue between 23rd and 26th streets