Chris Brown's kid, Royalty Brown, celebrated her fourth birthday back in May with a party that racked up more than $30K. Over two months later, post-Heartbreak On A Full Moon Tour performance Thursday night, the 29-year-old singer was arrested in West Palm Beach, Florida on charges of felony battery, according to TMZ.
The warrant was reportedly from last year and is allegedly connected to an incident when he attacked a photographer at a Tampa nightclub. A sheriff's spokesperson told NBC News that Brown was released on $2,000 bail.
Nia Guzman, the mother of Chris Brown's kid, told Latina.com in an exclusive 2016 interview that she viewed Brown has a "bad boy," and that she was skeptical of his parenting skills.
"I know that he's young, he's wild, and he has the bad boy persona," she said, explaining why she waited to tell Brown about their daughter until the year after she gave birth, "and I just knew that it just wasn't going to be the best situation."
Here are four things to know about the mother of Chris Brown's kid.
Nia Guzman is from Texas and is a former model
Guzman is from Corpus Christi, Texas. According to an old modeling profile, Guzman was a fulltime nursing student.
She told Latina.com in 2016 that she wanted to get her radiology license to perform "CT and the MRIs, nothing major."
They don't love you like I do ✨ pic.twitter.com/GasxPCmLeL

— Nia Guzman (@___niaa__) May 25, 2018
She gave birth to Chris Brown's kid in 2014
Guzman gave birth to Royalty in May 2014. It was confirmed a few months later after a series of paternity tests that Brown was the father. 
Guzman reportedly didn't tell Brown about their daughter until the following year.
Nia Guzman, the mother of Chris Brown's kid, was married before
Guzman reportedly married Terry Amey in 2003 when she was just 20 years old, but the man filed for divorce when he found out that she was pregnant.  
"It ain't going to take a rocket science to figure that out. I got a divorce because Nia got pregnant by someone else," Amey told Radar Online in 2015.
Amey and Guzman share a 16-year-old daughter named Zillah.
Nia Guzman and Chris Brown started off as friends, but tensions run high
Latina.com reports that Guzman and Brown had been friends for years before they had a brief fling.
The former model was linked to Brown's ex-girlfriend Karrueche Tran in the past as well, but that friendship ended when Guzman had an affair with Brown while he and Tran were in an on-again, off-again romance.
In Brown's 2017 documentary, entitled "Chris Brown: Welcome to My Life," he claimed that he was on a break from his relationship with Tran when his daughter was conceived.
"During me and Karrueche's [first] breakup, like August and September [2013] was when my child was conceived," Brown said. "As the time goes on, I am on this tour … I get a phone call, a girl crying …" That girl, Guzman, told Brown that he was Royalty's father.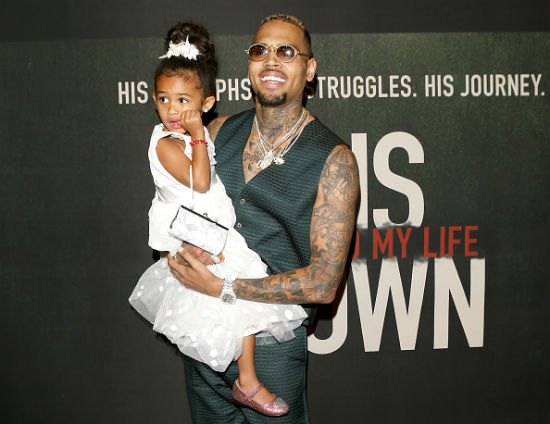 "At this time, I am in a relationship, I am trying to get my girl pregnant at the time, and I am trying to do the right thing as a boyfriend, not cheat and not mess with no girl …" he continued, later on saying that he wouldn't change a thing about what happened between him and Guzman because it gave him his daughter. 
Brown won a heated custody battle in 2016 when Guzman was denied full custody of Royalty. They now share joint custody of their daughter.
"It's nothing hateful, ill or malicious in my bones," Guzman told Latina.com of the relationship between Chris Brown's kid and the celeb. "I want the best for everybody, and I want peace in everybody's life, and that's the ultimate goal … I feel my children make their fathers better men. And I'm glad to be a part of it."