Living in New York sometimes loses its luster, whether it's train drama, the weather or rodents competing for our pizza. But it's also generous with reminders of the magic that can happen here.
One of summer's best chances to remember that is Dîner en Blanc, the all-white pop-up dinner party returning for its seventh year on Aug. 22. It's impossible not to remember how full of possibility this city is as 5,000 strangers come together, literally bringing the party with them, for a night of dinner and dancing that vanishes once the last note plays.
Getting tickets isn't easy though. Registration opens in three phases: The first is for previous years' attendees (Aug. 7, noon); the second is for new members referred by previous years' diners (Aug. 9, 2 p.m.); and the third is for those on the waitlist (Aug. 10, 9 a.m.) Sign up now, and know that once you commit, you're expected to arrive ready to party rain or shine.
After attending last year, we can vouch for the transformative power of the event and why it's much more than just a trendy way to spend a night out.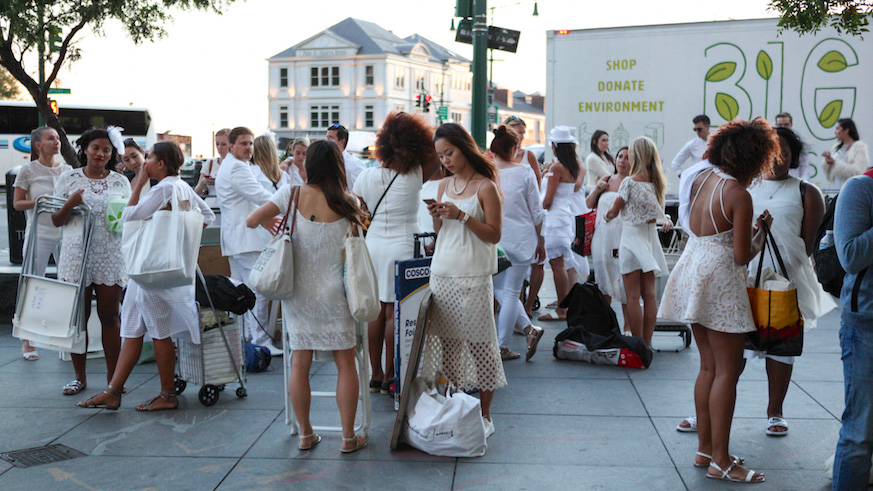 You're in on a secret
FOMO is pretty much the default state of New Yorkers, so Diner en Blanc is a chance to feel like you're doing the absolute best thing that night. It's exclusive but not too exclusive, with over 5,000 guests at each event, and amid all the prep work there's an element of surprise — you don't know where the party will take place until an hour before it kicks off at 7 p.m., when a text arrives with the location. And there's no feeling like being in on a secret.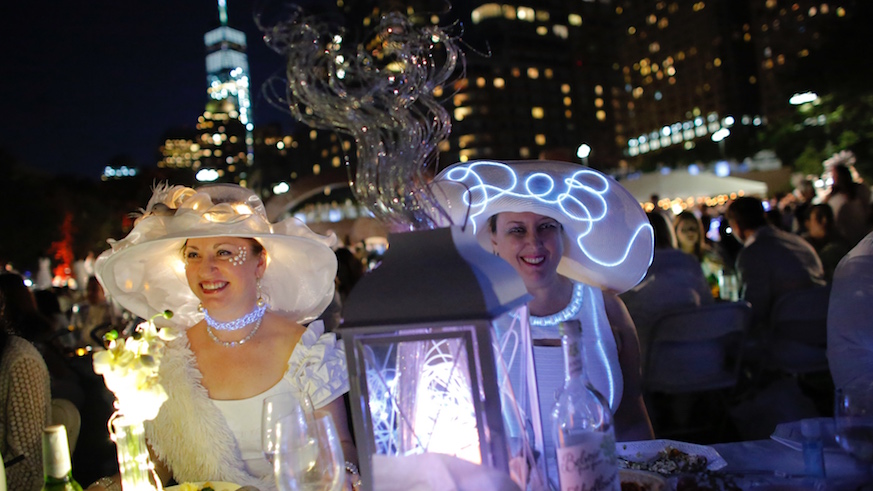 Everyone is excited
Because all of the magic is created by you, the attendees, no one "forgot" the dress code or shows up with just a bottle of wine. Diners bring their own table, chairs, tablecloth, silverware, plates, decor and, most of all, their beautiful selves. This is not easy, since one of the event's edicts is to arrive via public transit, so the level of commitment means everyone is there to get the most out of the evening, which creates an incredible atmosphere that lasts all night.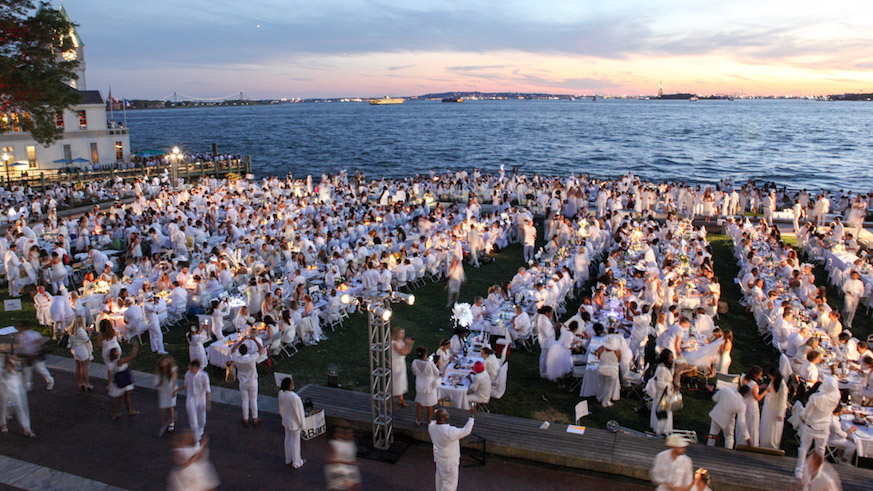 Experience next-level glamour
Since this party has its origins in France — where it's been happening for 29 years — expect a glamorous atmosphere. Men arrive in white bowler hats, dress whites and immaculate wingtips; women wear jaw-dropping ensembles straight out of a naughty Victorian parlor or smartly cut dresses that evoke 1950s chic.
Besides the outfits, people bring strings of lights, elaborate centerpieces for their tables, musical instruments and delicate tea sets. It's everything from "Alice in Wonderland" to "Mad Men" to "Cinderella," like a socialite's Comic Con. One thing to note this year: Covergirl is providing a beauty station for last-minute touch-ups, and Evian and Badoit waters are bringing a photobooth to capture your beautiful evening.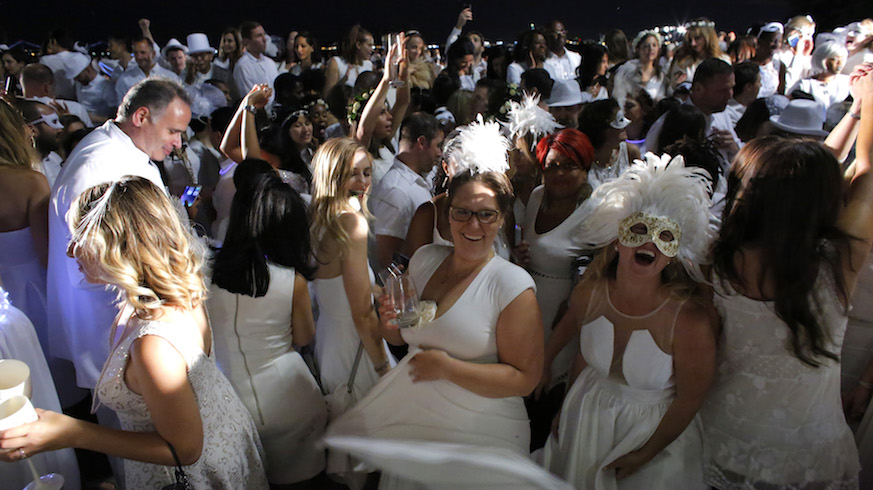 A dinner party for the ages
The French love of a glamorous party is only surpassed by their love of food. Some attendees labor over their menus for weeks, with several courses and printed menus. Others opt for the fashionable picnic baskets curated by the event's celebrity chef, who in New York's case is Todd English. (Do note that while hard liquor is not allowed, there's plenty of bubbly and wines by Champagne Canard-Duchêne and Kenwood Vineyards.)
Either way, it's a picnic in the park that's been elevated in a way that just doesn't exist anymore — unless you have access to a private jet for all your friends and a French chateau, that is.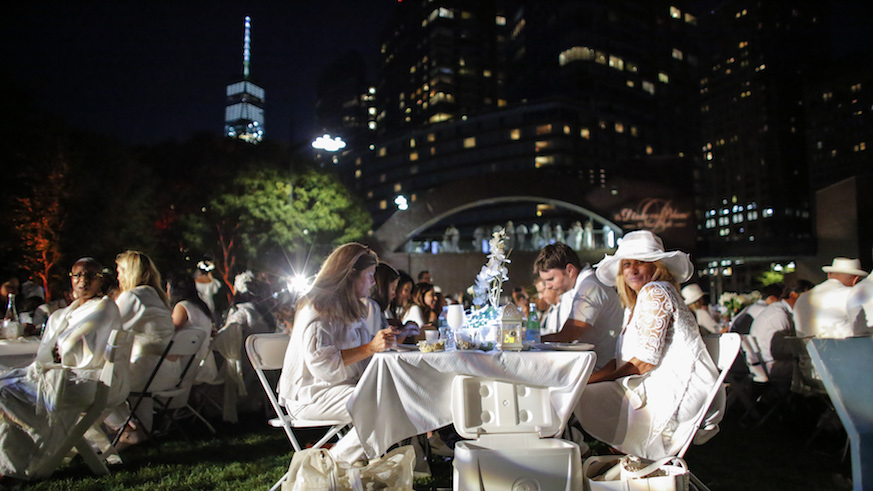 See the city in a new way
As always, despite our London-esque summer, Diner en Blanc will take place under the stars in a sufficiently breathtaking venue — the honored guest at last year's soiree was Lady Liberty as diners enjoyed their evening in Robert J. Wagner Park at the tip of Lower Manhattan. Unless you've taken a harbor cruise, chances are you haven't been down there, so the event gets New Yorkers to parts of the city they've never seen; and for those that know them well, it's a chance to see it in a whole new light.
As Sandy Safi, co-founder of Diner en Blanc International, puts it, "This event really is about redefining the landscape of where you're at."