On Wednesday, Planned Parenthood announced Dr. Leana Wen as their new president, the first physician to lead the non-profit in nearly five decades.
Dr. Wen, 35, will take the place of Cecile Richards, who served as head of the organization for 12 years and announced her resignation in January.
On Twitter, Richards said she "couldn't be prouder" to welcome Dr. Wen on board, writing, "She has dedicated her career to fighting for health care for all, both as a doctor and as a public health leader in the city of Baltimore. I know she'll be a champion for Planned Parenthood patients and for women, men, and young people everywhere."
Naomi Aberly, Chair of the Planned Parenthood Federation of America Board of Directors, called it a "historic day" for the non-profit.
Dr. Wen will reportedly start this new role on November 12.
Here's everything to know about the new president of Planned Parenthood, Leana Wen.
Leana Wen is a Chinese immigrant
Dr. Wen was born in Shanghai and came to the U.S. with her parents when she was 8.  
She and her family were granted political asylum and reportedly got their citizenship in 2003.  
In a video for Planned Parenthood, "A Message from Dr. Leana Wen," she says, "We came to the U.S. with $40 to our name. We depended on Medicaid and food stamps and also on Planned Parenthood for health care."
Leana Wen went to California State University, then medical school
Dr. Wen, raised in the Los Angeles area, graduated from California State University at the age of 18 (no big deal) and proceeded to earn her medical degree from the University of Washington School of Medicine.
She became a Rhodes Scholar and, according to Planned Parenthood, received her MA from the University of Oxford. She went on to complete her residency training at Brigham & Women's Hospital in Massachusetts, where she was a Harvard Medical School clinical fellow.
While in medical school, she reportedly volunteered at a Planned Parenthood in St. Louis.
"I depended on Planned Parenthood for medical care at various times in my own life," Dr. Wen told Huffington Post, "and as a public health leader, I have seen firsthand the lifesaving work it does for our most vulnerable communities." 
Leana Wen is a mother and wife
Dr. Wen is married to husband Sebatian Walker. They have a 1-year-old son, Eli, together.
According to the Baltimore Sun, she named their son after Rep. Elijah Cummings (D), who represents Maryland's 7th congressional district, which includes half of Balitmore City.
"She can help women in every inch of this country," Cummings said of Dr. Wen. "That means a lot."
Leana Wen served as Baltimore City Health Commissioner since 2015
According to Huff Post, Dr. Wen served as an emergency room doctor at two Boston-area hospitals, including Massachusetts General Hospital.
"I became an emergency physician because I never wanted to turn any patients away," Dr. Wen says in the Planned Parenthood video.
She goes on to explain that she was driven to the field of health care policy when a patient died from a failed home abortion. The woman, "pulseless and unresponsive" was "too scared to seek medical care."
"She died because of a failure in our system," Dr. Wen says. "I wanted to fight for our most vulnerable individuals on a bigger scale."
Since 2015, as Baltimore City Health Commissioner, Dr. Wen has tackled the opioid crisis and lack of trauma and mental health services. She started Vision for Baltimore, which provides free glasses to children, and secured funding for Safe Streets, "a program designed to treat gun violence as a contagious disease," notes Planned Parenthood.
In a statement posted on the Baltimore City Health Department website, Dr. Wen, who's called "Doctor for the City," wrote: "Together, we have accomplished so much: we've saved nearly 3,000 lives from opioid overdose; reduced infant mortality to record lows; provided glasses for all children who need them; treated violence and racism as public health crises; and convened all sectors to improve community well-being."
"A core principle in public health is to go where the need is," she continued. "The single biggest public health catastrophe of our time is the threat to women's health and the health of our most vulnerable communities."
Her last day as Commissioner will be October 12.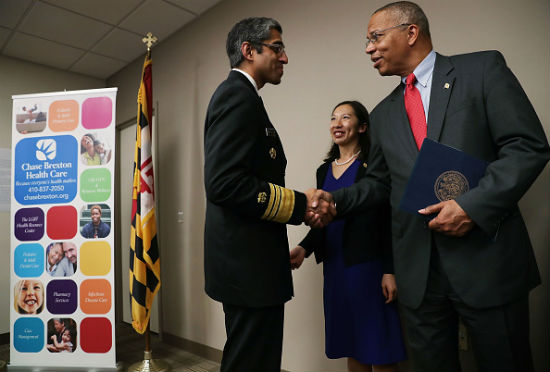 Leana Wen sued the Trump Administration
Dr. Wen sued the Trump Administration last year when it cut Baltimore's funding for teen pregnancy prevention programs. This, she said, "would deny health education for up to 20,000 of our students." 
The Department won that suit — the Trump Administration was ordered to restore $5 million in funding to these programs.
Leana Wen wants to protect abortion rights and provide high-quality health care
Dr. Wen told Huff Post that, should Judge Brett Kavanaugh, seemingly pro-life, be confirmed as a Supreme Court justice, she's ready to fight against a potential overturn of Roe vs. Wade (women's constitutional right to access legal, safe abortions).
"If he's confirmed, it's reasonable to expect this court will overturn Roe," Dr. Wen said. "And as a physician, I have seen firsthand that we will pay for it with women's lives. That's why at this moment in time we have to fight like we've never fought before, and that's why everything is on the line."
This is an incredible honor and privilege. I'm ready to take on this fight with everything I have, and am proud to stand alongside millions of @PPFA supporters as we embark on this next chapter together.

— Leana Wen, M.D. (@DrLeanaWen) September 12, 2018
"Having a physician as the head of Planned Parenthood, it is a sign that what we are doing is mainstream medical care," Dr. Wen says at the end of her introductory video. "I see what happens when clinics close. … Those who will be hurt the most are those who already bear the brunt of health disparities. They are women of low income, of color, they're LGBTQ individuals, they're immigrant communities, they are working families."
"We have to do everything that we can to fight. Everything is at stake," she concludes. "There is no more important time than now. And no more important organization than Planned Parenthood."