Rely on coffee to get your through the day? You might want to rethink that habit, especially if you're worried about your eyesight.
A study published in the British Journal of Ophthalmology found that people who drink at least one cup of hot caffeinated tea a day were 74 percent less likely develop glaucoma when compared to coffee, soda and iced tea drinkers.
What is glaucoma?
Glaucoma happens when a buildup of fluid puts pressure on the optic nerve. The pressure can have irreversible effects on eyesight, according to the American Academy of Ophthalmology. "Glaucoma can lead to blindness, and it would be great if it could be prevented because there is no cure," said lead study author Dr. Anne Coleman of the University of California, Los Angeles.
The disease is one of the most common causes of blindness — and it's estimated that more than three million people in the United States suffer from it. The worst part: It happens gradually, meaning you won't necessarily know you have it until it's too late.
"The best way to prevent it is to get your eyes checked," Coleman told Reuters Health. Genetics play a part in developing glaucoma, but certain diseases like Type II diabetes, high blood pressure and heart disease can increase risk, too.
"[W]e are also interested in lifestyle habits and what we can do to make a difference," Coleman added. Regular eye exams, exercise and, apparently, tea can help keep it at bay.  
For the study, researchers analyzed data from more than 10,000 Americans who participated in the National Health and Nutrition Examination Survey during 2005 and 2006. The participants answered questions about their lifestyles — including their diets — and had medical exams, eye exams and blood tests.
Coleman and her team found that about 1,700 participants had no eye problems and 82 had glaucoma. Less than 10 percent drank hot tea daily and about half reported drinking coffee often. Coffee, iced tea and soft drinks had no connections to glaucoma, but hot tea did.
Benefits of drinking tea
This study is a great case of correlation does not necessarily mean causation, meaning that it's not 100 percent fact that people who drink hot tea will avoid glaucoma.
"Tea drinkers should keep drinking and don't need to stop because of a fear of glaucoma," Coleman said.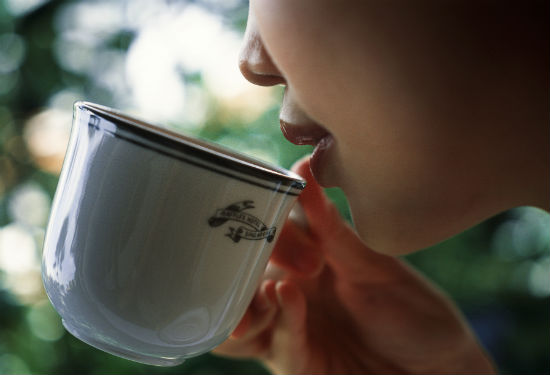 But there are plenty of other proven benefits of tea that make it worth adding to your regular rotation. Tea — especially green tea — is shown to have a ton of antioxidants that can repel free radicals and prevent inflammation. Green tea is also shown to help improve cognitive function and can help the body burn fat better.
Black tea also shows promise in reducing prostate cancer, though the National Cancer Institute doesn't claim it's a way to fight cancer.
But it can't hurt, so drink up — and maybe switch up your Starbucks order to include tea sometimes. It's for your health.