You'd think Chris Lucas and Preston Brust of LOCASH were brothers. Not by looking at them — Lucas sports a Tin Haul trucker hat; Brust, a Stetson — but by listening to them muse over music.
Brust is a preacher's kid from Indianapolis. Lucas, a Maryland native, was raised in a self-described secular home. Separate upbringings aside, they have a way with words and a killer harmony that makes you want to move. 
So when Lucas calls Brust his "brother" during a Pepsi Tailgate Tour performance outside of MetLife Stadium, you don't bat an eye. 
Their journey as artists has been a long haul. After over a decade of writing music together — with hit singles recorded by country stars like Keith Urban (You Gonna Fly) and Tim McGraw (Truck Yeah) — their own careers finally took off.
LOCASH on their beginnings
Lucas tells me that the duo first met at Wildhorse Saloon, a Downtown Nashville food and live music joint. We're sitting in LOCASH's tour bus an hour before the October 14 Jets vs. Colts kickoff. 
"I was just there in another group, and [Brust] was coming there to songwrite. Then finally, a couple months in, we knew we had something on the microphones together," Lucas explains. "We weren't even singing, but we knew we had some kind of banter that people were coming to see."
They agreed on sound — a mix between '90s R&B and country — and started working on harmonies backstage. "And boom from there," he says, "after 12 years."
LOCASH wrote You Gonna Fly in 2009. Urban then released the track in 2011, and it reached number one on the Billboard Hot Country Songs chart the following year.
"During that process, Tim McGraw recorded Truck Yeah [released 2012] and we had written I Love This Life, and then I Love This Life became ours," Lucas says. That track went on to become their first top hit as LOCASH.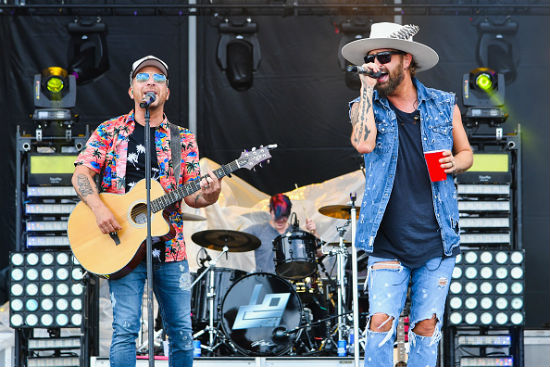 They've since released songs like I Know Somebody, which topped Billboard's Country Airplay chart in 2016, and Ring on Every Finger.
Feels Like A Party is their debut single under new management, and it's the duo's fastest-climbing track yet.
The idea behind the lyrics, Lucas says, was a "no brainer."  
"We just sat there and talked about a party song and something just positive," he says. "A lot of our music is positive, some is a little deeper than others — but it's a party anthem."
They write under the motto "all killer, no filler," which Lucas credits to Nashville singer-songwriter Jeffrey Steele. It means that everything has to be a home run.
"We're just lookin' for things that relate to people," Brust says, "whether it gets them pumped up or amped up, or it just hits them in the heart." 
LOCASH on fatherhood and finding their platform
Both LOCASH members have kids — Lucas, three; Brust, two. Not only does it affect how they write, but it also influences their day-to-day decisions.
"You start living for them," Lucas says. "You gotta be a leader, a good role model. That's the most important thing right now, and not just for us, for everybody out there. For America."
Though some stars in the country realm, most recently Taylor Swift, have become more outspoken about politics, the one thing LOCASH won't get is political. 
"There are so many people in this world that we want to keep it universal," Lucas explains.
"I think any time a musician feels compelled to talk about anything, they should," Brust adds. "They do have a platform and people will listen whether it's effective or not." 
When I ask, then, what they use their platform for, they discuss giving back. For years, they've participated in St. Jude fundraisers. 
"It's a big part of everyone's lives," Lucas says of St. Jude. "They're saving lives so anything we can do for the kids we're always gonna do."
LOCASH launched a Don't Get Better Than That apparel line in February to coincide with the song's release. Ten percent of those proceeds went to children's charities.
LOCASH on what's next
While in New York for the Pepsi Tailgate Tour, which ends December 8 at Philly's Army vs. Navy game, LOCASH has done a lot of press and good eating (specifically Midtown West's Arno, where they'll "definitely" return).
"It's easy to fall in love with this town," Brust says.
He's not wrong. But it's even easier to marvel at LOCASH's passion.
Sitting down with them reminds me of all the times that, as a kid, I got wide-eyed and eager-minded about my next great infatuation. For so long, Lucas and Brust wrote about finding love, embracing life and coming into your own for other stars. Now, they get to do it for themselves — and they're only building momentum. 
LOCASH signed to BBR Music Group's Wheelhouse Records in August, calling it their first major label and a necessary step for growth.
"That's what you do with life, whether it's love or career or friendships or anything, it gets you to the point that you want to grow to be," Brust says. "And that's where we are now."
Lucas, though, points to 2011 as a time when they even considered throwing in the towel.
"We lost our record deal, we lost my dad, we lost our fiddle player … we lost my house, we lost my car, we lost a lot of stuff," he admits. "We sat in the back of a bus one day and we're like, 'we did everything we could,' and then that's the year Keith Urban [happened]." 
Urban picking up You Gonna Fly, Brust says, was the "light at the end of the tunnel."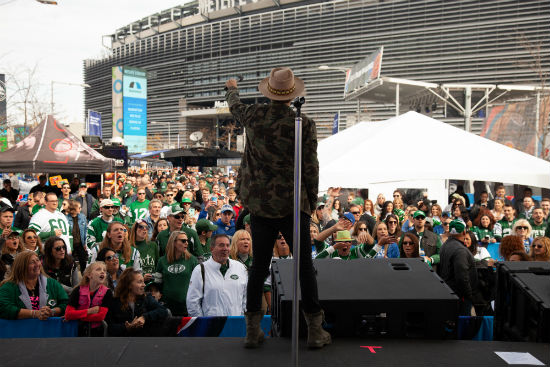 What it's all about is perseverance, "workin' hard, getting better and learning every day. When you stop learning, it's over," Lucas concludes.
A new album, their first since The Fighters (2016), is set to release by January. From there, further success seems almost inevitable.
"Yes," Brust tells me unequivocally, without hesitation. "You can feel it."