In honor of Free Slurpee Week, 7-Eleven is offering buy one, get one free (BOGO) deals through this Sunday, August 19. And, if you're a fan of the slush drinks and enjoy dessert (like any good samaritan) you'll want to know about 7-Eleven's latest hit: Slurpee cookies.
These confections — Lofthouse sugar cookies — are topped with cherry Slurpee frosting as an ode to the frozen treat.  
What we know about these 7-Eleven Slurpee sugar cookies
Food blogger JunkFoodMom first Instagrammed these last week. She posted an update yesterday about the taste, writing, "Found these a few days ago and was hesitant to try them. I figured they'd be sickly sweet. Well I'm glad I dived in because these are actually very good!"
She continued on to say they taste just like the cherry drink, adding, "they are not overly sweet like most of these type of cookies. The frosting is fairly thick but is perfectly balanced with the soft cookie. I like 'em!"
The blogger also promised that if you're a fan of the refreshment, you need to give them a try. 
"Tried these, there [sic] pretty good!" another user wrote on the first post about the cookies.
They certainly look soft and sweet:
The cookies come in a packet of 10, and the packaging features the iconic Slurpee logo. 
7-Eleven told Metro that these are being sold for a limited time in participating locations nationwide. It's the first year they're offering Lofthouse cookies in this flavor.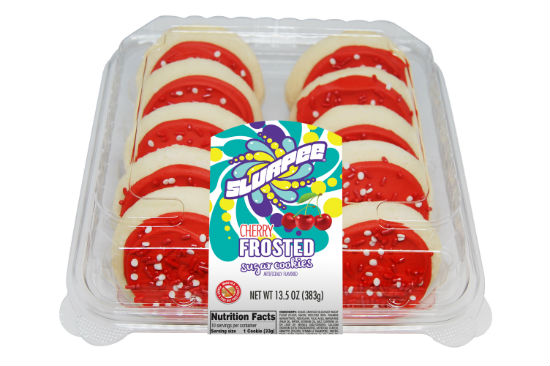 The chain created Slurpee doughnuts back in 2016 for the drink's 50th anniversary. We'd vote for Slurpee-inspired croissants next.