Adam Rippon is much more than an athlete. The Olympic figure skater and political activist captured our hearts during the PyeongChang Winter Olympics where he and the rest of the U.S. men's figure skating team took home bronze, making him the first openly gay U.S. male athlete to win an award at the games.
While he strives for glory on the ice, Adam Rippon has also fought for the LGBTQ community, famously taking issue with the presence of Vice President Mike Pence at the Olympics. Since then, Rippon has received a wide range of recognition including being named to TIME Magazine's 100 List of Most Influential People, Bleacher Report's Power 50: 2018's Most Influential People in Sports Culture and presented the Visibility by the Human Rights Campaign for his work with the LGBTQ community. Oh yeah, and he also won first place in Dancing With the Stars.
We caught up with Adam Rippon before his appearance at the Forbes Under 30 Summit in Boston this fall.
Adam Rippon on finding your Olympic work ethic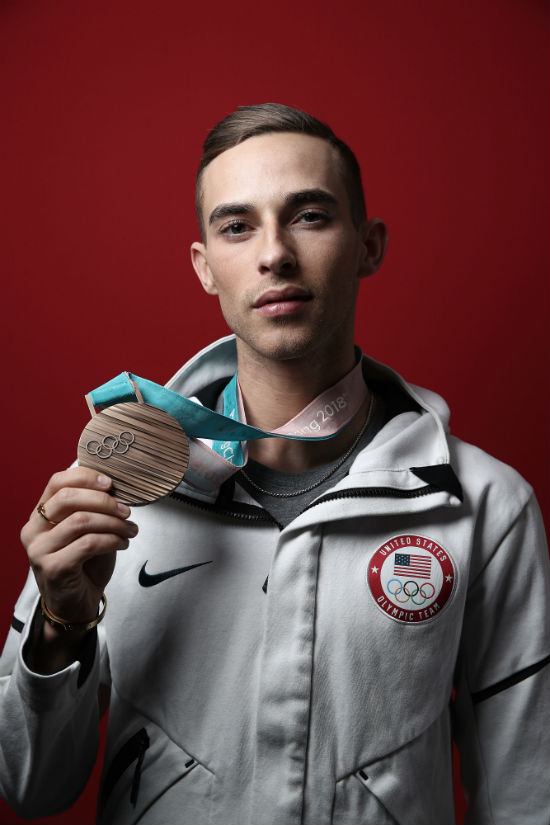 Adam Rippon with his bronze medal. Photo Credit: Getty Images 
How excited are you to be speaking at the Forbes Under 30 Summit in Boston?
Adam Rippon: I'm very much looking forward to it. To be a part of the Forbes family is pretty cool and hopefully I say a few things that people will find interesting and helpful.
As an Olympian, you have such an elevated work ethic to perform on that level. What is your earliest memory of having that kind of drive?
Adam Rippon: My earliest memory of wanting to go to the Olympics, I was probably around 10 years old. When I first started skating, I realized in that moment that it was something that I really wanted to do. I skated really intensely every day and by the time I was 13 I decided that I wanted to take it really seriously — That I needed to skate more and I needed to practice harder. For me, that kind of meant missing out on some school and not ever hanging out with friends. I never saw it as a sacrifice because I got to do something that I really loved to do every single day.
What's the key to having an Olympic level work ethic? What advice would you give every day people to adopting this mindset?
Adam Rippon: I think that when I was skating everyday — especially training for the Olympics — to be honest, I didn't walk into the rink every single day and be like, "I love what I'm doing!" There were definitely days where I walked in and said, "I don't want to be here. I'm too tired to do this. This is way too stressful." When I had days like that I made sure to find joy in the little things. So, I made sure that I set little goals for myself for that day so that I could make it through that day and still feel accomplished. I think that the lessons that I learned from sports are the lessons that I will take with me through my entire life. It's totally normal to feel stagnant or to feel stuck. But if you set little goals to meet up with your big goals, it's going to make you feel like you're making progress. So that you can end every day and feel like you're a champion every single day. That's what I try to do. Especially during the hard days.
How has that work ethic helped you to cope with failure and keep success in perspective?
Adam Rippon: What sports taught me the most is that there is no such thing as a failure unless you've failed to try. When things don't go well or when you've made mistakes, I think that mistakes can happen and that it's only a failure if you've failed to learn from your mistakes. I think that if you learn from your mistakes you improve. Making mistakes is an opportunity for you to learn more about whatever you're working towards and more about yourself. I know I've made the same mistakes a few time and then I've finally learned my lesson I never made the same mistake twice. I think that when you have to perform in front of a lot of people and you go through your best and worst times in front of thousands of people it forces you to grow up. Part of that is taking responsibility for what you've done, responsibility for your actions and owning them, and owning the flaws. Owning the disappointments. When you can own them and live up to them, you're not afraid of them and you are able to learn from them.
People view athletes as beacons of hope and motivation, who were some of your heroes growing up — who motivated you?
Adam Rippon: My mom is one of those people that I've always looked up to because she always went out of her way to make sure that I was able to continue doing something that I loved to do. I admire Michelle Kwan. I admire her because she had disappointing moments in her career but she always gave the impression that she was doing it for herself. In the harder parts of my career, I always remember that. Michelle Kwan skated for herself. So if she skated for herself, I would skate for myself as well. There are so many other incredible athletes that I've also looked up to. I looked up to Billie Jean King especially for being an LGBTQ pioneer in sports. Everything that she has done has done to help make the pass in the road for someone like me a lot easier.
You won bronze in the last Winter Games and then went on to take home the gold in Dancing with the Stars — Did you view that as a form of validation for the Olympics?
Adam Rippon: Dancing With The Stars was a just lot of fun. It was almost like a victory lap from the Olympic Games for me. I had so much fun and I owe that so much to the great partner I had and all of the friends that I made. It was just such a fun experience. Funnily, it rivaled the pressure of the Olympics because the pressure of the live show and getting everything together in a week could be a lot. It was quite a whirlwind!
You would have thought the show would be much easier!
Adam Rippon: The preparation for the Olympics was so intense, but Dancing with the Stars is such a mind game because it's just something that you're not good at. It's something that you don't feel comfortable doing because it's just not your forte. So there's a lot of other factors that go into it. And it's like the pressure of dancing on live television to and you're not a dancer! It felt almost a little bit more like Olympic pressure (laughs). But I had a blast doing it for sure!
You have been very politically active and have had some strong opinions about Vice President Mike Pence's role in the Winter Games. What are your feelings on how athletes in your position should use your platform to speak truth to power?
Adam Rippon: I think that athletes have an incredible opportunity to use their voice to help make change. I think that sports have always been one of those things that really gets political. I think that a lot of people think that they should keep politics out of sports. But, when you have someone like Colin Kaepernick who is trying to speak about police brutality, he is giving a voice to people who don't have the opportunity that he has. Him being out there on the field and him kneeling for the anthem is a very peaceful protest and he is within his right to do that. It's people like Colin who helped give me the confidence to speak out against the Vice President when I was at the Olympic Games. I think that in this day and age, people have such an opportunity to see what their favorite athletes are doing. You can see where they are, who they are, what they're about all through different social media platforms.
I think when you have the opportunity to share so much of yourself, you have the opportunity to share your beliefs and stand up for things your believe in and make a difference and make an impact. I'm from a very small town in Pennsylvania and there was a University about a five minute walk from my house. It used to be a Baptist university and they went through a rebranding. They call it Clarks Summit University. They had a student that went there a few years ago and tried to be readmitted into the school and was denied admittance because he is gay. That's just five minutes from my house. And that's 2018! That's something that I felt growing up and that's something that I really wanted to speak out against. That situation didn't really speak for everyone in my town, because there is another university that stepped forward to pay for his education and let him into the school so he could graduate. So it's two sides of the coin. It's definitely something that I feel today and something I felt passionate speaking about especially at the Olympic Games given that platform.
I applaud other athletes that speak out and talk about their beliefs because I think it's so important and they have huge platforms. We admire them so much for their work ethic and all that they do under pressure. I think that when they speak their opinions we should listen to what they have to say. A lot of athletes come from humble beginnings and their roots are not in the glamorous lifestyles. They're very humble. Like myself, I'm from a very small town in Pennsylvania. I didn't always get to live in Los Angeles where it never snows. So I think it's important and I personally feel a responsibility to do it.
Make sure to get your tickets to see Adam Rippon as one of the esteemed guest speakers at the Forbes Under 30 Summit in Boston, Sept. 30 to Oct. 3.