The GRAMMYs 2019 will air this Sunday for their 60th year. It's always a night of surprises and head-scratching upsets as the recording industry honors some of the freshest new talents going and some of the legends that paved the way into the future. While it is always a must-see live event, life can get busy and you might not be able to catch it as it airs. So what are some the best ways to watch the GRAMMYs 2019 this weekend? 
What do the GRAMMYs 2019 have in store?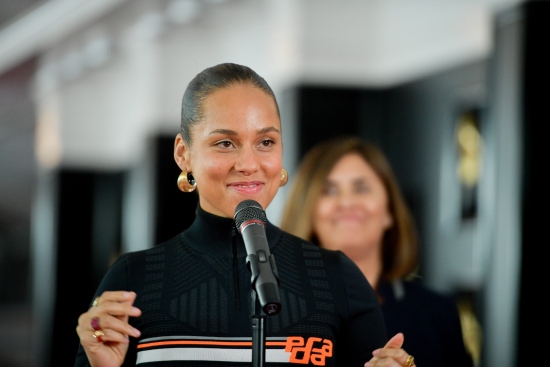 Photo: Getty Images
This year's GRAMMYs will be hosted by "woman on fire" Alicia Keys who has been no stranger to hosting gigs over the last few years. Like every other year, there is an extensive list of performers for the event with some pretty surprising collaborations like the announced collaboration between Dua Lipa and St. Vincent's Annie Clark. Does it make sense? Maybe not, but we'll take it! 
Other performers for the event will include Andra Day, Arturo Sandoval, Brandi Carlile, Camila Cabello, Cardi B, Chloe x Halle, Dan + Shay, Diana Ross, Fantasia, H.E.R., Janelle Mona, J Balvin, Kacey Musgraves, Lady Gaga and Mark Ronson, Little Big Town, Maren Morris, Miley Cyrus, Post Malone with the Red Hot Chilli Peppers, Ricky Martin, Shawn Mendes, St. Vincent, Travis Scott, Yolanda Adams, and Young Thug. 
You may notice that Arianna Grande was not included in that list. Unfortunately, she had to say "thank u next" due to some stifling creative differences she had with the whole event. 
All the ways to watch the GRAMMYs 2019 this weekend 
While the GRAMMYs will air live on their long-standing home at CBS this Sunday, it may be tough for you to carve out enough time to make sure that you are cemented on your couch with a sufficient amount of snacks for the entire ceremony. If you do not have access to CBS, that could also put a hitch in your plans.  So aside from heading down to your local bar with a cable hook up and a decent enough TV,  what are some other ways you can watch the Grammys this Sunday? 
Well if you happen to be out, the most dependable way to catch the show after the fact is to have your DVR set to grab the whole show. Just make sure there is enough room to account for the show's long run time. These things always go way too long, which can be a good or a bad thing depending on how you look at it. The other way you can watch the show live or the following day is if you have a Hulu account with the upgrade to live TV. You can also check the show out live if you have a YouTube TV account. Word to the wise, both platforms offer free trials that you can cancel if you're not into them. Just a thought! 
When will the GRAMMYs 2019 air this weekend? 
The GRAMMYs will air this Sunday, February 10th on CBS at 8 pm ET /5 pm PT.