Instead of causing your hangovers, New York City's newest bar might just cure them.
Wellness tonic company Dirty Lemon just opened a summer-long pop-up in Nolita called The Drug Store, billed as a "non-alcoholic cocktail bar" run by actual bartenders you might know from regular bars around the city.
Except here, they're muddling ginger and talking about activated charcoal while shaking up tonics that claim health benefits like better sleep, more energy and healthier hair and nails.
"I have nothing against drinking at all, but I think there's something really interesting in rethinking the way that we produce beverages of all kinds and really showing the craft that goes into them," says Dirty Lemon co-founder Zak Normandin.
Modeled after a 1920s-era soda shop, The Drug Store hints at the origin of associating beverages with health. Carbonated water was thought to have the same medicinal properties as mineral water, and soda fountains took off in the 1880s. The health angle made the pharmacy pairing a natural fit, and Prohibition did the rest to make them a community gathering place.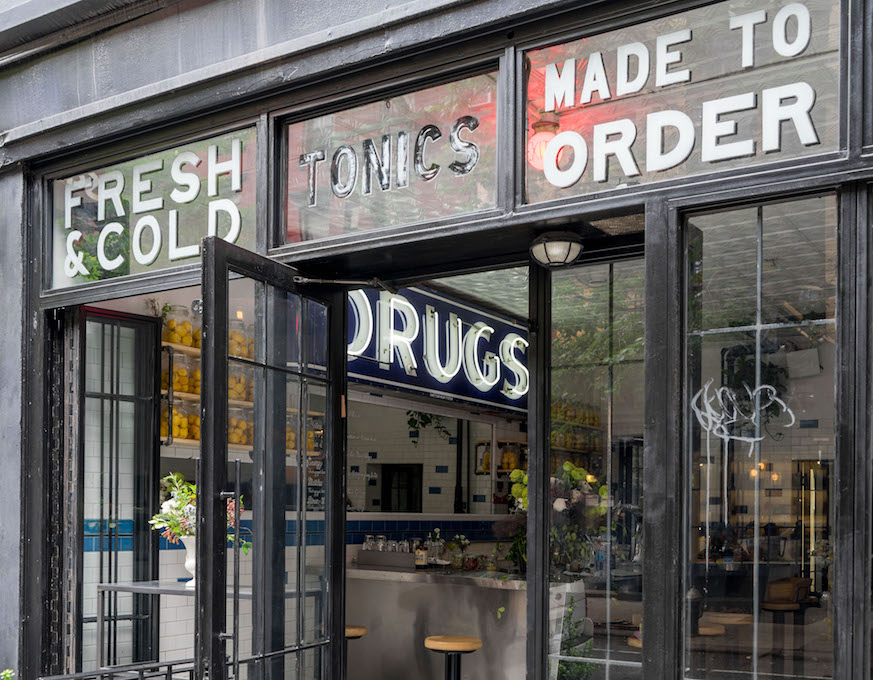 There's an element of nostalgia, too — Normandin's grandmother worked in a soda fountain-pharmacy in his Massachusetts hometown. "You could sit up at the bar talking to whoever is making root beer floats," says Normandin, recalling one of his earliest memories. "I've always been enamored with this concept of expressing that same connection with the customer with products that aren't alcoholic."
But the nostalgia ends with the decor; Normandin wants The Drug Store to be a "cool, modern" way to hang out and introduce people to trends in the health world, which will be tried out in new tonics created at the bar.
You know cayenne pepper helps with digestion, but what about marine collagen? (It's a compound from fish scales that claims to improve your complexion.) How about a matcha cocktail with cardamom and vanilla spiked with a little rhodiola, a root that's been used in Greek medicine for centuries with antioxidant benefits? If you don't know what something is, as usual, ask your bartender.
The base of all Dirty Lemon's drinks is the versatile citrus fruit that's already part of many health-minded people's routines. "It's alkalizing to your system," Normandin says. "It's a very refreshing flavor profile. Aside from the health benefits, it paired really well with other flavors."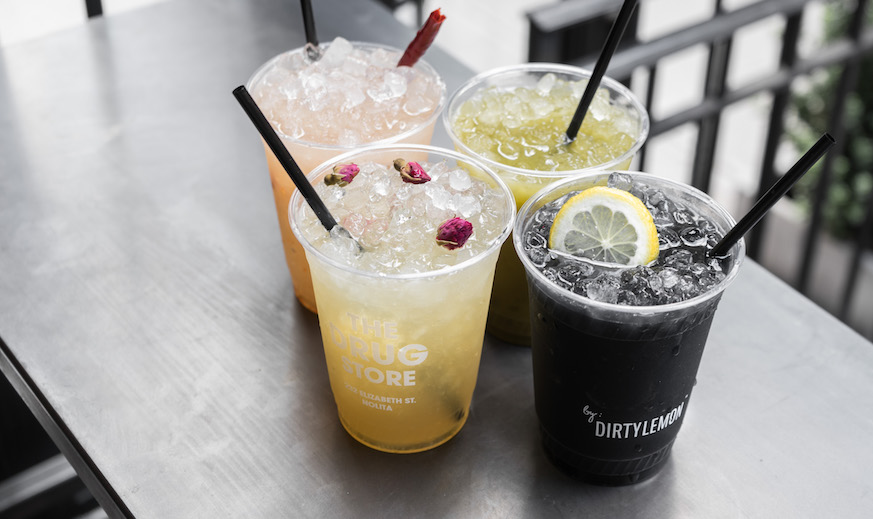 Lemons are also low-calorie and nearly sugar-free, a claim most fruits can't make. Dirty Lemon doesn't add any sugar, and keeps its drinks under 15 calories.  
You can't get these tonics in stores — Dirty Lemon is known for being the first brand to sell its products exclusively via text message when it launched in 2015, though it is sold in a few exclusive locations like the members-only Soho House.
For now, the plan is only to have The Drug Store open until Labor Day, but staying on or moving to a new city haven't been ruled out. The space has been busy since opening last week; be sure to get in by booking your stool on Resy.
The Drug Store is open seven days a week at 232 Elizabeth St. 10 a.m.-7 p.m.